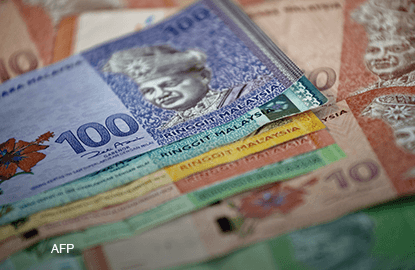 KUALA LUMPUR (Aug 7): The ringgit slid to 3.9265 against the greenback today compared with 3.9125 — the lowest level in 17 years; this marked the eighth consecutive day the local currency has weakened against the US dollar.
The concerns over Bank Negara Malaysia's shrinking international reserve has weighed substantially on the ringgit, which has been the worst performing currency in Asia in the past 12 months.
The ringgit was traded between 3.9045 and 3.9310 to a US dollar today, approaching the lowest level of 3.9340 recorded in Sept 2, 1998.
The ringgit had fallen to a low of 4.7125 on Jan 9, 1998 against the greenback before the central bank pegged the ringgit to the US dollar at 3.8000.
Apart from the US dollar, the ringgit also depreciated against other major currencies.
At 5pm, the local note fell against the Singapore dollar (SGD) to quote at 2.8320, while the euro traded at 4.2884, its one-month high against the ringgit.
The ringgit also weakened against the Australian dollar (AUD) to quote at 2.8933, while the ringgit traded at 3.1481 against 100 Japanese Yen (JPY).
But the local currency was firmer against pound sterling to quote at 6.097.