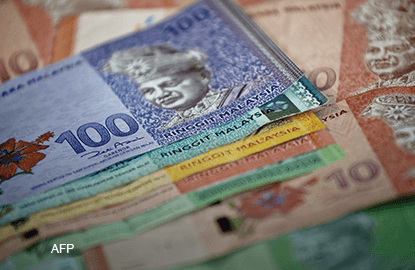 KUALA LUMPUR, (Aug 21): The ringgit weakened to fresh levels against major currencies, dented by China's economic growth and yuan devaluation concerns besides lower crude oil prices.
Malaysia's political uncertainties were also closely watched as investors evaluated ringgit prospects after policy makers said they had no plans to peg the ringgit to the US dollar.
 
The ringgit depreciated to new levels at 4.1895 against the US dollar and weakened versus the Singapore dollar at 2.9736.
"Beginning August this year, as if taking turns, it was (and possibly still is) the ringgit,
which came under intense selling pressure. The timing of the ringgit selloff however seemed awkward as Malaysia's recent economic data have surprised on the upside with better than expected trade and GDP figures," MIDF Amanah Investment Bank Bhd wrote in a note today.  
"Additionally, there were no recent major monetary actions from Bank Negara Malaysia that may explain the sheer ringgit decline. We reckon the main sources of ringgit's sharp decline in August were neither domestic monetary nor economic in nature, but arguably emanated from (i) the recent conflagration of domestic political rows involving both inter- and intra-party spats, as well as (ii) the surprise decision by the People's Bank of China, China's central bank, to devalue its currency," MIDF said.
In Malaysia, Prime Minister Datuk Seri Najib Tun Razak and Bank Negara governor Tan Sri Dr Zeti Akhtar Aziz said the central bank had no plans to peg the ringgit against the US dollar, which had strengthened in anticipation that US interest rates would rise this year.
Zeti said the ringgit was not the only currency which had weakened against the US dollar
as other currencies had also depreciated against the greenback.
In 1998, Malaysia pegged the ringgit at 3.8000 against the US dollar before replacing the system with a managed-float scheme in July 2005.
Under the existing managed-float scheme, Bank Negara monitors the ringgit against a currency basket to ensure the ringgit's exchange rate remains near its fair value.
Today, the ringgit took the cue from China economic data and lower crude oil prices, both of which, also hit world share markets.
Reuters reported that global stocks tumbled on Friday after a survey showed Chinese factories contracted at their fastest pace since the depth of the global financial crisis in 2009, sending investors scurrying to the safety of bonds and gold.
The preliminary Caixin/Markit China Manufacturing Purchasing Managers' Index stood at 47.1 in August, well below a Reuters poll median of 47.7 and down from July's final 47.8.
In commodities, crude oil resumed its downward trend. U.S. crude, slipped 0.4 percent to US$40.91 after touching a multi-year low of US$40.21 on Thursday.