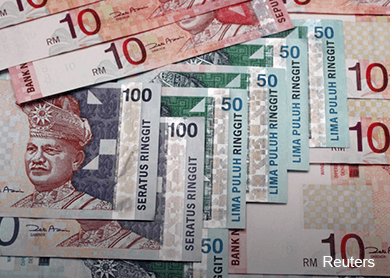 (Feb 12): Malaysia's ringgit fell to a one-week low after European lawmakers failed to agree on a bailout plan for Greece, damping risk appetite on lingering concern the nation will default and exit the euro.
The ringgit dropped for a fourth day and bonds declined, with the currency seeing little reaction to reports showing economic growth beat estimates and the current-account surplus declined. Euro region finance ministers will resume talks next week on how to keep bailout funds flowing to Greece.
"People are in a cautious and risk-off mode again following what happened over Greece," said Choong Yin Pheng, senior manager for bond and economic research at Hong Leong Bank Bhd. in Kuala Lumpur. "We are still expecting a moderating trend for the Malaysian economy going into next year because of the oil price and the softer global outlook."
The ringgit depreciated 0.6 percent to 3.6205 a dollar as of 12:06 p.m. in Kuala Lumpur, according to data compiled by Bloomberg. It earlier fell to 3.6283, the lowest level since Feb. 3, and has lost 2 percent in four days.
Fourth-quarter GDP increased 5.8 percent from a year earlier, accelerating from 5.6 percent in the previous three months, official data showed. That was more than the 5 percent median estimate in a Bloomberg survey. Full-year growth was 6 percent, compared with 4.7 percent in 2013 and exceeding the 5.9 percent forecast. It was the fastest pace since 2010.
The current-account surplus dropped to 6.1 billion ringgit ($1.7 billion) from 7.6 billion ringgit, the figures showed. That compared with the 9.8 billion ringgit estimate in a Bloomberg survey and was the lowest since the three months to June 2013.
The ringgit has fallen 8 percent in the past three months, the worst performance in Asia, as a 51 percent decline in Brent crude since June cut earnings for the net oil exporter.
Sovereign bonds fell. The yield on Malaysia's 10-year government debt climbed three basis points, or 0.03 percentage point, to 3.88 percent, data compiled by Bloomberg show. That's the highest since Jan. 27. The five-year yield rose three basis points to 3.76 percent.