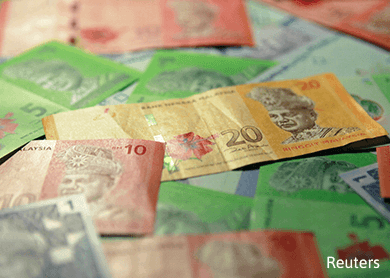 KUALA LUMPUR (Mar 11): The ringgit continued its downward slide today, touching a low of 3.7125 as the market anticipates an earlier-than-expected hike in US interest rate.
The ringgit dropped to a six-year low to close at 3.7035 to a US dollar yesterday.
According to MIDF Amanah Research chief economist Maslynnawati Ahmad, ringgit volatility is likely to continue for the next three months on market expectations that the US Federal Reserve's (Fed) may raise interest rate in June.
This is coupled with Monday's (March 9) launch of the European Central Bank's (ECB) quantitative easing (QE), which is is scheduled to run till September 2016, she said to the edgemarkets.com today.
Maslynnawati adds that the weaker ringgit is also caused by the negative sentiment on the Malaysian economy following a slump in global crude oil prices. Bank Negara Malaysia is scheduled to release its annual report for 2014/2015 later today.
Investors still believe that the low oil prices will impact Malaysia's fiscal position, she said.
"Once these negative sentiments are cleared, the ringgit is likely to rebound against the US dollar," she said. Brent rose 44 cents to US$56.83 a barrel as of 0020 GMT.
Maslynnawati said investors were also keeping a close watch on the public and private sector debt levels as the weaker the ringgit, the higher the debt service cost would be.
She is projecting the ringgit to trade between 3.5 and 3.6 to one US dollar towards the end of the year.
Hong Leong Investment Bank economist Sia Ket Eee said the trading trajectory of the ringgit against the US dollar depends on the upcoming external trade statistics.
According to Sia, the upcoming Industrial Production Index and external trade data would be closely watched as it would indicate how resilient the Malaysia economy was amid low oil prices.
"The negative sentiment should settle down when the data improves," he said, adding that the ringgit is likely to rebound to 3.5 to a US dollar if the statistics improve.
Still, Sia is of the view that the ringgit is still relatively stable compared with regional peers such as the Singapore dollar.
"The market is still digesting ECB's QE plan and is adjusting its investment strategy going forward," he added.