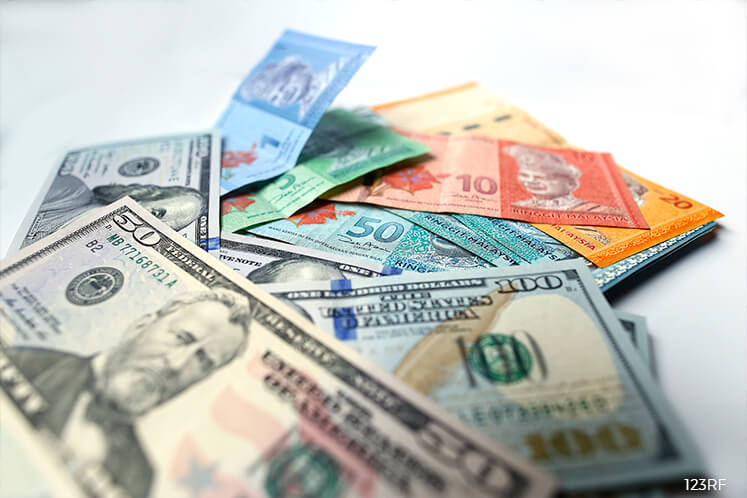 KUALA LUMPUR (Aug 13): The ringgit is expected to weaken to 4.10 against the US dollar by the end of this year, "and potentially overshoot on the downside", said RHB Research.  
The near term weakness is anticipated on the back of a stronger greenback, the ongoing US-China trade war, as well as policy uncertainty in Malaysia amid the recent regime change, said the research house.  
"We believe the strong US dollar may persist for a while, as the US Federal Reserve is still expected to raise rates twice for the remainder of 2018, and another three times in 2019," said RHB Research economist Peck Boon Soon in a note today.  
"The Chinese yuan has depreciated by 3.2% since end-June up to Aug 8, due to the trade war and concerns over the impact on China's GDP growth. This may drag other regional currencies, including the ringgit, on expectation of competitive devaluation," Peck said. 
Locally, policy changes and "change of heads in government-linked companies" are likely to lead to a slowdown in economic activities in the months ahead, he added.  
"This, coupled with easing inflation due to the freeze on RON95 fuel prices, suggest that Bank Negara Malaysia may not have much room to raise overnight policy rate further for the rest of the year.  
"We believe the ringgit may have to shoulder most of the burden of adjustment, due to capital outflow arising from major central banks' policy tightening, thereby weakening further," Peck said. 
However, Peck is of the view that the weakness will "unlikely be too severe" and that the situation appears more "manageable".  
"Although the sharp depreciation of Turkish lira in recent months has raised concerns over a contagion effect, we believe it is likely to be contained," he added. 
Malaysia also has a surplus in its current account in the balance of payment, Peck said. He added that the higher oil price would also help support the ringgit.  
"If capital outflow is not too serious, the inflow of trade money would help to support the ringgit," Peck said, citing an example of how foreign investors who have sold RM24 billion of fixed income instrument holdings in the April-June election period, have started to buy back in July.