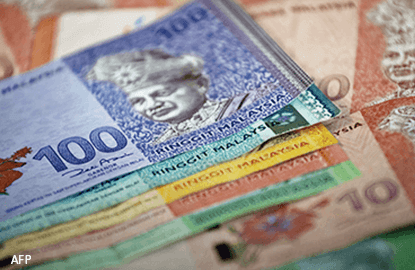 KUALA LUMPUR (Dec 15): The ringgit depreciated to its weakest level against the US dollar so far today at 4.4668 following the US Federal Reserve's interest rate rise and as investors priced in further hikes in 2017.
At about 1pm today, the ringgit pared losses at 4.4648 against a strengthening US dollar. The US Dollar Index, which measures the US dollar's value against a basket of currencies rose to 102.26.
US rate hikes do not bode well for Asian markets in anticipation that investors will shift their money into US dollar-based assets.
Other Asian currencies also weakened against the US dollar. The Singapore dollar depreciated to 1.4374 while the Thai baht was traded at 35.71.
Reuters reported that the Federal Reserve raised interest rates by 25 basis points to between 0.5% and 0.75% on Wednesday as widely expected. The real mover came from the Fed signalling three hikes in 2017, up from around two flagged at its September policy meeting.
In Malaysia today, RHB Research Institute Sdn Bhd chief Asean economist Peck Boon Soon told theedgemarkets.com that the market had priced in Wednesday's US rate hike, which was anticipated.
Peck said the ringgit depreciated with regional currencies. "The market has already priced in the rate hike, hence the impact is not so great but if the hike was beyond expectation, the effect would have been bigger. The market will continue assessing and adjusting to the hike," he said.
Earlier, Federal Reserve Chair Janet Yellen had said US interest rates might rise "relatively soon". Yellen's comment was in anticipation of higher US inflation due to US President-elect Donald Trump's planned expansionary fiscal policies.