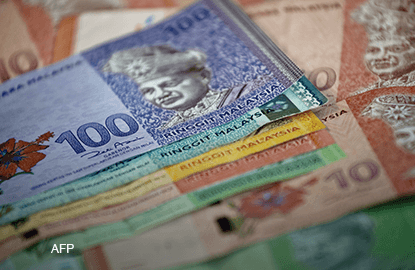 KUALA LUMPUR (Aug 6): The Malaysian ringgit continue to weaken against the US dollar today and is approaching to its 17-year low of 3.9340 recorded on September 1, 1998.
As at 11.26am, the ringgit weaken by 0.36% to quote at 3.8915 against the greenback. It had earlier fallen to a low of 3.8950 before paring losses.
According to Bloomberg data, this was the weakest level since Sept 2, 1998.
The ringgit had fallen to a low of 4.7125 on Jan 9, 1998 against the greenback before the Bank Negara Malaysia (BNM) pegged the ringgit to the US dollar in September 1998 at 3.8000.
In a currency note on Thursday, Ambank foreign exchange research said it expects Malaysia's ringgit to trade in the range of 3.8670 to 3.9120 against the greenback today.
"This morning ringgit opened at 3.8793 against the US dollar. If the resistance of 3.9120 is breached, we expect the ringgit to trade higher to 3.9220. If the support of 3.8670 is broken, the next support is at 3.8590," it added.
In comparison, the ringgit also depreciated by 0.39% against the Singapore dollar to be quoted at 2.8120 at the time of writing.