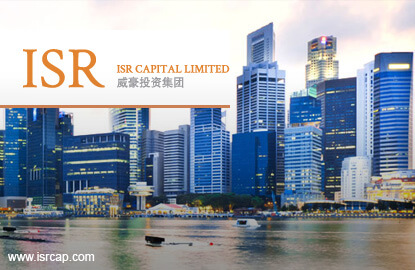 SINGAPORE (March 31): ISR Capital may have fallen out with its largest shareholder, David Rigoll, but it is still on track to acquiring a major stake in a rare earths mining concession in Madagascar that was once owned by a company Rigoll led.
It is likely to be an uphill task though. Shares in ISR are now trading at just 0.9 of a Singapore cent and its entire market value has shrivelled to just S$16.3 million.
Last year, ISR had proposed to acquire a 60% stake in Tantalum Holding (Mauritius), which owns the rare earths concession, from a Singapore-registered company called REO Magnetic for S$40 million. It had proposed to pay for this by issuing new shares to REO Magnetic at 10 Singapore cents each.
Clearly, with its shares trading at a fraction of a Singapore cent, ISR is going to struggle to fund the acquisition now.
In order to raise cash, ISR has turned to issuing convertible bonds on onerous terms to an entity called the Premier Equity Fund, which is run by an outfit called Value Capital Asset Management (VCAM).
In November 2014, ISR announced a deal to raise up to S$35 million through the issue of 2% convertible redeemable bonds in seven tranches of S$5 million each to the Premier Equity Fund. This past week, the company began drawing funds from the second tranche of this programme, raising some S$1.9 million in cash.
The bonds are convertible into new shares at just 0.4 Singapore cent a share. That is a far cry from the terms at which ISR was raising funds only a few months ago.
Are these the so-called death spiral convertibles because of their dilutive impact on the underlying shares?
For the full story, check out The Edge Singapore (Issue 773, week of April 3), available at newsstands now.