This article first appeared in The Edge Malaysia Weekly, on June 10, 2019 - June 16, 2019.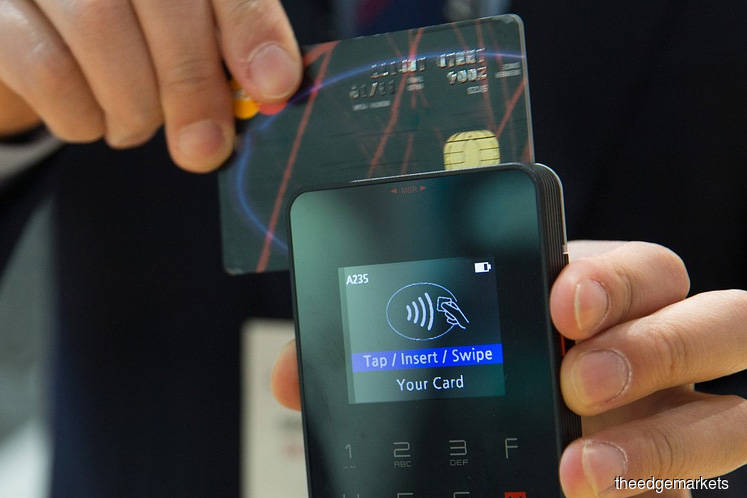 Like it or not, fintech has revolutionised finance. According to Bank Negara Malaysia data, more and more people are turning to fintech, with the number of e-payments growing rapidly over the years. Transaction value per capita rose from RM550,703 in 2016 to RM613,676 in 2017, or 11% year on year, followed by a 9% y-o-y rise to RM668,785 last year. The volume of e-payment transactions per capita expanded in tandem, from 97.5 in 2016 to 110.6 in 2017 and 124.6 last year.
Meanwhile, the transaction value and volume per capita for cheques declined in the same period. From RM52,646 in 2016, the value of cheque transactions fell to RM44,215 last year while volume slipped from 4.2 to 3.1 in the same period.
With the continued rise in technology and a budding ecosystem, Malaysia has never been at a more exciting moment in its fintech journey, Bank Negara observes.
"In 2018, Bank Negara observed increasing opportunities in two important dimensions. First, that technologies were rapidly maturing and becoming more viable for widespread adoption by our financial system.
"Secondly, in tandem with this maturing technological cycle, the capabilities, appetite and openness of various stakeholders in the industry to explore market leading ideas were steadily rising. Given these rapidly converging elements, Bank Negara identified a unique opportunity to bring together these key stakeholders in a serious conversation on the potential to reshape the future of finance in Malaysia," says the central bank in a statement.
"A conference with the prominence and magnitude of MyFintech week will be the most all-encompassing conversation series that unites all stakeholders within our borders and beyond, serving to infuse and germinate the wealth of ideas from these stakeholders. For this precise reason — driving deeper dialogue — MyFintech Week features a host of targeted conversations: the Financial Industry Conference, aimed at traditional financial institutions; the Fintech Summit aimed at the local fintech community; Digital Leader Masterclasses aimed at decision makers; and many more," the central bank says.
The country's first flagship fintech event — MyFintech Week 2019 (MyFW2019) — will take place from June 17 to 21 at Sasana Kijang, its centre of knowledge and learning excellence, Kuala Lumpur.
The rise of fintech has been fast-paced and more noticeable recently. Internet banking, one of the subsets of e-payments, continues to be on an upward trend, achieving a record penetration rate of 93% of the population as at March.
The rise in internet banking is reflected in the transaction value per capita. From RM100,425 in 2016, it has risen 26% y-o-y to RM126,746 in 2017 and 13% y-o-y to RM142,660 last year. These figures exclude non-financial transactions, payment card transactions and interbank fund transfers online.
E-money transactions have also risen steadily. Transaction value per person climbed 12% y-o-y from RM172.10 in 2014 to RM192.20 in 2015, to RM243.10 in 2016 (26% y-o-y) and RM283.80 in 2017 (18%). Last year, it saw a jump of 19% to RM338.70.
This rise in e-money transactions has kept pace with the rise in e-money issuers. From 17 non-bank e-money players in 2014, the number has more than doubled to 40 at present.
'Shifting tides: Future of finance'
Although fintech allows for greater convenience and efficiency, it does have its fair share of issues, including the regulatory conundrum, the complexities of taxing the digital economy, cybersecurity and data privacy.
In Malaysia, cybersecurity breaches more than doubled from 2009 to 2017.
In 2017, there were 7,962 cases compared with 3,564 in 2009. A notable incident occurred in 2014, involving a major data breach of more than 46.2 million mobile phone subscribers, resulting in confidential personal information being compromised.
During the first four months of this year alone, there were 2,977 cybersecurity incidents involving fraud, intrusion and malicious code here, according to CyberSecurity Malaysia.
Cybersecurity breaches are not unique to Malaysia and pose a real risk globally as the world embraces technology.
In 2015, there was a cyberattack on Ukraine's power grid and a year later, Bangladesh Bank's SWIFT system experienced an attack as well. The global cost of cybercrime in 2014 was estimated at US$375 billion to US$575 billion, translating into about 0.6% of global gross domestic product, according to Bank Negara data.
Given its growing use, fintech is increasingly vulnerable to money laundering, cybercrime and other risks.
These issues and more will be part of the MyFW2019 conversation, which is being organised in conjunction with Malaysia Digital Economy Corporation's Malaysia Tech Week 2019.
The event aims to promote growth and diversity in the fintech ecosystem, spur the digital transformation of financial institutions, drive responsible innovation in fintech and elevate public acceptance of fintech.
With the theme, "Shifting Tides: Future of Finance", MyFW2019 will focus on five key areas: the digital economy, financial inclusion, insurance technology, Islamic finance and cybersecurity.
The event will feature more than 30 sessions, five masterclasses and 100 speakers comprising a mix of regulators and tech and financial experts. Key note speakers include
Bank Negara governor Nor Shamsiah Mohd Yunus; Hong Kong Monetary Authority deputy CEO Arthur Yuen; chief digital adviser to the International Monetary Fund Hervé Tourpe; Tencent Holdings Ltd vice-president and head of fintech Jim Lai; MDEC CEO Surina Shukri; Malayan Banking Bhd group president and CEO Abdul Farid Alias; CIMB Group CEO Tengku Zafrul Aziz; Europe's No 1 ethical hacker Jamie Woodruff; Mike Eubanks (supervisory special agent at the Federal Bureau of Investigation); and Yeap Yoke Peng (Cybercrime Division CCID, Polis Diraja Malaysia).
The future of fintech promises much but also requires much, says Bank Negara. "It is not without risks. But with the right approach, its potential is within reach. Malaysia is poised to ride the incoming wave of technology and realise the benefits of fintech innovation. Over the coming years, Malaysia's financial landscape is expected to be transformed, driven by leading innovations in the space of electronic know-your-customer processes, artificial intelligence, distributed ledger technology, open API, cybersecurity and more. It will become more seamless, more digital, with customers at its core.
"In fact, the foundations are already in place. Malaysia's high level of financial inclusion (characterised by 99% of the population having access to at least one financial access point), highly banked population (95% of adults have a deposit-taking account) and population familiar with technology (over 70% smartphone ownership) makes it well-suited to quickly adopt novel technologies that can augment and enhance current offerings." Bank Negara says it has focused on creating "an enabling regulatory environment" to encourage innovation and realise the promise of fintech.
"Bank Negara's vision for the future of fintech is one that embodies the following elements — safe, agile and collaborative. In essence, the future of fintech will bring about a financial sector that is not only safe, but also sustainable and transformative. It aspires to evolving a financial services industry that uplifts livelihoods, empowers individuals and catalyses entrepreneurship," it says.