This article first appeared in The Edge Malaysia Weekly, on June 18, 2018 - June 24, 2018.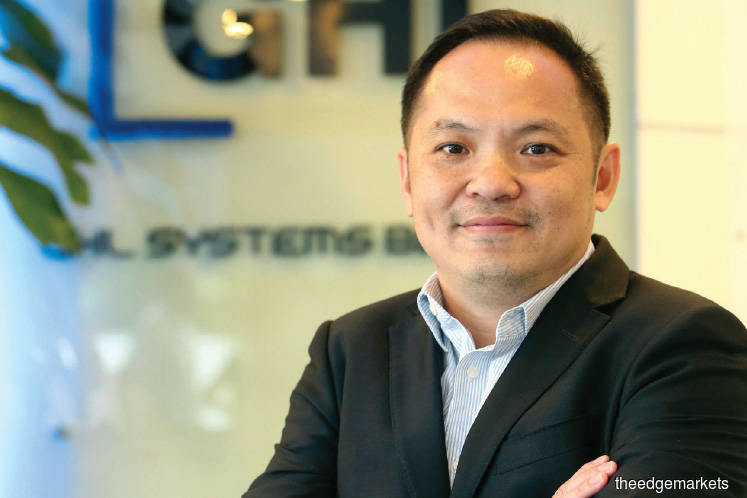 IN slightly over a year, GHL Systems has managed to rope in two foreign strategic investors. And they were willing to pay a price that values GHL at a price-earnings ratio of above 30 times.
UK-based Apis Partners, via Apis Growth 14 Ltd, acquired 65 million shares, equivalent to a 8.98% stake, in GHL at RM1.30 apiece — 30% higher than the price paid by Actis Stark when it acquired some 290.24 million GHL shares at RM1 apiece from chairman Simon Loh Wee Hian and private equity fund Creador in April last year.
Actis Stark, a unit of London-based private equity fund Actis, is currently the single largest shareholder of GHL.
Last Wednesday, GHL closed at RM1.53, giving it a market capitalisation of RM1.1 billion. Based on the price of RM1.30 paid by Apis, GHL is valued at a price-earnings ratio of 41.5 times its earnings per share of 3.31 sen in the last financial year ended Dec 31, 2017 (FY2017).
The presence of these strategic investors speaks volumes about GHL's prospects.
According to group CEO Danny Leong, presenting the company's profile to Apis was quite an enjoyable and quick process. Apis is familiar with the e-payments business and has such investments globally, hence, saving GHL some work in explaining its business model.
"They looked at our TPV or total payment volume growth, which represents the volume of transactions we process across all our operations in the different countries," Leong says when asked about the major factors Apis was looking at during due diligence.
GHL's core operation is its third-party acquiring business, also known as transaction payment acquisition (TPA). GHL acquires merchants to facilitate their acceptance of e-payments and transactions via its terminals through its partnership with global schemes, card payment acquirers, e-wallet issuers, telcos and billers.
The company is working with the likes of CIMB Bank, MyDebit, Global Payments Inc and Bangkok Bank for card payment services, as well as next-generation payment services such as Touch 'n Go, Alipay and Beep. WeChat, which will soon launch its e-money service WeChat Pay in Malaysia, has also approached GHL.
The growing traction of e-money has allowed GHL to approach bigger merchants like petrol station chain owners and hypermarkets — big merchants that were traditionally served directly by the commercial banks.
"With the rise of e-wallets, I am able to sneak up to big merchants like petrol stations because the banks are not doing it. The banks are in a dilemma because e-wallets are a direct competitor to their CASA (current and savings accounts).
"The merchants [now] want to be able to accept e-money, which opens up an opportunity for us," says Leong.
He adds it is "now or never" for the e-money landscape in Malaysia and believes e-wallets may not be successful here if they do not pick up over the next two to three years.
"I have seen this in three countries. There have to be enough players and money coming in to change market behaviour rather than a single player doing it slowly by itself. It's all about changing behaviour."
But he believes "there is enough money, players and efforts made to change consumer behaviour in Malaysia and I think there is a chance [for e-wallets to take off]".
He says ultimately, there will be three to four players left in the market. The remaining players will go beyond payments, like Alipay in China. Alipay, an affiliate company of Alibaba Group, has successfully branched out into various services beyond just payments.
Land grab strategy to grow
In April, GHL announced its acquisition of Paysys Communications Sdn Bhd for RM80 million, paying RM40 million cash and via the issuance of up to 33.5 million new GHL shares at RM1.19.
Paysys is involved in the traditional credit card payment system, such as the sale, rental and maintenance of credit card point-of-sales (POS) terminals for Malaysian banks.
Leong knows questions will be raised about the acquisition, considering that Paysys is more of a card-payment player whose business volume is likely to shrink should e-wallets or mobile wallets become more popular.
But he explains that Paysys has a base of 100,000 terminals in Malaysia. More importantly, its clients include banks such as AmBank and Public Bank Bhd.
"That is where the synergy lies. Looking further ahead, we can promote our products to Paysys' clients. It's a bit of a land grab play in a way. The e-wallet operators are going for the consumers, while we go for the merchants."
As at end-March, GHL had more than 170,000 POS terminals across its three key markets of Malaysia, Thailand and the Philippines, with Malaysia accounting for 98,000 terminals. With the acquisition of Paysys, he says GHL can easily achieve 300,000 terminals by year-end.
As the group continues with its strategy of increasing its merchant base and adding on more services, Leong expects it to register double-digit growth for the current financial year ending Dec 31, 2018 (FY2018). GHL's net profit has grown from RM15.26 million in FY2013 to RM20.45 million in FY2017. Revenue has climbed from RM164 million to RM253.68 million in the same period.
For the first quarter ended March 31, GHL's net profit grew 10% to RM5.87 million, compared with RM5.33 million a year ago. Revenue, however, fell 12% to RM59.75 million.
The higher profit was partly due to better performance from its TPA division, which saw improvements across its three key markets.
E-government segment another target market
Besides the private and commercial segment, GHL is also looking at the public or government segment, which is also pushing to digitise operations. Leong says this is happening across most Asean countries.
These public sector initiatives can range from simple services such as providing e-payment service to government agencies, to more challenging solutions, for instance, the distribution of subsidies.
"Whether it's a subsidy for fuel or other things, at the end of the day, it will still need to be applied at the merchants," Leong says. With its existing network of merchants, GHL can provide the solution for users to buy, transact and check their validity for the subsidy. This, he says, would aid the government in facilitating targeted subsidies.
Meanwhile, the group also intends to do more cashless collections in rural areas that do not have easy access to banks, similar to its existing contract with Amanah Ikhtiar Malaysia (AIM), a unit under the Finance Ministry handling microloans.
Before that, AIM did things the traditional way by sending officers to the rural areas to collect loan repayments. The collections tended to go missing for various reasons, so AIM decided to digitise the whole process.
"What we did was we deployed 5,100 GPRS terminals for AIM across the nation, which took us a year due to the remoteness of the areas," explains Leong.
"Now, its officers either carry a terminal or go to a partner shop with a terminal and the borrowers can swipe their ATM cards and directly transfer the amount owed from their bank accounts without needing to use physical cash, reducing the probability of theft or fraud."
He says this also helps in educating and changing the behaviour of users in rural areas to go cashless as they can make use of their ATM cards for payments.
Regional expansion
After securing a new strategic partner, Leong says GHL will be more aggressive going forward and is looking at expanding its footprint in the Asean region. It is eyeing markets in Indonesia, Myanmar and Vietnam, among others.
Having partners such as Actis and Apis is an advantage for GHL, he says, as the firms have a wide network and are constantly looking at deals.
"For Indonesia, it won't be organic. We are looking at potential acquisition targets to jump-start our operations, as we are about 20 years behind there [compared with the physical infrastructure the company has in Malaysia]. Obviously, we want to get a share of the huge population.
"We are a bit cautious about Myanmar because it just started issuing credit cards for the locals at the beginning of last year, so we are keeping a close eye on it."
Save by subscribing to us for your print and/or digital copy.
P/S: The Edge is also available on Apple's AppStore and Androids' Google Play.