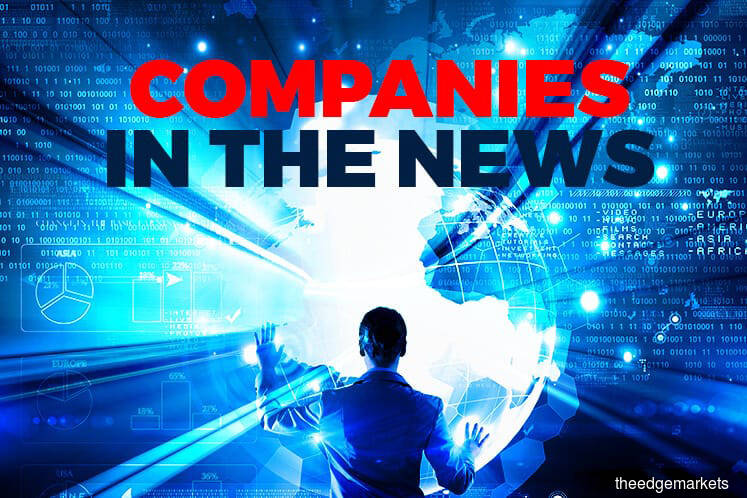 KUALA LUMPUR (Dec 12): Based on corporate announcements and news flow today, stocks in focus on Wednesday (Dec 13) may include: Rhone Ma Holdings Bhd, UEM Sunrise Bhd, Cocoaland Holdings Bhd, Kuala Lumpur Kepong Bhd, AEON Co (M) Bhd, Magni-Tech Industries Bhd, Anzo Holdings Bhd, Fajarbaru Builder Group Bhd, Pos Malaysia Bhd, Scomi Energy Services Bhd, Malaysia Airports Holdings Bhd and Maxwell International Holdings Bhd.
Rhone Ma Holdings Bhd's subsidiary Rhone Ma Malaysia Sdn Bhd has received an amended agreement to stop distributing multinational animal health company Merial's swine, poultry, ruminant and veterinary public health products.
Under the new products list, Rhone Ma will continue to distribute companion animal products of Merial.
The amendment is not expected to have any material impact on the earnings of the group for the financial year ending Dec 31, 2017 (FY17), but is expected to have a negative financial impact to the group for FY18.
Rhone Ma said it will mitigate the negative financial impact by exploring distribution options for its poultry, swine and ruminants products with other major international suppliers of animal health products.
The group will also increase efforts to market and sell other products, particularly in-house manufactured products, and expand market share in regional markets with growth potential.
UEM Sunrise Bhd is buying a 19.24-acre (7.79ha) leasehold land in Taman Equine, Seri Kembangan, Selangor from Kemaris Residences Sdn Bhd for RM109.5 million.
UEM Sunrise managing director and chief executive officer Anwar Syahrin Abdul Ajib said it intends to use the land for a boutique development for the upper-middle market segment, with a gross development value (GDV) exceeding RM700 million.
UEM Sunrise's wholly-owned subsidiary Sunrise Alliance Sdn Bhd (SASB) inked a sale and purchase agreement today with Kemaris Residences for the proposed acquisition.
The transaction is conditional upon Kemaris Residences obtaining the Selangor state government's consent to transfer the Equine land to SASB.
Cocoaland Holdings Bhd has received revised tax audit findings for the years of assessment 2010 to 2014, from the Inland Revenue Board (IRB) on Dec 6.
The revised tax audit findings show an additional income tax of RM10,239.73 and 45% penalty of RM4,607.89, totalling RM14,847.62.
The group said the outcome is positive as the IRB has allowed the claim of reinvestment allowance on certain plant and machinery disputed in the initial tax audit findings dated Oct 19.
In October this year, Cocoaland had been told to pay additional tax of RM4.06 million, plus a 45% penalty of RM1.83 million, arising from a rejected reinvestment allowance it had claimed for the years of assessment 2010 to 2014.
Kuala Lumpur Kepong Bhd (KLK) plans to acquire Elementis BV's surfactant chemicals business and its 16.2-hectare Delden manufacturing plant in the Netherlands for a total enterprise value of €39 million (or RM187.2 million), on a cash-free debt-free basis and with a normal level of working capital.
In a filing with Bursa Malaysia, KLK said its wholly-owned subsidiary Kolb Distribution AG had entered into an agreement with the global specialty chemicals company to acquire its entire interest in Elementis Specialties Netherlands BV (ESN), comprising 3,404 shares of a nominal value of €1,000 each.
This is together with its working capital, plant and machinery, storage facilities, laboratories and all other tangible assets and inventories associated with the surfactant chemicals business conducted at ESN's plant in Delden.
Aeon Co (M) Bhd has lowered its stake in the joint venture (JV) with Thai company Index Living Mall Company Ltd (ILM).
Aeon said the company has entered into a supplemental agreement to the original JV agreement dated Sept 20, 2013 to revise the shareholding structure of Aeon Index Living Sdn Bhd.
Under the supplemental pact, the new shareholding structure of Aeon Index according to the investment ratio has been revised to ILM 51%: Aeon 49%, from ILM 30%: Aeon 70% previously.
In September 2013, Aeon announced the incorporation of the JV company Aeon Index with Bangkok-based ILM, to become a one-stop furniture retailer in Malaysia, providing complete sections of home or office furniture, home fashion products accessories and related services, under the trademark Index Living Mall.
Magni-Tech Industries Bhd's net profit dropped 28% to RM20.5 million or 12.6 sen per share in in the second quarter ended Oct 31, 2017 (2QFY18), from RM28.52 million or 17.53 sen per share a year ago, due to lower garment sales and the closure of its offset printing packaging business.
The garment business made up 90.5% of the group's revenue for 2QFY18, which retreated 10% year-on-year to RM252.32 million, from RM279.79 million in 2QFY17.
It also declared a second interim dividend of 4.5 sen per share, amounting to RM7.32 million, for the financial year ending April 30, 2018 (FY18), payable on Jan 12, 2018.
For the cumulative six months (6MFY18), Magni-Tech's net profit fell 23% y-o-y to RM40.09 million, as its garment division profit was pressured by higher foreign exchange losses and operating expenses. At the same time, its packaging business saw higher raw material costs and operating expenses, on top of lower revenue.
Revenue for 6MFY18 slipped 1% y-o-y to RM546.03 million, mainly due to lower packaging business revenue after the cessation of its offset printing packaging business, but mitigated by higher garment division revenue in 1QFY18.
Anzo Holdings Bhd's construction unit has bagged a RM28.91 million sub-contract to build a 14-storey office building in Jalan Hospital Bandar, Ipoh, Perak.
The job was awarded to its wholly-owned unit Anzo Construction Sdn Bhd (ACSB) by QuicBuild System Sdn Bhd, a private limited company incorporated in Malaysia that is principally involved in building construction and development.
The contract duration is for 19 months, to be completed on June 14, 2019. The group intends to fund the contract via internal funds and/or external borrowings.
Fajarbaru Builder Group Bhd has won a RM22.05 million contract from Pos Malaysia Bhd to renovate the latter's Integrated Parcel Sortation Centre at Pos Malaysia International Hub at the Kuala Lumpur International Airport.
The contract, to be completed in eight months, is expected to contribute to the group's earnings for the financial years ending June 30, 2018 (FY18) and 2019 (FY19).
Pos Malaysia Bhd expects its courier arm Pos Laju to contribute a revenue of about RM700 million this year and sustain a growth of 20% to 21% next year, according to a Bernama report.
Group chief operating officer Datuk Azlan Shahrim was quoted as saying that Pos Laju has become the group's largest revenue contributor.
He said this is expected to continue, driven by e-commerce growth, even though it was still relatively low, compared with that of other countries' 20% to 25% yearly.
Currently, Pos Malaysia has about 700 post offices, 86 Pos Laju centres, 12 drive through counters, with plans afoot to add 20 more in the near term, and pick up service which is free for contracts customers. It has 22,000 contract customers who contributed about 45% to its revenue at present.
Minority shareholders of Scomi Energy Services Bhd have been advised to accept its proposed merger with 65.65% shareholder Scomi Group Bhd and associate Scomi Engineering Bhd.
Independent adviser BDO Capital Consultants Sdn Bhd said the offer price is "fair" as the fair value and market price of Scomi shares under Scenario 1 — post consolidation with Scomi Energy and Scomi Engineering — is higher than the price of Scomi Energy shares.
The same applies if Scenario 2 occurs — that Scomi Engineering opts out of the merger proposal.
BDO said the offer is also at a premium of approximately 15% to 30% over the value of Scomi Energy shares, based on its volume-weighted average market price (VWAMP) for the three-month and five-day period ended Dec 6, 2017.
BDO also viewed the proposed merger as "reasonable" as Scomi Energy shares are less liquid — at 3% trailing 12-month volume-to-free float, compared with Scomi Group's 7%.
Scomi Energy shareholders were offered three Scomi shares for five Scomi Energy shares held — together with one-for-ten free warrants — for an implied offer price of 13.4 sen, which is a discount to its fair value of between 28.4 sen and 29.7 sen.
Malaysia Airports Holdings Bhd (MAHB) said the number of passengers passing through the 39 airports it manages in the country rose by 4.8% year-on-year (y-o-y) in November 2017.
A total of 7.9 million people travelled through the airports in Malaysia in November 2017, up from 7.54 million a year ago.
MAHB said the single digit growth of passenger traffic movements for airports in Malaysia for November 2017, was in line with its expectations.
International traffic rose 13.2% y-o-y to 4.09 million passengers, mostly contributed by the Middle East, South Asia, North East Asia and South East Asia sectors.
Domestic traffic fell 3% y-o-y to 3.81 million passengers, essentially contributed by AirAsia.
Istanbul Sabiha Gokcen International Airport's (SGIA) passenger traffic grew 10.9% y-o-y in November 2017, as it saw international and domestic traffic increase by 15.6% y-o-y and 9% y-o-y respectively.
Overall average load factor was 74.1%, a one percentage point less than in November 2016.
For the first 11 months of this year, passenger traffic at the 39 airports in Malaysia improved 9.3% to 87.51 million, from 80.09 million a year ago, while SGIA handled 4.8% more passengers at 28.74 million in 11M17, from 27.43 million in 11M16.
One of two legal firms appointed by Maxwell International Holdings Bhd has resigned due to difficulties faced when conducting its work, including allegedly uncooperative courts.
Beijing Taojin Law Office was appointed on Sept 5 to conduct due diligence on 14 court litigation cases involving the group's subsidiaries, i.e. Jinjiang Zhenxing Shoes & Plastics Co Ltd, and the latter's indirect unit, Hebi City Yifu Plastics Product Co Ltd.
On Sept 29, Maxwell said it was informed by Beijing Taojin Law Office that the due diligence had not progressed smoothly, because "the courts have not been cooperative" and that the total number of cases and value involved, cannot be determined and could be more than it was initially made aware of.
It previously said the amounts claimed might come up to some 272.18 million yuan (RM173.01 million).
In exchange, Maxwell has appointed Guangdong Kingbridge Law Firm, who it said is "familiar with Guangdong and Fujian provinces area legal matters", to take over the task.