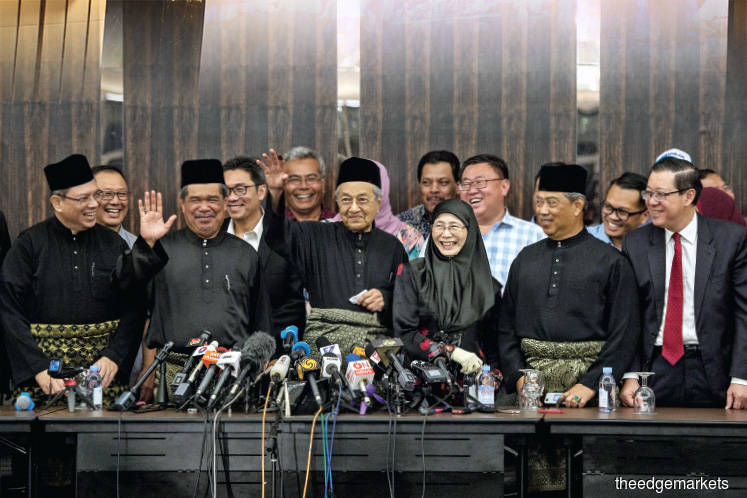 KUALA LUMPUR (Aug 15): The leadership of the Pakatan Harapan coalition says rhetoric that destroys national unity must be rejected, and calls for Malaysians to always cultivate unity and enhance mutual understanding between each other in order to maintain the country's peace and harmony.
"We must set aside rhetoric that destroys unity. We need to end polemics that aims to destroy the country. We need to reject politics that only puts importance on small groups, and not in the interests of the general public," said PKR president Datuk Seri Anwar Ibrahim, Parti Pribumi Bersatu Malaysia president Tan Sri Muhyiddin Yassin, DAP secretary-general Lim Guan Eng and Parti Amanah Negara president Mohamad Sabu in a joint statement today.
They noted that various issues are being discussed by Malaysians now, from economic challenges to polarising issues like racial and religious perceptions, the introduction of khat calligraphy into the national education system, and general developmental issues, which demonstrate that Malaysians clearly are able to express their thoughts more easily via social or mainstream media.
As the nation celebrates its 62nd Independence Day and 56th Malaysia Day this year, they urge that Malaysians take the opportunity to reflect on the successes the country has achieved as well as the challenges the country still needs to face in order to build a clean, just and successful country.
"What Malaysians enjoy today will surely continue to be enjoyed as long as its people continue to be united, strengthen their ties and uphold the constitution and the rule of law. All Malaysians, regardless of position or background, has to always cultivate unity and enhance mutual understanding among ourselves," they said.
Malaysians, they said, must continue to believe that building a nation is an endeavour that requires strong commitment, sincere intentions, high trust towards the community itself, and a clear vision of elevating the dignity of the people to a higher level.
Malaysia, as a multicultural nation, greatly needs harmony among its people, who come from various ethnicities, religions and cultures, they said, adding this diversity must be maintained and respected by everyone.
"We believe all Malaysians love peace and harmony to continue to enjoy living together in a peaceful environment.
"Hence, let us answer Prime Minister Tun Dr Mahathir Mohamad's call to double our efforts to ensure this beloved country of ours remain a prosperous and respected nation," they added.