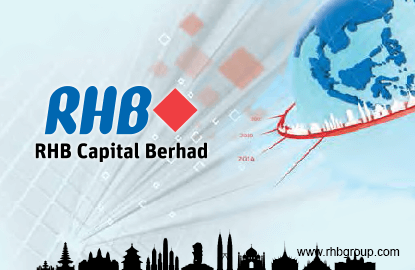 KUALA LUMPUR (Feb 26): RHB Capital Bhd (RHBCap), the country's fourth largest lender by assets, posted a drop in net profit for a third consecutive quarter, weighed down by higher loan impairment charges and higher operating expenses.
Net profit for the fourth quarter ended Dec 31, 2015 (4QFY15) dropped 35% to RM316.12 million or 11.9 sen a share from RM486.19 million or 18.9 sen a share a year ago.
It, however, saw a marginal 0.5% rise in net income for 4QFY15 to RM2.85 billion from RM2.84 billion in 4QFY14.
RHBCap declared an interim dividend of 12 sen per share totalling RM369 million for the financial year ended Dec 31, 2015 (FY15). The interim dividend represents a dividend payout ratio of 24.4% out of RHBCap's net profit for the year, which is the highest in three years.
Meanwhile, weak results during the last three quarters of 2015 dragged down the group's overall net profit for FY15 by 25.8% to RM1.51 billion or 58.1 sen per share from RM2.04 billion or 79.7 sen per share in FY14.
Net income was marginally higher at RM10.83 billion from RM10.41 billion.
In a statement today, RHBCap said its FY15 performance was affected by lower investment banking and securities market related fee income, lower trading income, higher loan impairment charges, and absence of large write-back and income from disposal of investments during the year
"Gross fund based income increased by 9.7% on the back of 6.2% increase in gross loans and financing," it said.
"Funding and interest expense, however, was higher by 14.5% mainly due to higher customer deposits and higher funding expense on sukuk and sub-debts totalling RM1.5 billion and US$300 million senior unsecured notes issued during the second half of 2014.
"As a result, net fund based income grew by 3.7% to RM4.08 billion with net interest margin for the year lower at 2.14% compared to 2.3% in 2014," it added.
RHBCap also noted that its non-fund based income was lower by 8.2% at RM2.11 billion. That's because capital and financial market volatility had resulted in lower investment banking and securities market related fee income, as well as lower trading and investment income.
This was partially offset by the group's wealth management business, which saw asset under management increase by 7.2% to RM52 billion in FY15, affirming its position as the third largest fund manager in the country.
"Excluding the one-off Career Transition Scheme expenses, other operating expenses rose marginally by 2.1%, reflecting our effective cost management across the group." it added.
Allowances for impairment on loans and financing for FY15, meanwhile, increased to RM340.3 million or 65%, primarily due to higher individual allowances and absence of one-off major recoveries in FY14.
RHBCap group managing director Datuk Khairussaleh Ramli said in 2016, the economic landscape is expected to remain challenging.
"We will continue with our focus of optimising cost and managing asset quality, while we choose to invest in key growth areas and enhance our portfolio returns. Our emphasis will also be on improving customer experience and building digital capabilities," he said.
He noted that the completion of the group's rights issue of RM2.34 billion in December 2015 has strengthened the capital base of the group for growth and regulatory requirements.
"The proposed internal reorganisation is expected to be completed by the first quarter of 2016, and the listing of RHB Bank Bhd on Bursa Malaysia to take over the listing status of the group by the second quarter of 2016," he added.
Barring unforeseen circumstances, RHBCap believes that its performance for FY16 will be better than FY15.
At 2.51pm today, RHBCap shares were traded down 9 sen or 1.66% at RM5.33, with 494,500 shares done. Its market capitalisation stood at RM16.6 billion.