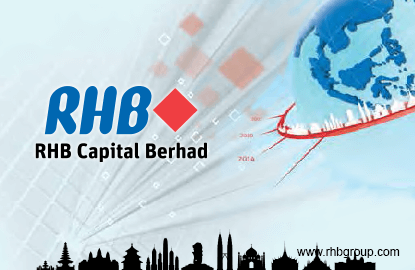 KUALA LUMPUR (Feb 19): RHB Capital Bhd (RHBCap), the country's fourth largest lender by assets, expects to transfer its listing status to its wholly-owned subsidiary RHB Bank Bhd by the second quarter of this year (2Q16), said its group managing director Datuk Khairussaleh Ramli.
"We are still waiting for some approvals (on the listing) to be obtained. Hopefully we can get it done soon ... probably in the second quarter of 2016," he told reporters after the unveiling of RHBCap's new brand promise, 'Together We Progress', here today.
RHBCap had last year announced its plan to transfer its listing status to RHB Bank as part of its internal reorganising strategy. Its shareholders had already passed the motion for the proposal at an extraordinary general meeting in August last year.
Its corporate restructuring exercise also includes raising gross proceeds of up to RM2.5 billion via a renounceable rights issue of new RHBCap shares to finance the working capital of the group.
"We completed our rights issue back in December (2015). Our shareholders put in about RM2.35 billion into the group.
"That certainly will strengthen us as far as capital is concerned, and put us among the best capitalised banks in Malaysia," said Khairussaleh.
Meanwhile, Khairussaleh reiterated that RHBCap will continue to focus on growing its business organically, adding that the group's results for the fourth quarter ended Dec 31, 2015 will be released next week.
Going forward, he expects the global economic environment to remain volatile, adding that the challenge now is to manoeuvre in the volatile landscape.
Khairussaleh is hopeful that the stronger-than-expected gross domestic product growth in 4Q15 of 4.5% could drive better growth this year.
Earlier at an event, RHBCap unveiled its new brand identity. The group had sharpened its focus on 17 strategic initiatives in its IGNITE programme, following the unveiling of its reframed group strategy in August 2015.
"Our brand proposition, 'Together We Progress', represents our brand identity and what we stand for.
"In projecting our fundamental promise to our customers and all other stakeholders, we will be guided by four brand principles, namely being your trusted partner; delivering simple, fast and seamless experiences; providing solutions that help achieve your goals; and nurturing future generations," said Khairussaleh.
Shares in RHBCap closed up two sen or 0.37% at RM5.49 today, bringing a market capitalisation of RM16.88 billion.