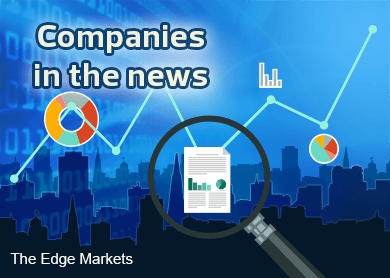 KUALA LUMPUR (April 13): Based on corporate announcements and news flow today, companies that may be in focus tomorrow (Tuesday, April 14) could include: RHBCap, Metronic Global, TNB, Integrax, Petronas Chemicals, DGB Asia, Daya Materials, MRCB, Iris Corp, Asia Poly and Willowglen.
RHB Capital Bhd (RHBCap) has announced its proposal for an internal reorganisation which will see RHB Bank Bhd taking its parent's listing status, confirming a report in The Edge Weekly on April 6.
The group said the internal reorganisation will entail the transfer by RHBCap (fundamental: 1.5; valuation: 2.1) of its entire equity interest in RHB Investment Bank Bhd and RHB Insurance Bhd's subsidiaries, and other operating units of RHB Capital which will be determined later, to RHB Bank.
The group also announced a rights issue to raise proceeds of up to RM2.5 billion for the group's working capital and to meet the requirements of Basel III. The issue price of the shares will be determined at a later date.
After the proposed rights issue, RHB Cap will be distributing its entire shareholding in RHB Bank to entitled shareholders, with RHB Cap ceasing to be a shareholder of RHB Bank.
Metronic Integrated System Sdn Bhd (MISSB) — a wholly-owned subsidiary of Metronic Global Bhd, and UMK Business Ventures Sdn Bhd (UMK) — a wholly-owned subsidiary of University Malaysia Kelantan, has entered into a joint venture agreement (JVA) today to submit a tender to the government for a 100MW solar power plant project in Kelantan.
According to Metronic (fundamental: 1.25; valuation: 0.6), the power plant will be constructed over a 20-year period "on an identified location at Bachok occupying 300 acres, and to produce electricity via photovoltaic solar power plant."
MISSB will hold a 70% stake in the JV company, while the remaining 30% will be held by UMK.
"The main targeted purchaser of electricity is Tenaga Nasional Bhd," said Metronic.
Tenaga Nasional Bhd (TNB), has received valid acceptances amounting to 292.74 million shares, representing a 97.32% stake in Integrax Bhd, at the closing date of its revised and final offer for the port operator today.
Accordingly, TNB (fundamental: 1.3; valuation: 1.8) will proceed to exercise its rights to compulsorily acquire the remaining shares in Integrax (fundamental: 1.65, valuation: 1.4) within two months.
On Jan 9 this year, TNB launched a takeover offer for the remaining shares in Integrax at RM2.75 a share. The offer price was subsequently raised to RM3.25, after other major Integrax shareholders argued that the initial offer was not high enough.
TNB does not plan to keep Integrax listed and the shares will be suspended from April 21.  
Petronas Chemicals Group Bhd has set aside RM3 billion for capital expenditure (capex) this year. The bulk of the capex will be channelled to its Sabah Ammonia Urea (SAMUR) project and an aroma and specialty chemical complex in Gebeng, Pahang.
Petronas Chemicals (fundamental: 2.7; valuation: 1.4) president and chief executive officer Datuk Sazali Hamzah said the capex would strengthen operations at both projects.
Sazali also said Petronas Chemicals expects to maintain overall plant utilisation at between 80% and 85% this year.
"The bulk of our capex will be channelled to enhance most of our projects and strengthen our operation in SAMUR and Gebeng," Sazali told reporters after Petronas Chemicals' annual general meeting here today.
Automated identification and data capture (AIDC) solutions provider DGB Asia Bhd (DGB) will enter into a joint venture (JV) with Rofarez Solutions Sdn Bhd, a Ministry of Finance-linked company, to expand into the cloud-based business.
DGB Asia (fundamental: 1.65; valuation: 0.3) said the JV entails the distribution, implementation and service of cloud-based business solution products that provide integration on the software environment for businesses with proprietary development engines.
"The product will provide platforms to design and build solutions that are directly assimilated onto the cloud operating infrastructure. The system is also goods and service tax (GST) friendly, as customers can incorporate the new GST requirement into their current system without hassle," it said in a statement today.
A memorandum of understanding (MOU) was signed by both parties on April 10, 2015.
Oil and gas services provider Daya Materials Bhd has terminated the joint venture agreement (JVA) entered into between Daya Sheffield Sdn Bhd and Singapore-based human capital management and recruitment solutions provider Connect Energy Services Pte Ltd.
The company said the JVA dated Sept 11, 2013 that was entered into between Daya Sheffield — a joint venture company of Daya Materials' subsidiary Daya OCI Sdn Bhd — had been terminated by Daya Sheffield, via a notice of termination of the JVA given to Connect Energy today.
"The termination of the JVA is not expected to have any material effect on the earnings, net assets, share capital, gearing and substantial shareholders' shareholdings of Daya Materials for the financial year ending Dec 31, 2015," read the announcement.
In Sept 2013, Daya Materials (fundamental: 0.55; valuation: 1.2) had said the JVA was for the purpose of undertaking the provision of manpower services to Songa Offshore Malaysia Sdn Bhd, and that the venture was expected to provide reasonable returns to both Daya Sheffield and Connect Energy.
Malaysian Resources Corp Bhd (MRCB) said it has submitted a tender to acquire the 3.2ha piece of land that belongs to the French Embassy in Jalan Ampang here, and is still waiting for the outcome of the tender.
"We will make the appropriate announcement to Bursa Malaysia in accordance with the listing requirements, as and when required," it said in a filing with Bursa Malaysia today.
The Edge Financial Daily had in December last year, reported the land will be sold via an exclusive tender by CB Richard Ellis (CBRE) Malaysia. The French government was reportedly expecting bids of around RM600 million, which equates to about RM1,800 per sq ft.
Felda Investment Corp Sdn Bhd (FIC) has disposed of 10 million shares in Iris Corp Bhd for RM3.28 million, via three transactions on the open market.
According to a filing with the exchange, FIC disposed three million shares at 33.4 sen per share on April 6, three million shares at 33.3 sen per share on April 7, and four million shares for 32 sen per share on April 8.
This brings FIC's direct stake in Iris (fundamental: 0.35; valuation: 0.8) to 516.37 million shares, representing a 25.31% equity interest.
FIC had subscribed for 394.098 million new Iris shares via a private placement in August 2013 at 28 sen a piece, giving it a 25% interest in the sustainable solutions provider at that time.
Asia Poly Holdings Bhd saw 28.7 million shares or 32.65% of its issued and paid up capital change hands in three separate off-market transactions today, for RM12.3 million.
Bloomberg data shows the transactions were conducted at 43 sen per share this afternoon, although it was not disclosed who the buyers and sellers were.
According to the plastics manufacturer's 2014 annual report, as at July 8, 2014, Lim Tong Yong @ Lim Tong Yaim directly and indirectly held 32.08% — the closest to the amount of equity sold today.
The transacted price was half a sen higher than the group's closing share price of 43.5 sen today, which is up 11 sen or 33.85% from yesterday's close.
Willowglen MSC Bhd announced today that its wholly-owned subsidiary Willowglen Services Pte Ltd had been awarded two contracts worth a collective RM9 million from Singapore's Public Utilities Board.  
The contracts were for the supply, installation and commissioning of pressure and water quality sensors (RM3.65 million) and the maintenance of the said sensors (RM5.35 million).
The first job is to start from April 27 this year and be completed by Feb 26 next year. The maintenance job, meanwhile, is expected to begin from Feb 27, 2016, and will last until Feb 26, 2021.
Willowglen (fundamental: 3; valuation:0.9) said the contracts are expected to contribute positively to its earnings and net assets per share for the financial years ending Dec 31, 2015 (FY15) until FY20.
(Note: The Edge Research's fundamental score reflects a company's profitability and balance sheet strength, calculated based on historical numbers. The valuation score determines if a stock is attractively valued or not, also based on historical numbers. A score of 3 suggests strong fundamentals and attractive valuations.)