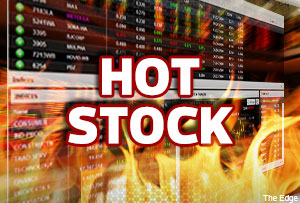 KUALA LUMPUR (Oct 23): RHB Capital Bhd (RHBCap), CIMB Group Holdings Bhd and Malaysia Building Society Bhd (MBSB) fell after Bursa Malaysia prohibited the Employees Provident Fund from voting on the proposed merger of the financial services providers.
At 10.40am, RHBCap fell three sen or 0.4% to RM8.49 with 69,100 shares traded while CIMB declined five sen or 0.8% to RM6.35 with some 2.3 million shares done.
MBSB was down five sen or 1.9% at RM2.55 with total trades of some 3.3 million shares.
According to filings with the exchange last Tuesday, exchange regulator Bursa had rejected applications from both RHBCap and MBSB for their common major shareholder, the EPF, to vote in the merger.
The EPF holds a 41.5% stake in RHBCap and 64.7% in MBSB. The EPF also owns 14.6% in CIMB.
Bursa's decision confirmed the newsbreak last Tuesday by TheEdge Markets.com, which reported that Bursa was expected to disallow the EPF to vote on the merger.
In a note today, Maybank Investment Bank Bhd (Maybank IB) analyst Desmond Ch'ng said the move by Bursa was only a temporary setback to the proposed merger. Ch'ng expects the exercise to push through as the parties involved could have contingency plans in place.
"The press, for instance, reports that an alternative could be the disposal of the EPF's stake in CIMB to other government-linked companies so that it would no longer be deemed a related party transaction.
"We think that the parties involved will continue to push ahead with the merger but whether terms will have to be revised or not, is an uncertainty," Ch'ng said.
Maybank IB, which maintained a "neutral" stance on the banking sector, recommended RHBCap shares to investors seeking exposure to the deal. The recommendation is based on the share swap ratio of 1.38 CIMB shares for one RHBCap share.
Kenanga Investment Bank Bhd also said Bursa's decision could "throw a spanner in the works".
But Kenanga said that did not mean the planned merger would fall through.
"Although this development could throw a spanner in the works, it does not mean that the proposed merger will come crumbling down so long as there is strong support from other shareholders ex-EPF," Kenanga said.
Kenanga said the exit of the EPF could be neutral for MBSB and CIMB as their remaining shareholders were likely to vote in favour of the merger.
But there could be some uncertainty for RHBCap, according to Kenanga, as the absence of the EPF would require stronger support from minority shareholders.
"This is because it is widely expected that Aabar Investments PJS (Aabar) could face a tough call given its higher entry cost of RM10.80 per share back in 2011," said Kenanga.
Kenanga maintained its "market perform" call on CIMB and RHBCap shares with target prices (TP) of RM7.15 and RM10.00 respectively.
Kenanga,however, downgraded MBSB to "market perform" from "outperform" with a TP of RM2.65 due to its strong share price performance.