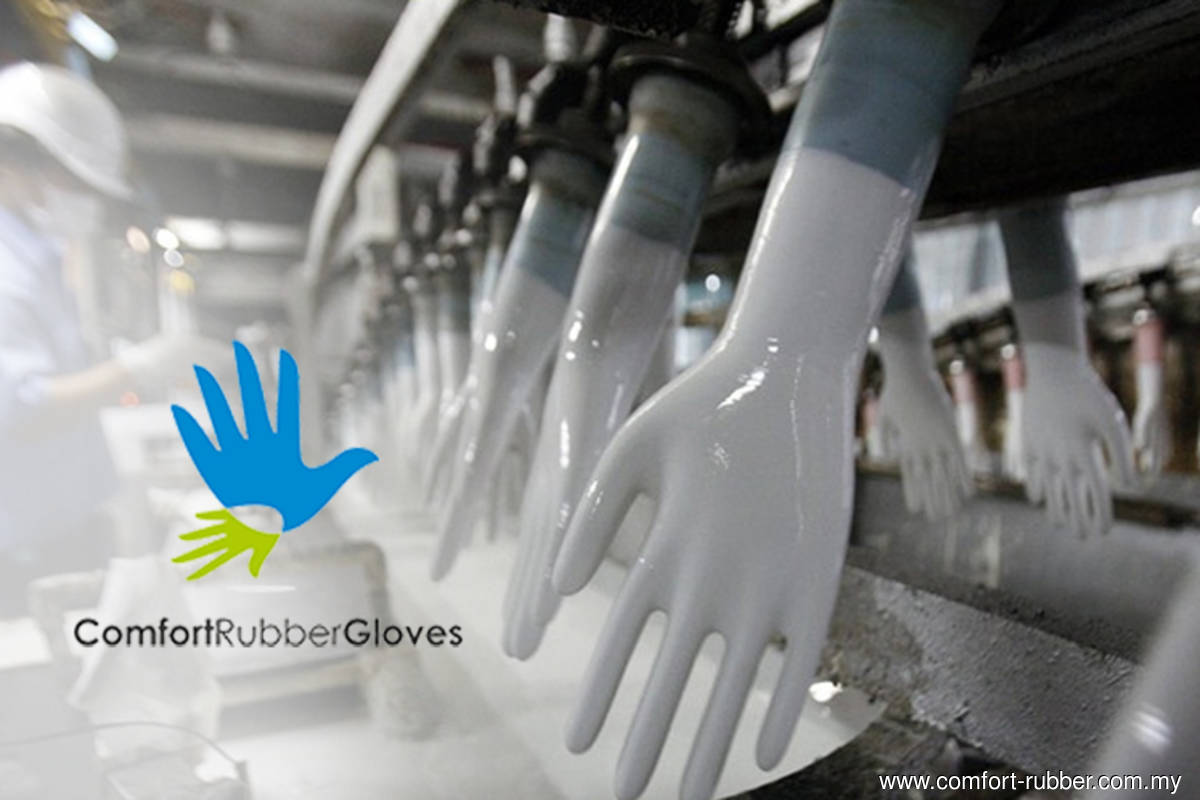 KUALA LUMPUR (July 14): RHB Investment Bank Bhd Research has upgraded Comfort Gloves Bhd to "buy" at RM3.43, with a higher target price (TP) of RM4.80 from RM3.18 and a 41% expected total return.
In a note today, RHB analyst Alan Lim said the glove shortage had worsened as Covid-19 cases in the US surged 24% to 3.27 million cases month-to-date.
"As Covid-19 cases remain high in the US, demand for gloves should stay exceptionally strong given its importance in protecting healthcare workers. As the US is the world's biggest glove consumer, its stubbornly high number of cases means that demand for gloves should continue to rise" he added.
RHB raised its earnings estimates and TP for Comfort Gloves on higher average selling prices (ASPs) based on a calendar year 2021 forecast (CY21F) price-earnings ratio (PER) of 25 times, a 30% discount on the peer average.
"This reflects its smaller market capitalisation or liquidity [compared] to peers', indicating 'buy' for its FY21 (financial year ending Jan 31, 2021) 128% earnings growth, supported by a 10% ASP increase and 14% capacity expansion," said Lim.
He said that within two weeks, the number of new Covid-19 cases in the US had increased beyond expectations and, as a result, RHB estimated that glove demand had increased in the US, causing further depletion in global stock levels.
The research house's estimates showed that global stock levels could have declined by an additional 2% to 10.8 billion pieces — enough for 15 days of demand (previously 15.2 days) and much lower than the pre-pandemic 60-day average.
"Our channel checks also revealed a shortage of certain raw materials used to manufacture gloves, capping near-term supply. We increase our FY21-23 ASP assumptions by 2-7%. We estimate that the impact of higher ASPs should exceed the additional logistics cost expected from the US Food and Drug Administration's (FDA) latest import alert," Lim added.
RHB also expects Comfort Gloves to add six production lines in FY21. Upon completion, its production capacity will be 14% higher at 5.9 billion pieces per annum.
According to Lim, RHB's FY21-23 earnings forecasts for Comfort Gloves had been raised by 49-75%. For the short term, 2QFY21 (second quarter ending July 31, 2020) core earnings should show a significant quarter-on-quarter (q-o-q) improvement as ASPs are on an increasing trend.
Meanwhile, post Covid-19, the company's earnings growth outlook remains positive as RHB expects glove demand to continue its 8-10% annual growth due to higher hygiene awareness globally.
Risks to RHB's call include faster-than-expected global availability of an effective Covid-19 vaccine, a lower-than-expected sales volume/US dollar, and higher-than-expected raw material prices.
At 10.43am, Comfort Gloves had gained 42 sen or 12.24% to RM3.85, with a market capitalisation of RM2 billion. The stock saw some 75.56 million shares traded.