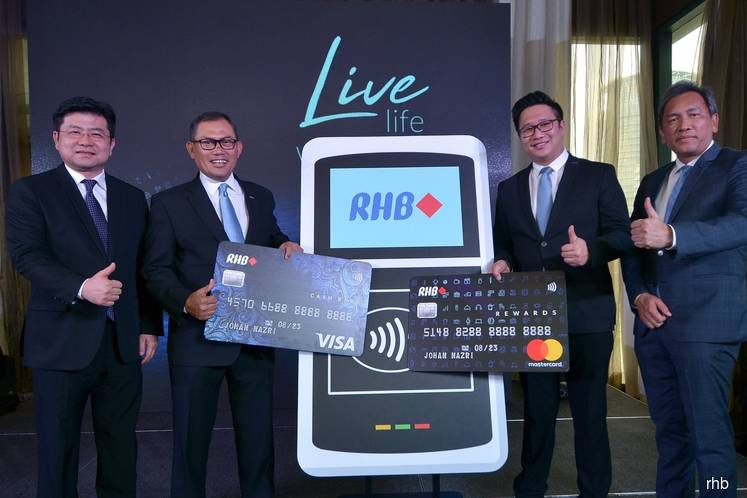 KUALA LUMPUR (Nov 7): RHB Bank Bhd has introduced its dual credit cards that offer customers value-added lifestyle propositions with competitive benefits, through the RHB Cash Back and RHB Rewards credit cards for both MasterCard and Visa.
The bank hopes to provide customers the options to redeem benefits and savings that it believes will help them manage their daily expenses and overall finances in a more agile manner, it said in a statement today.
The bank targets to raise its new credit card customers by 30% in the first quarter of 2019 via the new credit card offering.
"Our focus on the RHB Cash Back and RHB Rewards credit cards is based on recent industry statistics which indicate that approximately 50% of market spend distribution spans categories that RHB Cash Back card is promoting, while another 30% of market spend distribution are from categories that RHB Rewards card is promoting.
"By consolidating the features of the two cards, we will be able to capture approximately 80% of the credit card spending of an average customer," said Nazri Othman, acting head group retail banking, RHB Banking Group.
"We hope to drive the growth of our credit cards spend to achieve double-digit growth year-on-year (y-o-y) at an average of 15%, compared to average market growth rates which stand at 8%," Nazri added.
"We believe the cards will appeal to Malaysians because not only do cardholders get cashback on everyday spend categories, they also earn additional rewards. More importantly, these cards have contactless capability," said Visa country manager for Malaysia, Ng Kong Boon, adding Visa is experiencing strong, triple-digit y-o-y growth for contactless payments in Malaysia, with over 4 million Visa contactless payments done in a month.
RHB said via the RHB Cash Back credit card, customers can enjoy up to 10% cash back on expenditure for daily essentials such as petrol, dining, utilities, groceries and other retail spends, giving customers the chance to earn cash back value of more than RM600 yearly.
As for the RHB Rewards credit card, that allows customers to earn reward points up to 10 times the amount spent overseas, online, as well as for the purchase of items like movie tickets, health and insurance products, as well as other retail spends. These points can then be used to redeem a wide range of items.