This article first appeared in The Edge Financial Daily, on March 7, 2019.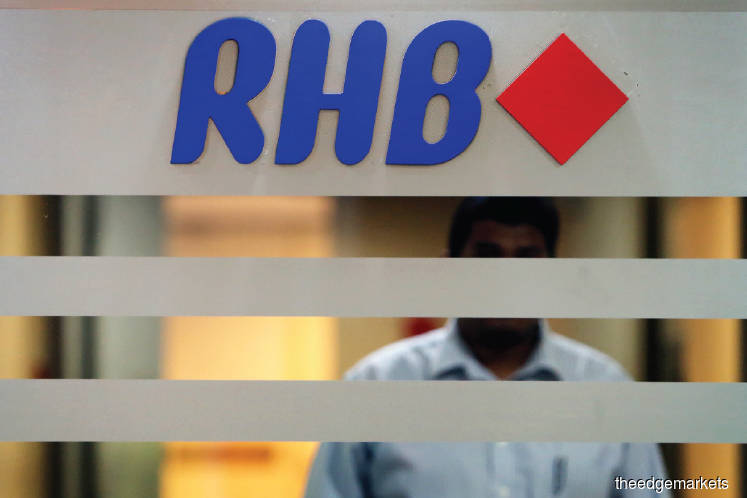 At the time of writing, there is no filing by RHB with Bursa on the share transactions. The Edge file photo
KUALA LUMPUR: RHB Bank Bhd saw 189 million shares or a 4.73% stake traded off-market yesterday for RM592.63 million at RM5.45 per share, a nine sen or 1.62% discount to RHB's closing price of RM5.54 yesterday.
The block of shares changed hands in 20 separate blocks between 12.16pm and 12.27pm yesterday, according to Bloom-berg data.
At the time of writing, there is no filing by the banking group with Bursa Malaysia on the share transactions.
The Edge Financial Daily reported yesterday that RHB Bank's substantial shareholder Aabar Investments PJS wanted to place out a sizable block of shares to foreign and local funds.
Aabar is the second-largest shareholder holding 14.75%. RHB Bank's largest shareholder is the Employees Provident Fund with a 40.62% stake, OSK Holdings Bhd was the third-largest shareholder with a 10.13% stake.
Should the shares (that) changed hands belong to Aabar Investment, the transaction price of RM5.45 is substantially below its entry cost at RM10.80 per share in 2011. The United Arab Emirates-based investment fund took over a 24.9% stake from its sister company Abu Dhabi Commercial Bank.
At RM5.45, it is valuing the country's fourth-largest bank at 0.95 times of book value per share of RM5.82. The top three banks by asset size — Malayan Banking Bhd, CIMB Group Bhd and Public Bank Bhd — are currently trading at more than one time book value. Aabar Investment has been wanting to trim its stake in RHB Bank. Last August, Aabar placed out 120.3 million shares or 3% in RHB Bank, at RM5.07 a share, raising RM609.92 million.
On Monday, the stock climbed to a four-year high of RM5.94, gaining more than 10% since mid-December last year after RHB Bank announced a record-high profit of RM2.3 billion on revenue of RM12.69 billion for the financial year ended Dec 31, 2018.