This article first appeared in The Edge Financial Daily, on February 28, 2019.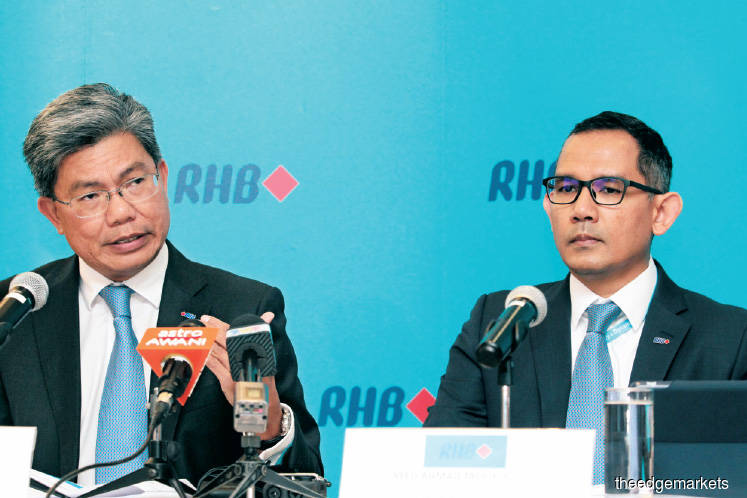 KUALA LUMPUR: RHB Bank Bhd is working hard to beat its record performance in the financial year ended Dec 31, 2018 (FY18), said group managing director Datuk Khairussaleh Ramli while noting that there is "nothing on the table" for a merger or acquisition.
Speaking at a media briefing yesterday, Khairussaleh said he is cautiously optimistic on achieving better earnings in current FY19, although margin compression is expected given stiff competition. The banking group posted record net profit of RM2.31 billion for FY18.
"We are working very hard to surpass what we did last year. We are cautiously optimistic that we can still grow our profit this year but that will depend on many parameters including topline growth and provisions," he said.
Khairussaleh expects the growth in FY19 to stem from mortgages and SMEs, which were also growth drivers in FY18.
Loan growth was at 5.5% in FY18.
Mortgages accounted for 32% of the group's total gross loans of RM168.88 billion, while the SME segment — the second largest contributor — accounted for 14%.
The group saw a moderation of its net interest margin in 2HFY18, but still reported a higher margin of 2.24% for the year, compared to 2.18% in the previous year.
He added that deposits are very competitive, especially retail deposits, as banks in Malaysia look to shore up liquidity as required under Bank Negara Malaysia's net stable funding ratio.
Khairussaleh said the bank is looking for a more holistic approach in competing for deposits, and is looking to rope in customers via digital channels.
"Deposits are getting very competitive, especially in retail because banks are eyeing deposits from the segment to meet the liquidity requirements.
"We are taking a more holistic approach. One of the things we are doing is to launch a mobile banking app to make it more convenient for people to transact and allow us to have deeper customer penetration," he said
The group has seen good progress in its move towards digital banking so far, he added, pointing to the positive market response to the apps it has launched over the past two years under its five-year FIT22 plan.
He said the RHB MyHome App, which was launched in October 2017, is now contributing about 16% of the group's total mortgage origination.
"We have allocated over RM200 million for our digital investments which will be spent over the next three to five years," he said.
Khairussaleh said the bank sees some downside risks amid escalating trade tensions but added that it has subsided slightly.
Based on the developments overseas and domestically, RHB expects Bank Negara Malaysia to maintain the overnight policy rate at 3.25% for the year.