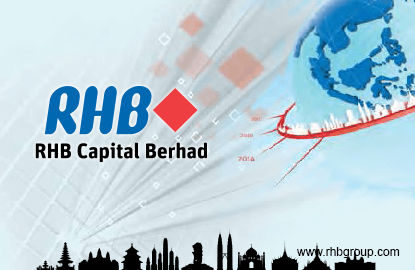 RHB Capital Bhd 
(Sept 8, RM5.94) 
Maintain buy with a target price of RM8.20 (adjusted rights issue TP of RM6.85): RHB Capital Bhd (RHBCap) announced that the issue price and the entitlement basis for the rights issue have been fixed at RM4.82 per rights share on the basis of 1 for every five existing RHBCap shares held. 
The issue price represents a discount of approximately 20.3% to the theoretical ex-rights price of RHBCap shares of RM6.05 based on the five-day volume weighted average market price of RHBCap. Some 517.7 million new shares will be issued, raising gross proceeds of RM2.5 billion. We expect an earnings per share dilution of some 17%. Return on equity (ROE) will also be reduced by 15 basis points to 10.4%/9.5%/9.7% for financial year 2015 (FY15)/FY16/FY17. 
To recap, this exercise is part of the internal reorganisation of the RHBCap group of companies, which entails the transfer by RHBCap of its entire equity interest in, and/or the entire assets and liabilities of its subsidiaries to its wholly-owned subsidiary, RHB Bank Bhd. 
Gross proceeds raised from the rights issue will be injected into RHB Bank to further capitalise it and to finance the working capital requirements of the bank and its subsidiaries. Pursuant to the capital injection, RHB Bank will be issuing new RHB Bank shares to RHBCap shareholders. 
Despite the dilution to earnings and ROE, management noted that the restructuring plan would help improve tax efficiency as some interest payments at RHBCap cannot be used as deductibles. Net profit from improved tax efficiency could ultimately help lift its bottom line and improve ROE. 
Management also noted that the corporate proposal will also seek to address the holding company's inefficient capital structure due to the new Financial Services Act as well as to strengthen its capital structure. Last but not least, the corporate exercise could allow for better ability for the new banking group to declare higher dividend payments, increasing it from the current 30%. 
The entitlement date will be determined and announced later. The entire corporate exercise is expected to be completed by the fourth quarter of 2015. Adjusting for the rights issue, our TP would be revised to RM6.85. Based on the current TP of RM8.20, however, we are maintaining our "buy" recommendation as we believe valuations are attractive — based on implied FY16 price-to-book value of 0.9 times. As such, we are keeping our "buy" recommendation on RHBCap. — TA Securities, Sept 8
This article first appeared in digitaledge Daily, on September 9, 2015.