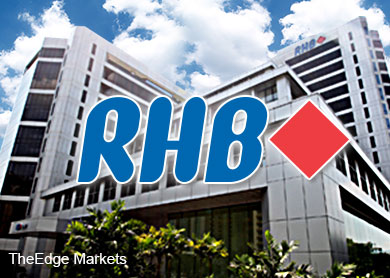 KUALA LUMPUR (Nov 20): RHB Capital Bhd reported a 3% fall in third quarter net profit from a year earlier, mainly, on higher bad loan allowance. Higher operating expenses also curbed the financial services entity's bottom line.
This was despite RHB Capital registering higher net interest income and net Islamic banking earnings during the quarter, the group told the exchange today.
RHB Capital's net profit fell to RM544.61 million in the third quarter ended September 30, 2014 (3QFY14) from RM559.15 million. Revenue, however, rose to RM2.72 billion from RM2.46 billion.
Its income statement showed that bad loan allowance climbed to RM94.22 million from RM29.87 million. Operating expenses was higher at RM840.88 million versus RM764.01 million.
RHB Capital's cumulative 9MFY14 net profit rose to RM1.55 billion from RM1.33 billion a year earlier. Revenue was higher at RM7.58 billion compared to RM7.06 billion.
During 9MFY14, RHB reported loan growth of 11.7% to RM136 billion from a year earlier while customer deposits rose 7.5% to RM148.1 billion.
Impaired loans ratio improved to 2.29% from 2.81% in December 2013, according to the group.
Looking ahead, RHB Capital said it expected its full-year FY14 results to be better compared to a year earlier after taking into account the domestic banking sector's growth trend.
According to RHB, resilient private investment, and small and medium-sized enterprises business growth would support the banking sector's expansion.
This is despite potential moderation in the property loan segment, RHB Capital said.
 
"Barring unforeseen circumstances, the group's 2014 performance will be better than 2013," RHB Capital said.