This article first appeared in The Edge Financial Daily, on April 16, 2019.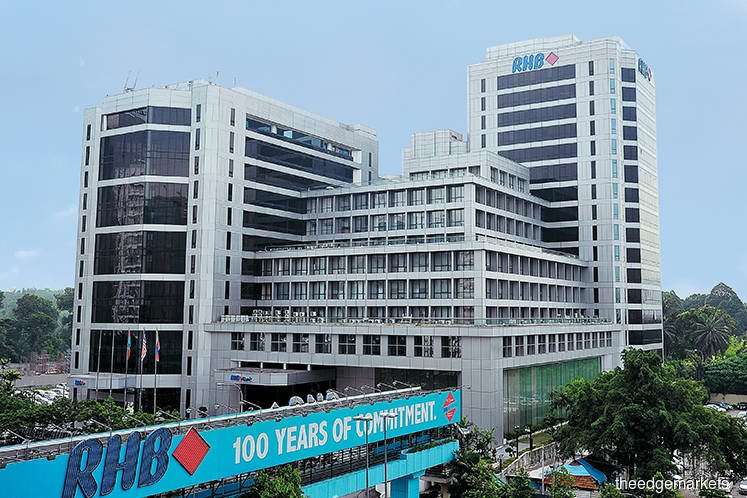 RHB Bank Bhd
(April 15, RM5.75)
Maintain add with a higher target price (TP) of RM6.50: RHB Bank Bhd raised its base rate (BR) by 10 basis points (bps) to 4% on April 5, 2019. We found this unsurprising as three other banks had done so over the past six months based on our checks — Bank Islam (BR +13bps to 4.03% on Nov 13, 2018); CIMB Bank (BR +10bps to 4.25% on Dec 4, 2018); and Hong Leong Bank (BR +10bps to 4.13% on Jan 10, 2019).
The increase in BR is positive for RHB Bank as this will raise the interest income earned from its loan portfolio. The additional interest income from this will flow to the bottom line as we do not expect banks' costs — interest expense, overheads and credit costs — to be affected by the BR hike. We estimate the rise in BR will lift RHB Bank's net profit by about 5% and net interest margin, 7bps for financial years 2020 and 2021 forecasts (FY20-FY21F).
RHB Bank's FY20-FY21F net profit, expected to increase about 5%, will be able to offset our estimated reduction of about 5% for FY20-FY21F net profit if there is a reduction in the overnight policy rate later this year. However, from RHB Bank's perspective, it increased the BR due to a rise in cost of funds and not because of the negative impact of any anticipated rate cut. In fact, RHB Bank expects interest rates to remain unchanged in 2019F.
We raised our earnings per share forecasts by 4% for FY19F and about 5% for FY20-FY21F, factoring in the 10bps hike in the BR. This also upped our dividend discount model-based TP from RM6.38 to RM6.50.
Our "add" rating for RHB Bank remains as well as being our top pick for the sector given its attractive valuation at calendar year 2020F price-to-earnings ratio of 8.1 times and price-to-book value of 0.8 times, and improvements from the transformation programme. A potential rerating catalyst is a higher net profit as a result of the BR hike. Downside risks to our call are a deterioration in loan growth and asset quality. — CGSCIMB Research, April 12