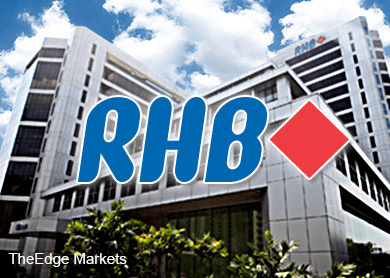 RHB Capital Bhd is exploring an internal reorganisation to eliminate its holding company structure and directly list its 100%-owned banking unit, RHB Bank Bhd, on Bursa Malaysia, say sources.
Subsequently, the assets and companies belonging to RHB Cap will be parked under the listed bank, making the group's structure more tax efficient. At the moment, various operating units, such as RHB Investment Bank Bhd and RHB Insurance Bhd, are held directly by RHB Cap.
"The bank will take over the listing status of RHB Cap. One way to do this is by distributing the shares upwards," says a source familiar with the matter.
"This is still in the exploratory stage. The exercise could also include a rights issue. The plan for the reorganisation, should it be approved by the board, could be revealed as early as this month."
There are a couple of reasons why RHB Cap (fundamental: 1.5; valuation: 2.4) is considering an internal reorganisation. One is the impact of the Financial Services Act (FSA) on financial holding companies, resulting in them having to beef up their capital, and the other is to make the group's structure more tax efficient, says the source.
"Before the regulations changed, one could claim tax deductions on interest payments on debt. In other words, there was a tax shield for income. But after moving into a single-tier tax structure for dividends last year, dividends have become tax exempt.
"As dividends are tax exempt, there is no income with which to offset tax — the tax shield is gone. So, RHB Cap's current structure is tax inefficient," notes the source.
A plan for a corporate internal reorganisation at RHB Cap is not new.
"It makes sense for the group to revisit an internal reorganisation to create a more efficient structure for the group, following the failed proposed merger with CIMB (Group Holdings Bhd — fundamental: 1.05; valuation: 1.5) and MBSB (Malaysia Building Society Bhd — fundamental: 1.2; valuation: 2.4)," says an industry observer.
The Edge wrote in March 2013 that there was a proposal to restructure RHB Cap in an exercise that entailed its privatisation, in an effort to create better value and improve tax efficiency.
The comprehensive proposal suggested that RHB Bank be relisted later and that the banking group be enlarged with the subsequent injection of MBSB.
According to documents sighted by The Edge then, the rationale for the proposal was to prepare the group for changes after the implementation of the new FSA and to create a more efficient platform for dividend payments and further strengthen the capital base.
The article noted that the timing of the restructuring and whether or not the major shareholders of the group had decided to go ahead with the proposal remained unknown.
When asked if MBSB would be included in the current reorganisational plan, the source says, "unlikely".
"Privatisation [of RHB Cap] is also an option today but it makes more sense to directly turn RHB Bank into the listed entity of the group. It will also take up less time," says the source.
Financial holding companies have started preparing for stricter capital requirements to be enforced in 2019, which will require them to retain more capital. Additionally, the Basel Committee has been raising the bar to improve the supervision of financial groups globally.
A senior banker notes that banks with "double leverage ratios" will be affected. "They will have difficulty in doing what they've been doing historically. Double leverage means the holding company takes up debt and pumps it into a subsidiary as capital. At the subsidiary, it looks like capital because it is equity, but it is not.
"This is why banking groups that have a listed financial holding company at the top, like RHB Cap and HLFG (Hong Leong Financial Group Bhd — fundamental: 2.6; valuation: 2.4), need to relook at their capital position and structure."
Maybank Investment Bank Research in a March 4 note says Hong Leong Bank Bhd (fundamental: 2.8; valuation: 2.2), HLFG and RHB Cap are likely to raise capital this year.
"Hong Leong Bank's management has made known its intention to raise the bank's CET1 ratio to about 1% to 2% above the regulatory minimum. The fully loaded CET1 ratio at Hong Leong Bank group level was 9.2% at the end of last year, but it was just 8.1% at the bank level. HLFG, meanwhile, will have to raise capital as well to subscribe for its portion of Hong Leong Bank's rights, given its 64% stake in the commercial bank," the research house notes.
"RHB Cap needs to take its double leverage ratio of 137% down to below 120% as it targets a higher CET1 ratio versus its current fully loaded CET1 ratio of 9.8%."
Meanwhile, a senior banking analyst notes that the Hong Leong group could also consider exploring a corporate restructuring apart from making a rights issue to comply with stricter capital requirements. "HLFG could consider a share swap to privatise Hong Leong Bank or maybe even contemplate distributing Hong Leong Bank shares to HLFG shareholders."
---
Note: The Edge Research's fundamental score reflects a company's profitability and balance sheet strength, calculated based on historical numbers. The valuation score determines if a stock is attractively valued or not, also based on historical numbers. A score of 3 suggests strong fundamentals and attractive valuations. Go to www.theedgemarkets.com for details on a company's financial dashboard.
This article first appeared in The Edge Malaysia Weekly, on April 6 - 12, 2015.