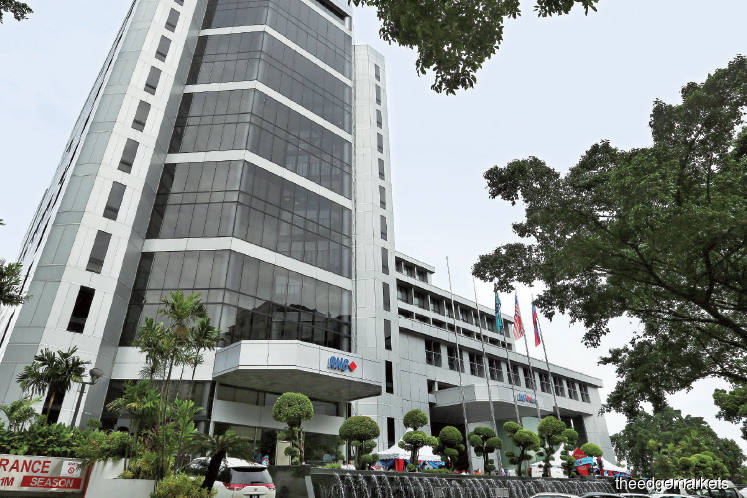 KUALA LUMPUR (Aug 30): RHB Bank Bhd expects higher net fund based and non-fund based income to lift net profit to a record high for the financial year ending Dec 30, 2018 (FY18).
"We should be able to record a full year profit (in FY18). If we can repeat what we've done in the first half, then the full year will be a record profit for us," RHB Banking Group managing director Datuk Khairussaleh Ramli told a press conference to announce the group's first-half 2018 (1HFY18) financial results today.
For 1HFY18, the group's net profit came in 16% higher at RM1.16 billion from RM1 billion a year ago, due to higher net fund based and non-fund based income and lower allowances for expected credit losses on other assets. Revenue rose 3.6% to RM5.44 billion, from RM5.25 billion in 1HFY17.
Going forward, Khairussaleh is upbeat on the banking industry.
While RHB Bank will be retaining its 2018 targets for return on equity (ROE) and cost-to-income ratio, it has revised its loan growth downwards to 3% to 4%, from an earlier estimate of 6%.
Khairussaleh explained that the lower loan growth than anticipated was due to "a handful of large repayment in excess of billions of ringgits" from large corporations.
Nonetheless, he noted that this was in line with the bank's strategy to diversify its client base, as oppose to concentrating on the large accounts previously, adding that RHB Bank is looking to get more mid-cap clients.
"Our intention is to reduce the composition of the contribution from corporate banking, which currently makes 35% of our loan portfolio. We believe that for the sustainability of our income, we need to bring that down to close to 25%," said Khairussaleh. Corporate banking stood at 26% of the group's loan book as at June 30, 2018.
Earlier in February, some key performance indicators for 2018 set by the bank were a ROE of 9% to 10%, a loan growth of 6% and cost-to-income ratio of below 50%. 
For 1HFY18, RHB reported a ROE of 10.2%, cost-to-income ratio of 49.1%, while gross loan growth was at 3.1%.
As at June 30, 2018, net interest margin (NIM) stood at 2.29%, due to the 25 basis points increase in overnight policy rate (OPR) earlier in January this year
"We believe that NIM will normalise again. We will see some contraction because of the re-pricing of deposits over time," Khairussaleh said, adding that RHB is expecting NIM to be at around 2.23% to 2.25% at end of this year.
For its Singapore division, Khairussaleh believes that it will turnaround this year as the bank has made the necessary provisions last year. RHB will now focus on growing the business.
On the e-wallet front, he said the bank is not looking to have its own e-wallet platform but is in talks to about three e-wallet operators to provide additional services beyond banking.
At 3.34pm, RHB Bank's shares were unchanged at RM5.40, bringing its market capitalisation to RM21.65 billion.