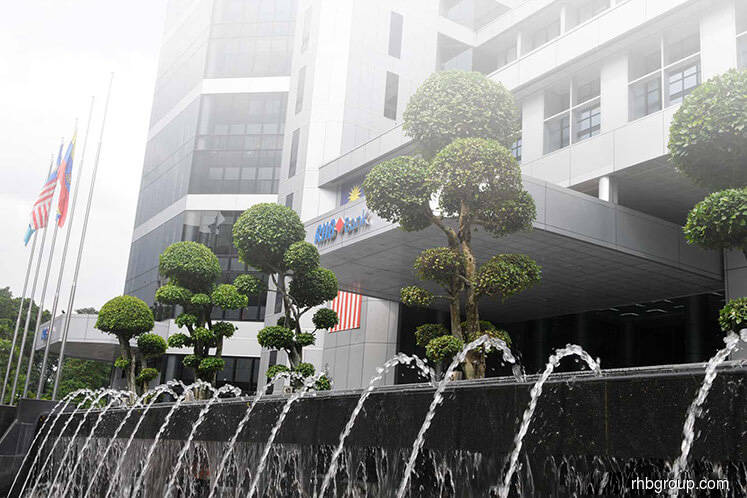 KUALA LUMPUR (Nov 27): RHB Bank Bhd net profit for the third quarter ended Sept 30, 2017 (3QFY17) slid 3.26% to RM488.83 million, from RM505.33 million a year earlier, due mainly to higher impairment losses on loans, operating expenses and lower non-fund based income.
In a filing with Bursa Malaysia, RHB Bank said revenue for the quarter was flat at RM2.62 billion, versus RM2.65 billion a year earlier (3QFY16).
Earnings per shares slipped to 12.20 sen, from 12.60 sen prevously.
For the nine months ended Sept 30 (9MFY17), RHB Bank said its net profit rose 4.9% year-on-year to RM1.49 billion from RM1.42 billion, on the back of a revenue of RM7.87 billion versus RM8.01 billion a year earlier (9MFY16).
In a separate statement, RHB Bank said the Malaysian banking sector is expected to see modest growth, with lending momentum expected to improve in the last quarter of the year.
Nevertheless, it said rising pressure on funding cost may weigh on the performance of banks.
Meanwhile, RHB Bank group managing director Datuk Khairussaleh Ramli said the bank continued to achieve consecutive quarters of sustained profitability, amidst the domestic market moderate loans growth and continuing global uncertainties.
He said combined with its ability to manage funding cost, the bank's net interest margin has been holding up over the last three quarters.
"Notwithstanding the challenges in asset quality, our earnings and performance demonstrated our ability to capture opportunities across our businesses and effectively keep a firm grip on costs.
"As we move towards the close of the year, we see stronger pipeline for our core businesses, whilst our balance sheet, liquidity and capital remain strong,' Datuk Khairussaleh said.
At the midday break, RHB Bank fell 1.02% or 5 sen to RM4.86, with 27,900 shares traded.