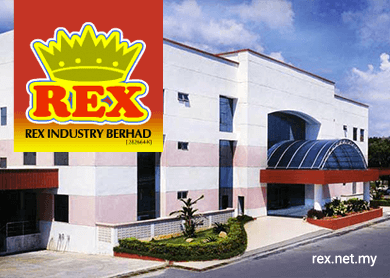 KUALA LUMPUR (Feb 7): Penang-based food and beverage manufacturer Rex Industry Bhd has received a mandatory takeover offer from its managing director Darmendran Kunaretnam and his private vehicle Daiman Taipan Sdn Bhd, together with two others, at an offer price of RM1.65 a share or RM67.44 million in all.
The two others are Darmendran's wife Leong Kwai Ying, who is a shareholder and director of Daiman Taipan, and Chee Cheng Chun, a non-independent non-executive director of Rex who is also a substantial shareholder of Daiman Taipan and Rex.
The mandatory takeover offer was triggered after Daiman Taipan and Darmendran upped their stakes in the company via a series of open market trades earlier today, which effectively boost Daiman Taipan and the three persons acting in concert with it (PACs)'s direct stakes in Rex to 33.72% from 26.35%, surpassing the 33% threshold, making Daiman Taipan and its PACs obliged to offer to acquire the remaining 40.87 million shares — equivalent to a 66.28% stake in Rex they do not hold.
Darmendran holds a direct 54.99% stake in Daiman Taipan, while Chee has 45%. Leong has one share.
Via a notice of takeover issued by RHB Investment Bank Bhd, Daiman Taipan and the three PACs said they intend to maintain listing Rex Industry on the Main Market of Bursa Malaysia, unless sufficient valid acceptances are obtained to invoke a compulsory acquisition.
"The offeror has confirmed that it is able to implement in full and the offer would not fail due to insufficient financial capability and that every holder who wishes to accept the offer will be paid full in cash," Daiman Taipan via its principal adviser RHB Investment Bank Bhd said in a filing with Bursa Malaysia this afternoon.
The takeover offer, said Daiman Taipan, is conditional upon receiving valid acceptances by the shareholders, which will entail Daiman Taipan and the three PACs to own more than a 50% stake in Rex.
According to Daiman Taipan, the takeover price of RM1.65 is at a 6.45% premium to the five-day volume-weighted average market price of RM1.55 that was recorded yesterday.
"The offer price of RM1.65 represents the highest price paid by offeror for the acquisitions, which is also the highest price paid for Rex Industry shares in the last six months," Daiman Taipan added.
The offer will remain open for 21 days from today.
Rex Industry manufactures and exports canned foods, frozen foods and beverages. At 3.31pm today, Rex Industry shares have risen by 6.45% or 10 sen to trade at RM1.65, after having peaked at RM1.78 earlier.