This article first appeared in The Edge Malaysia Weekly, on May 10, 2021 - May 16, 2021.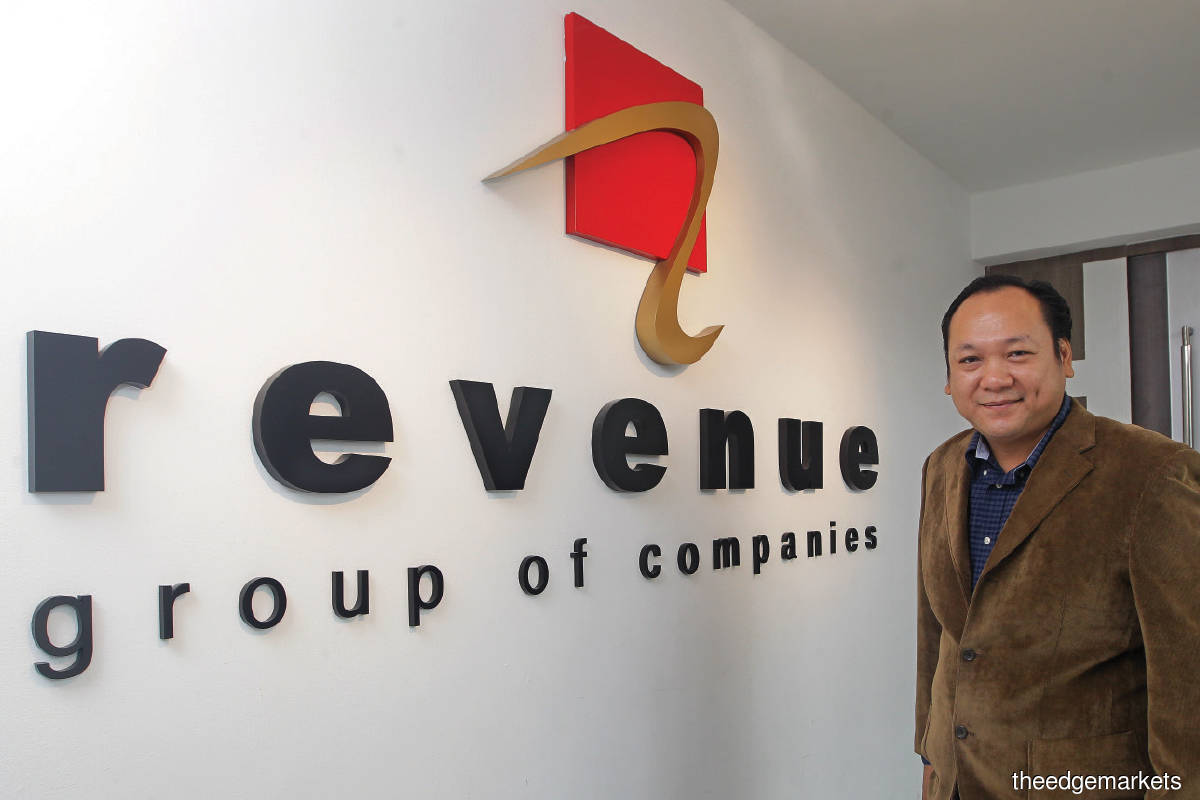 HAVING established a base of more than 100,000 merchants over the last 18 years, ACE Market-listed payment solutions specialist Revenue Group Bhd, which started in 2003 with a focus on the business-to-business (B2B) model, is now looking to reach end users directly.
According to co-founder, managing director and CEO Datuk Eddie Ng Chee Siong, the group intends to create a payment ecosystem that could offer more solutions to its merchants by opening up a new space in the business-to-consumer (B2C) segment.
"Over the years, Revenue Group has been a prominent payment service provider and merchant acquirer in the country.  We are very strong in the B2B space. However, B2C is a space that we haven't really exposed ourselves to. Going forward, our group's new direction is to extend our strength to B2B2C (business-to-business-to-consumer)," he tells The Edge in a phone interview.
Today, Revenue Group's capability covers all aspects of payment solutions, including physical terminal payment, virtual payment, hybrid payment, software development, as well as a single platform that works as a payment gateway, payment switch and payment acquirer.
According to its corporate website, Revenue Group's business partners include the likes of UnionPay, Alipay, Diners Club International, JCB, as well as major local and foreign banks. Meanwhile, its clientele includes Taobao, MRT Corp, Eraman, Giant, Mont Blanc, Gucci and Prada.
Notably, Revenue Group had in 2019 and 2020 acquired substantial stakes in artificial intelligence firm Wannatalk Malaysia Sdn Bhd (40% stake for RM5 million cash), online marketplace operator Buymall Services Sdn Bhd (51% stake for RM3.32 million), bill payment services provider Anypay Sdn Bhd (70% stake for RM4.9 million), as well as Scanpay Sdn Bhd (80% stake for RM1 million).
Ng highlights that Scanpay, now known as Wannapay, is basically the e-wallet arm of Revenue Group, and one of the most important vehicles for the group to gain a foothold in the B2C space.
"Wannapay has the e-wallet licence and the technology in place. What we are lacking now is the user base. We have to collaborate with the right partner to build and expand our user base. It is too early for us to spell out our potential partners but, definitely, we need a strong partner to create value together," he explains.
While Revenue Group also has its own database, Ng admits that it is not strong enough. This prompted it to buy into Buymall and Anypay to learn more about the B2C model and to tap their user base.
"Imagine Buymall and Anypay coming onboard to use a single payment solution platform created by Wannatalk. And to achieve that, we need Wannapay — an e-wallet player — to facilitate our entire payment ecosystem," he elaborates.
Ng acknowledges that the B2B2C journey will be a long one for Revenue Group. Nevertheless, it aims to rope in at least one strong partner by the end of the year to kick-start the new business model.
"With that strong partner, our payment ecosystem will be very much completed. But, of course, we expect to see more partners, merchants and users coming onboard in the coming years. With the Covid-19 pandemic, cashless payment is booming, so it is an opportune time for us to go into the e-wallet space," he says.
Revenue Group, Ng observes, will be one of the few players in Malaysia that adopts a B2B2C business model with a complete payment ecosystem. "That's how visionary and ambitious we are. Most of our competitors are not moving in this direction. We have acquired all the companies we want. Now it's about putting together a puzzle," he says.
The 48-year-old has more than 15 years of experience in the local electronic payments industry. He began his career in Telecopier (M) Sdn Bhd as a sales executive, before setting up a sole proprietorship business in 1995 — RE Copy Sales and Services, which was mainly involved in the trading of photocopier machines.
In 1998, he joined printing machine supplier Tricomas Sdn Bhd as sales manager. He left the company five years later to pursue the entrepreneurship path again.
In September 2003, he co-founded Revenue Group with Brian Ng Shih Chiow and Dino Ng Shih Fang — both now sit on the board as the group's executive directors. It is worth noting that Brian and Dino are brothers but they have no family relationship with Ng.
Based on the latest available public information, Brian, Dino and Ng currently own direct stakes of 14.03%, 11.86% and 13.35% in Revenue Group respectively. It has not gone unnoticed that Dino and Ng have been divesting their shares in the company since the beginning of the year.
Revenue Group versus GHL Systems
Year to date (YTD), shares in Revenue Group have gained 63% to close at RM2.06 last Thursday, giving the company a market capitalisation of RM920.57 million. The stock is currently trading at a trailing 12-month price-earnings ratio (PER) of 109.11 times, and price-to-book value (P/BV) ratio of 10.3 times.
Meanwhile, its closest listed peer GHL Systems Bhd, which registered a net profit of RM13.5 million last year, is trading at a historical PER of 90.35 times, and P/BV ratio of 4.17 times. The counter has dropped 7% YTD, to settle at RM1.76 last Thursday, bringing the company's market capitalisation to RM2.01 billion.
Interestingly, Revenue Group and GHL Systems have not been paying dividends in recent years, although both were in net cash positions of RM25.6 million and RM182.5 million respectively as at Dec 31 last year.
Revenue Group saw its net profit decline 10% year on year (y-o-y) to RM7.7 million in the financial year ended June 30, 2020 (FY2020), down from RM8.6 million a year ago. This was partly due to lower profit margin and higher administrative expenses.
However, FY2021 is likely to be a good year for the company, which reported a net profit of RM6.14 million in the first half ended Dec 31, 2020 (1HFY2021). On an annualised basis, its bottom line could possibly reach RM12.28 million for the full financial year.
"We will definitely see y-o-y growth in FY2021, and we are cautiously optimistic that it will be a record year for us. With all our initiatives and strategies in place, we are confident that FY2022 will be an even better year," says Ng.
He points out that the company has been more aggressive these days compared with the pre-pandemic years.
"Revenue Group is in the right industry at the right time. The government is pushing hard towards a cashless society, which should bode well for companies like ours," Ng remarks.
"We can see that e-wallets nowadays are playing a more important role than ever. In fact, we are still at the beginning of these trends, so I would like to think that the best is yet to come for Revenue Group," he concludes.