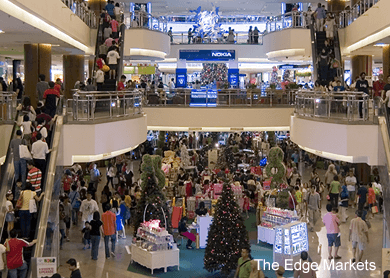 KUALA LUMPUR (Mar 25): The Malaysia Retailers Association (MRA) reported that retailers suffered another disappointing quarter at the end of last year, registering a negative 0.8% growth in retail sales in the fourth quarter ended December 2014 (4Q2014).
This was significantly lower than the 2% sales growth seen in the 3Q2014 and brings the total retail sales growth for 2014 to just 3.4%.
"Despite school holiday, year-end sale festival and Christmas consumers were not buying. In spite of lower fuel prices from December 2014, consumers did not convert their saving into consumption," said MRA in a report.
MRA added that the impending implementation of  the goods and services tax (GST) from April 1, 2015 has also not stimulated consumption during the quarter with consumers choosing to hold back spending instead.
With heavy discounts by retailers failing to generate higher sales in the last quarter, many retailers suffered decline in profit margin growth.
Despite a dismal 4Q2014, retailers are hopeful of bouncing back in 1Q2015, with anticipated sales growth of 5.8%.
Meanwhile, MRA projected that retail sales growth rate of Malaysia's retail industry in 2015 would be 4.9%, a downward revision from 5.5%. This is the second time a downward revision has been made.
"The greatest challenge in 2015 for the retail industry in Malaysia is consumers' spending," said MRA.
MRA added that, 1Q2015's retail sales were expected to be higher due to the Chinese New Year festival, employees' bonuses and distribution of BR1M 4.0 to 7.2 million Malaysians.
It expects that spending would rise rapidly during the last few weeks of March due to more announcements made by private sector on the prices of retail goods and services from April 2015.