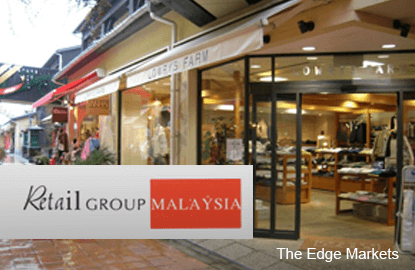 KUALA LUMPUR: Retail Group Malaysia (RGM) has cut its retail sales growth forecast for Malaysia this year for the third time to 4% from 4.9%, as it foresees that consumers will continue to hold back spending on higher cost of living, coupled with its expectations of higher retail prices on a weaker ringgit, and higher costs of doing business in the second half of the year (2H15).
Its outlook revision came despite what it termed an encouraging growth rate of 4.6% in retail sales in the first quarter of 2015 (1QCY15) compared with the same period last year. 
This latest quarterly result was higher than the estimate made by RGM at 3.8%, but lower than the average growth rate of 5.8% forecast by members of the Malaysian Retailers Association in March 2015.
"The greatest challenge in 2015 for the retail industry in Malaysia is still consumers' spending. Consumers have been holding back on spending since the end of last year due to the goods and services tax (GST). 
"Further increases in cost of living in the near future will worsen it. Higher transportation costs as well as increased retail prices due to a weak ringgit and higher costs of doing business are expected in the second half of this year," it said in its Malaysia Retail Industry Report yesterday.
In RGM's report, retail sales, which grew at 4.6% in 1QCY15, are expected to contract by 3% in 2Q, before turning around in 3Q with a growth of 4.8% and then picking up pace to 6.9% in 4Q — thus rounding up 2015 with a 4% growth.
However, RHB Research economist Peck Boon Soon, when contacted, said the upcoming Hari Raya festive season would not add much to the retail growth rate in 3QCY15, as consumers are turning more cautious this time compared with previous years, especially with the recent hike in pump prices.
"The petrol price has been raised in two consecutive months, which implies that consumers will now have less money to spend", Peck said.
Peck, however, noted that there should not be any further revision to the projected 2015 retail growth rate, as 4% is not considered a robust figure, and is within expectations.
Peck, together with Hong Leong Research economist Sia Kat Ee, also views that the 4.6% growth rate in the country's retail sales in 1QCY15 is within expectation.
"The GST will cause retail growth to slow down. Based on the experiences of other countries, it takes between three and six months post-GST implementation for spending to recover", said Sia.
"I expect that Malaysian consumers will resume spending at the end of 3QCY15 when the effects of GST start to wear off", Sia said.
Both Peck and Sia, however, agreed that the targeted 6.9% growth rate in 4QCY15 is achievable, despite the recent petrol pump price increase.
"I believe that the fundamentals of the country's economy are resilient. As long as the job market remains stable and the GDP growth rate remains at a healthy 5%, consumer spending will return", Sia said.
"What has caused much of the volatility in recent times is the oil price. If the oil price recovers, then it is healthy for the country from a macro perspective," he said.
But Tan Sri Ramon Navaratnam, an economist with Asli Centre for Public Policy Studies, provided a grimmer outlook. 
"There has to be a strong explanation for the growth rate at 6.9%. At this stage, it is difficult to be certain and there should not be a high expectation of the future," he said over the telephone.
"I hope that there will not be a downward trend in private consumption, and we need to watch the figures carefully. If people are spending less, it means private consumption is declining and this will slow down economic growth," he said.
This article first appeared in The Edge Financial Daily, on July 3, 2015.