This article first appeared in The Edge Financial Daily, on December 3, 2019.
RGM forecasts an improving growth of 4.6% for 2020 representing RM112.4 billion in sales value. The Edge file photo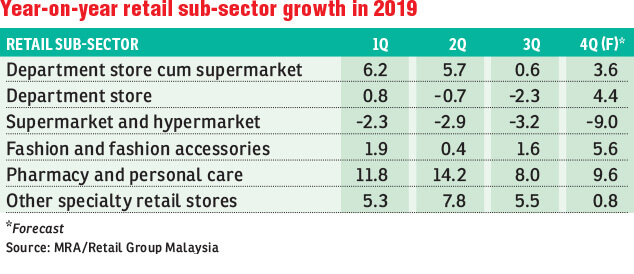 KUALA LUMPUR: Malaysia's retail sales growth forecast for 2019 has been revised downwards for the third time following a lower-than-expected performance in the third quarter (3Q) and a weak projection for the rest of the year. Retailers are expected to see RM107.5 billion in sales — a 3.7% growth, Retail Group Malaysia (RGM) said.
Nevertheless, RGM has forecast an improved growth of 4.6% for 2020 representing RM112.4 billion in sales value. RGM prepares a sales report for the Malaysia Retailers Association (MRA) on a quarterly basis. The report does not include big-ticket items such as cars and houses. Retail purchases via mobile phones are also excluded unless the shopping site is operated by a brick-and-mortar store.
The 3.7% retail growth projection for the year is lower than the earlier projection of 4.4%. Retail sales grew 3.9% in 2018.
The retail outlook for the MRA members in the final fiscal quarter is less than rosy. Between October and December, which traditionally sees an uptick in sales due to the year-end holiday and festivities, is expected to expand 2.7%. Retail sales in the first three quarters of 2019 grew 3.8%, 4.5% and 1.8% respectively.
Retailers are expecting that in the current quarter ending Dec 31, 2019, the supermarket and hypermarket category could contract as much as 9%. This retail segment shrank 3.2% in 3Q of this year (3Q19). RGM managing director Tan Hai Hsin attributed the category's dismal performance to store closures and a weak retail market.
The Edge Financial Daily had previously reported that Dairy Farm International's local operations under GCH Retail (M) Sdn Bhd — which operates hypermarkets and supermarkets under the Giant and Cold Storage brands — closed as many as 12 stores in the first nine months. However, the department store cum supermarket category is expecting to grow 3.6% in 4Q19, while the department store operator category is expected to grow 4.4%. The strongest performance is expected from the pharmacy and personal care category at 9.6%, followed by the fashion and fashion accessories category at 5.6%.
Notably, while MRA members are less optimistic about the final quarter of 2019, RGM has estimated a tad better retail sales for the final quarter at 3.8%.
As for 2020 forecasts, Tan said: "The coming New Year will remain a challenge for the Malaysian retail industry. Externally, trade disputes among countries are not expected to end soon. Internally, economic policies that can stimulate consumer spending are limited in the near term."
RGM yesterday released the July to September report showing the contraction in the department store and the supermarket and hypermarket categories for the quarter under review had weighed down the overall retail performance. Retail sales in 3Q grew a mere 1.8%.
Accordingly, retail sales growth from January to September was at 3.6 %, compared with a 4.3% growth  in the corresponding period of 2018.
The poor performance in 3Q19 was also a result of a high base rate last year, as in July and August 2018 there was a tax break before the sales and service tax was reintroduced on Sept 1. Retail sales expanded 6.7% from July to September 2018.
Tan said the latest quarterly figures are a result of low consumer confidence too, leading to poor sales. "An unsettled global market environment and slow domestic economic activities discouraged consumers from spending more," he said. This is also in line with the 3Q consumer sentiment index declining to 84 points — the lowest reading since 4Q17.
The department store sub sector shrank 2.3%, the fashion and fashion accessories sub sector expanded 1.6% and the department store cum supermarket business grew 0.6%.
Other specialty retailers such as photo and optical stores and TV shopping channel grew 5.5%. The pharmacy and personal care sub sector was the best performer recording a growth of 8%.