This article first appeared in Digital Edge, The Edge Malaysia Weekly, on June 21, 2021 - June 27, 2021.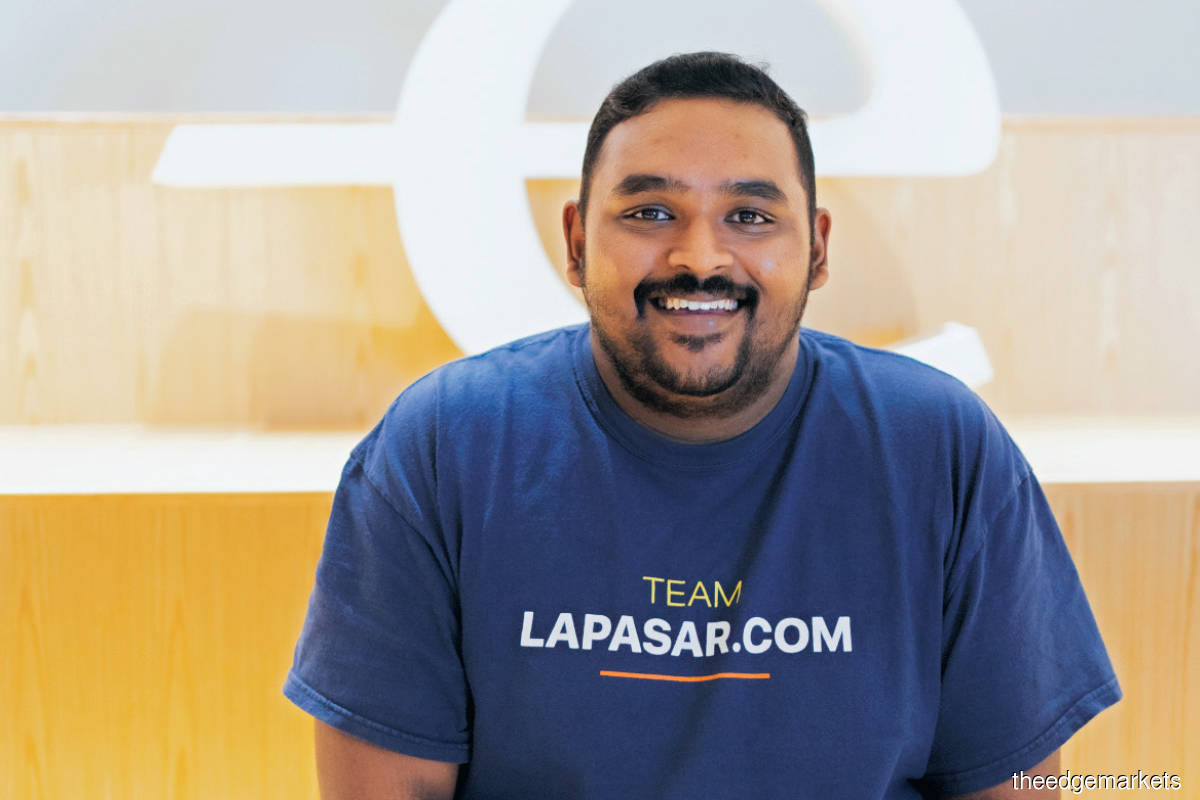 With the proliferation of chain supermarkets in the Klang Valley's urban centres, it is easy to overlook the independent and traditional grocery stores that typically serve local communities. 
Many of them are still not digitalised and face increasing competition from the big chain stores, observes Thinesh Kumar Asogan, founder and CEO of Lapasar. His team interviewed more than 7,000 such stores in the Klang Valley last year. 
"They have three major pain points. Their biggest challenge is to get their hands on inventory. Some buy from wholesalers but it requires them to go to the store and there is no assurance [that they can fill their] inventory. Another option is to buy from distributors, but these companies are designed to serve chain stores rather than smaller shops," says Thinesh.
The second challenge is these stores have to stock up before festivities or events such as the Movement Control Order (MCO). Lastly, many of these stores do not have enough capital to buy more items.
"They have no digital footprint because they use cash to buy and sell, so they are financially underserved," says Thinesh.
Lapasar decided to come up with a solution to serve these independent grocery stores, also referred to as general trade or one-, two- and three-door stores. Most general trade operators are family-run businesses, according to Statista, a German company that specialises in market and consumer data. 
These stores are also smaller than the typical supermarkets. One-door stores literally mean the store has only one entrance, says Thinesh. "Some have two doors, one as an entryway and another to move their stock. Three-door stores are also called pasaraya."
Why did Lapasar, which runs an office supplies procurement platform for corporations, pivot into this unrelated market? 
"When the pandemic hit, the corporations that we were serving didn't want to buy office supplies anymore. That was challenging," explains Thinesh.
It was unfortunate timing. Lapasar had just become profitable at the beginning of the first MCO and was about to start a round of fundraising. That did not happen. "So, we decided to just focus on survival."
It started by selling masks, thermometers and hand sanitisers to its vendors, which then sold them to the corporations on the Lapasar platform. This strategy worked because, two months later, the company remained profitable.
But he knew that it would work only in the short term. Thinesh began to look at the fast-moving consumer goods space, where demand is steady. Given the company's strength in technology, he thought there could be opportunities to digitise this sector.
Some may observe that the area that Lapasar chose to focus on — general trade — is a sunset business, but Thinesh disagrees. 
"According to a Nielsen report, there are over 110,000 convenience or grocery stores in Malaysia (in 2018). Not even 10,000 of those are modern trade. The rest are still general trade," he says.
"If you drive along the coastal road of Perak to Sitiawan, where I'm from, for every 99 Speedmart, you'll see 15 to 18 independent grocery stores. How these stores survive is not too clear to us, but we can assume that a certain level of neighbourhood relationships sustains them."
Currently, 2,000 stores — all from the Klang Valley — have been onboarded to the Lapasar Wholesale platform. The stores are concentrated in areas such as Rawang, Klang, Shah Alam, Petaling Jaya, Tanjung Karang and Kuala Selangor.
How does it work?
Lapasar's first approach to offer a tech platform to the grocery stores that allows them to buy inventory online failed. 
"They didn't care about technology. But they cared about surviving, earning profits and receiving goods on time. We needed to get those things right before introducing technology," says Thinesh.
To get the store owners accustomed to the service, Lapasar allowed the stores to put in orders via WhatsApp. Only recently did it launch its mobile app, Lapasar Borong.
The store owners can browse for items on the app, book their orders and receive the items from Lapasar's warehouse within 24 hours. 
"We constantly run surveys to understand what is selling in this shop or area at what price. Then, we approach the brands or distributors to tell them we want this particular product at this price point," says Thinesh.
The lower price point for some items on Lapasar is attractive to some store owners, he adds. 
"If I know Maggi curry is a top-selling item, we will ramp up volumes for three to four months. Once we hit a certain volume, we have bargaining power and get a certain amount of trade support from distributors or brand owners. We can pass on these rebates to the shops."
Thinesh believes Lapasar's ability to extend credit lines to the stores, in collaboration with alternative lenders, is also an advantage. 
Lapasar currently earns its revenues from product margins, rebates from brands and fees from its financial services. Through both Lapasar Borong and its corporate platform, it now transacts about RM10 million a month.
Can these independent grocers win?
Lapasar is digitising the purchasing stage for independent grocers at a time when many tech players are focused on offering electronic point-of-sales, or e-commerce, services. This is a conscious choice, says Thinesh. 
These independent stores are focused on surviving, so a digital payment system may not be the priority, he believes. "They want to acquire products at a cheaper price, receive deliveries faster, be assured that their inventory can be filled and have access to financial services. That's why we are digitising the purchasing stage to help them survive," Thinesh says.
After this, Lapasar hopes to help these stores through other steps such as merchandising and digitalising the payment system. In the meantime, it will onboard more stores around the country to provide more competitive pricing to the stores.
"Over the next 24 months, we want to reach 10,000 stores and transact RM40 million a month. We want to build our distribution capabilities across the country and provide financial services at a larger scale," says Thinesh.
"In the next 48 months, we will look at other retail-heavy verticals such as mechanics shops or restaurants. I also want to eventually start acquiring companies around the region and take the company public from 2026 onwards."
Fundraising woes
Asked how the fundraising journey has been for Lapasar in the past year, founder and CEO Thinesh Kumar Asogan has only one word to describe it: horrible.
The investors were amazing, Thinesh says, but the uncertainty caused by the pandemic was nerve-racking. Lapasar restarted its fundraising efforts last October after a pause when the pandemic hit. 
The company got in touch with many international venture capital (VC) firms and held more than 100 virtual meetings, but nothing came out of these efforts. "The reason was that we are a Malaysia-only company and the business didn't seem like it could be scaled. The VCs would rather invest in markets such as Indonesia and Vietnam," says Thinesh.
He argues that, although Malaysia is a smaller market, there is less competition for VC dollars and a higher chance for Lapasar to succeed. 
"I can start acquiring companies around the region in the next few years. Let's focus here and build a strong company. But that argument wasn't met with a good response," he says.
A friend of his then suggested he approach family offices, corporations and angel investors in Malaysia. Fortunately, with the help of Nexea, a local start-up investment firm that invested in Lapasar in 2018, he succeeded in getting two large investments from fast-moving consumer goods public-listed companies in Malaysia.
"We used that momentum to close a few more investments from strategic individuals in related industries and through PitchIN (an equity crowdfunding platform)," says Thinesh. By May, Lapasar had managed to raise RM7.5 million.
This journey has taught Thinesh a few lessons. "One is not to be hooked on the idea that we can raise funds only from VCs. Another lesson is, yes, the VCs are right that Malaysia is small. But is the market big enough that we can create a sizeable company to go public and start acquiring companies around the region? Yes, and that's our strategy," says Thinesh.