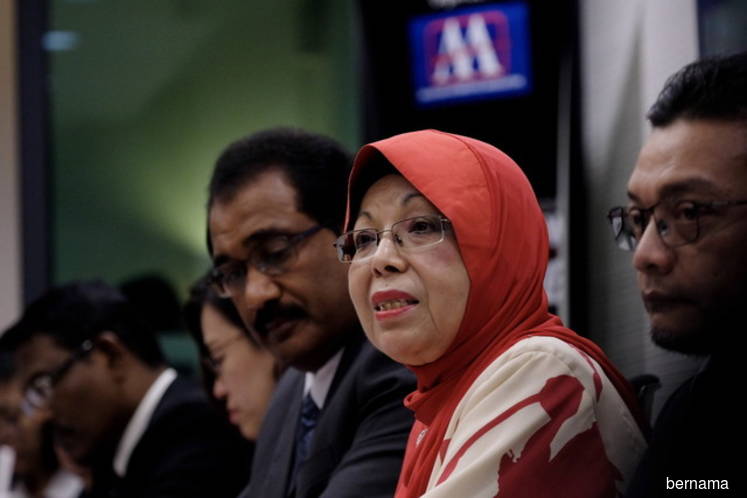 KUALA LUMPUR (July 30): The government's proposal to impose certain restrictions on the imports of foreign vehicles to protect the interest of two national carmakers, in particular Proton Holdings Bhd, is a regressive move for a country that is trying to ensure a conducive car industry landscape, said Malaysian Automotive Association (MAA) president Datuk Aishah Ahmad. 
"Yes, (imposing restrictive measures) is a regressive move for the auto market. I don't think it is right for the government to say they want to put certain restrictions on carmakers, other than Proton, on cars being brought into the country," Aishah told reporters after a 30-minute briefing with the five-man Council of Eminent Persons here today. 
Aishah was commenting on Prime Minister Tun Dr Mahathir Mohamad's announcement earlier in Parliment yesterday that the government was in the midst of studying the new National Automotive Policy, which could be tweaked to include restrictions on importing cars by foreign manufacturers.
The NAP was launched in 2006 by the previous Barisan Nasional administration and last revised in 2014. Dr Mahathir blamed the NAP for opening and liberalising the country's automotive market by removing protectionist measures on national carmakers, while allowing foreign players easy access to the local car market.
According to Aishah, setting restrictions on foreign cars to support the growth of national carmakers is against the spirit of the automotive market liberalisation, a policy designed to create a conducive market by allowing firms to compete on a level-playing field.
"That (liberalising the market) is the way forward for the auto industry. If you want to create a conducive auto industry, then you have to liberalise the market," she said. 
As Malaysia's economy becomes more opened, and with Proton owned by a private firm, Aishah said the government should accord equal treatment to all carmakers in the country.
"Proton is no longer owned by the government...everybody should get the same treatment," she added.
By providing a level-playing field, Malaysia will be taking a step in the right direction to replicate the success stories seen in Thailand and Indonesia, which have a more developed automotive market and strong export strategy catering to global demands, Aishah said. 
"Thailand is exporting 1.3 million cars and Indonesia is supplying more than 100,000 cars to the global market. Ever since the government created Proton in 1983, the country's car exports have been at a mere 20,000 units to 30,000 units, which is much less than our neighbouring markets," she added.
Regardless of brands and their origins, Aishah said a car is considered local if it is assembled in that country, and all policies must be implemented without discrimination.
"Even though you are talking about foreign cars in Malaysia, they are highly localised and so our policies should not be discriminatory. Honda, for example, has 70%-80% local content and they cannot be considered as foreign cars, when they have such high local contents and assembled in the country," she stressed. 
As for the suggestion of a new national car company, Aishah said the government should reconsider its plan and conduct a thorough feasibility study before going ahead with the idea, as it is a highly capital-intensive venture, while the market is small, with annual total industry volumes hovering at just around 600,000 unit. 
"What we don't want is further incentives provided for [the] new national car [company], which [will] really disrupt the industry. It will not help the industry at all," she added.