This article first appeared in Personal Wealth, The Edge Malaysia Weekly, on December 18, 2017 - December 24, 2017.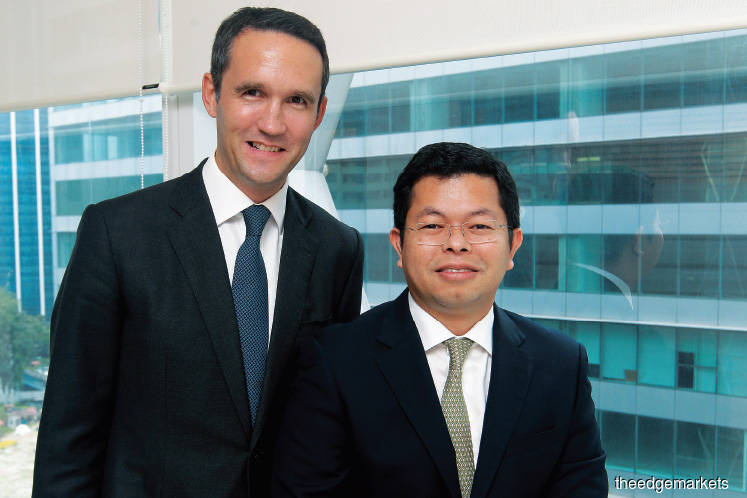 Socially responsible investing (SRI) is becoming more mainstream, driven by investor demand for companies that adhere to environmental, social and governance (ESG) principles in their operations. However, it is often difficult to collect such data from these companies as it can be inconsistent or all over the place. 
To bridge this gap, UK-based investment management firm Arabesque Asset Management Ltd created a programme called S-Ray to actively track and analyse data using artificial intelligence (AI) and subsequently churn out ESG and United Nations Global Compact (GC) scores for each company. The two global standards review the performance of corporations in areas such as human rights, labour issues, anti-corruption, environment and transparency of governance. 
S-Ray was made available to the public in April. The free version is available on Arabesque's website, where users can see the ESG and GC scores of more than 7,000 companies, while the paid version breaks down the scores into sub-sectors. So far, the reception has been positive, with firms such as State Street, S&P, Bloomberg and Accenture subscribing to the service.
"The S-Ray data can be used in two ways — for corporates to understand their own sustainability performance or for investors to understand the sustainability or performance of their holdings," says Arabesque partner Dominic Godman. 
The firm came up with the tool to meet client demand, he adds. "Some of our clients told us, 'We can do our own financial analysis. What we can't do or don't have is the understanding of ESG.' 
"So, we saw a demand to open our platform to the public, to make available that first step of our investment process because the mission of our company is to try and make sustainable investing mainstream. We want to encourage as many people as possible to consider sustainability issues in their investment decisions."
The problems faced by clients include a lack of standardisation in the reporting of ESG data. "At Arabesque, we specialise in applying ESG data [to make better investment decisions], which is still quite new. Companies only recently started reporting on non-financial issues. This means the quality of the data isn't particularly good," says Godman.
"We need machine learning and AI to help make sense of the huge, unstructured set of ESG data because the only way we can make sense of it is by looking at it as much as possible. We are using AI to understand the patterns within the data that helps explain price movements effectively." 
Non-financial data includes documents that detail topics such as waste management and board or governance structures. Another issue that arises with this type of data is that it may be outdated because it is self-reported.
Godman says this is where S-Ray's capability in retrieving data from news websites comes into play. "Companies tend to report ESG data only once a year — at year end. [The data] is 11 months old. So, we would like to fill that gap. We are monitoring 50,000 websites in about 15 languages."
Arabesque — which specialises in using AI to integrate big data related to ESG with quantitative rules-based investment strategies — also uses S-Ray as its first step in constructing its investment universe. This practice is different from that of other funds, says Godman.
"Normally, what happens is that the portfolio is constructed first. At the end, the ESG guys look at the portfolio through their ESG lens and probably take out a few stocks," he adds.
"At Arabesque, we do it the other way around. We begin with the ESG analysis and then construct a universe that is performing very well and sustainably according to our methodology."
S-Ray scores are now available via the Bloomberg Terminal. For those without a subscription to S-Ray, the scores they see on the terminal will have a time lag. 
According to Godman, Arabesque's S-Ray clients include Standard & Poor's, global asset management firm State Street and consulting firm Accenture. State Street includes S-Ray in its client statements while Standard & Poor's uses the scores in its index calculation. Accenture uses S-Ray to perform analysis on its clients.
"At this stage, we have observed a lot of demand from corporates wanting to understand their own performance. Going forward, we will probably see growing interest from investors who want to see how their portfolios are performing," he says. 
How Arabesque uses AI
S-Ray collects data from analyst reports and actively tracks sustainability-related corporate news. Currently, more than 7,000 large public-listed companies around the world — including Malaysia — with sufficient information on areas covered by ESG and GC are tracked by S-Ray. The free version allows users to see the total GC and ESG scores of each company with a three-month data delay. For paid users, the data is showed in real time.
The S-Ray system collects information on companies' activities from news websites. If a company is mentioned in an article with certain indicators it tracks, such as human rights, the system will adjust the scores. The websites it tracks are also given different weighting, depending on the credibility of the source of information.
S-Ray also measures a company's ESG momentum. So, if a company with low ESG scores has recently taken drastic steps to adopt these principles, its effort will be reflected by a momentum score. The same goes for companies found to be engaged in undesirable practices.
In Malaysia, Arabesque partners BIMB Investment Management Bhd, which has launched two funds using the former's technology, with one more in the pipeline for next year. The BIMB-Arabesque i Global Dividend Fund 1 was launched last year while the BIMB Arabesque Malaysia Shariah-ESG Equity Fund was launched in March.
The stocks held by the funds are selected using S-Ray before being put through fundamental and momentum analysis. Using AI, the holdings are adjusted daily based on market movements to manage risks without human intervention. The chief investment officer and fund managers monitor the system and can step in to override the system if there is a need to.
BIMB Investment CEO Najmuddin Mohd Lutfi says using AI in asset management will help reduce and manage market risks because the decisions are made based on more information. "In our investment world, we deal with a lot of information and data. Traditionally, to collect information, we visit the companies. 
"With AI and big data analytics, we are able to process more data and get more information. So, decision making can be more accurate. The market is becoming more volatile, so asset managers need to adopt some form of AI assistance, especially in investment management because you want to have as many selection criteria as possible when assessing a particular company."
For instance, during China's stock market turbulence and the US Federal Reserve's interest rate hikes in 2015 and 2016, the markets were down. So, the system automatically increased the funds' cash allocation. 
"Now, we don't have to worry about what is happening in China, Europe or the rest of the world because whatever happens, the portfolio is able to manage itself. Last year, when the China market corrected, the portfolio was only 55% invested in the market, when most of our peers were still fully invested," says Najmuddin.
"So, it is not just about stock picking, but how you manage the portfolio and asset allocation to protect the downside risk. AI can react really quickly when a fund manager cannot. 
"That is why AI plays a complementary role. It is not replacing us but in fact, helping us to dramatically improve the investment process. The benefit to investors is that we can now quantify the selection of the stocks." 
Najmuddin says ESG information is still not widely available in Malaysia, but tools such as S-Ray can encourage companies to improve their scores and increase transparency. As at Dec 5, some 273 local companies were reflected in S-Ray.
"Look at the FTSE4Good Bursa Malaysia Index — there are only 42 companies. There are about 1,000 listed companies on Bursa, so a lot of them need to improve their ESG scores," says Najmuddin.
"This is important because sovereign wealth funds, pension funds and the large institutional investors globally have their own ESG parameters and scoring when considering these companies. This filter is also being considered by high-net-worth individuals and big banks, which are now more wary about where their money goes. With technology, investors can access the information. It is more transparent."
As at Oct 31, the one-year return for the BIMB-Arabesque i Global Dividend Fund 1 was 25.87% for the ringgit share class and 24.71% for the USD share class, according to Najmuddin. The fund was ranked for returns over a one-year period on Lipper's global equity (Islamic) category as at Nov 17. The BIMB-Arabesque Malaysia Shariah-ESG Equity Fund has gained 5.96% since March and is ranked 8th for its returns over six months in Lipper's Malaysia equity (Islamic) category.
"The performance of our funds is attributed to S-Ray, which removes the tail risk, so we are able to have quality companies in the portfolio. We also have AI technology that is able to assess the market and manage daily volatility," says Najmuddin.
"When the market is good, we are fully invested. But when the market is bad, we put more cash aside. We are able to do that on a daily basis. And because of the very systematic investment process, we are able to deliver performance."
BIMB Investment has already received approval for its third fund with Arabesque, which will invest in Asia-Pacific. It is slated to be launched next year.
In the future, the abundance of data may lead to personalised investment solutions where individuals' preferences are taken into consideration. Arabesque's existing technology allows it to tap these opportunities, says Godman. "At Arabesque, we will be able to deliver portfolios in line with investors' values because our system is rules-based. For a small sum, we can set up a separate account and deliver this portfolio if a client wants it in line with his values. I think that customisation will be a big thing in the future," he adds.