This article first appeared in Personal Wealth, The Edge Malaysia Weekly, on September 17, 2018 - September 23, 2018.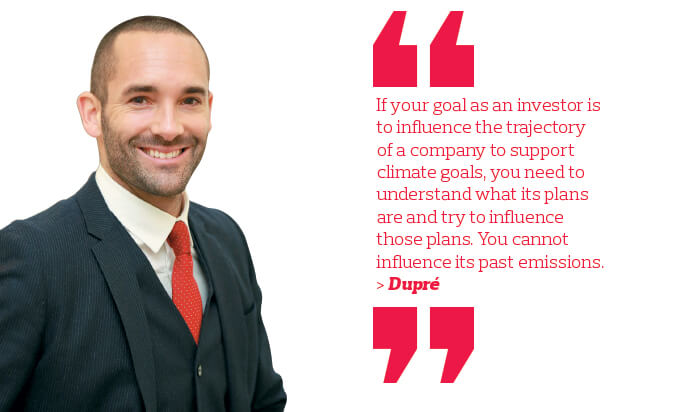 Those interested in sustainable investing should consider using a scenario analysis to evaluate their portfolios, says Stan Dupré, founder and CEO of The 2° Investing Initiative. That is because it focuses on companies' future plans and investments rather than their past emissions.
This strategy will help investors ascertain whether the company's path forward is aligned with the Paris Agreement goal of limiting global warming to no more than 2°C above pre-industrial levels. The think tank recently launched a free online scenario analysis tool called the Paris Agreement Capital Transition Assessment, in collaboration with the United Nations-supported Principles for Responsible Investment and funded by the European Commission (EC).
"If your goal as an investor is to influence the trajectory of a company to support climate goals, you need to understand what its plans are and try to influence those plans. You cannot influence its past emissions," says Dupré.
Besides, a company's past is already reflected in its share price, he points out. "What is not necessarily reflected are the risks it is taking now through its new investments. That is why we focus on forward-looking elements."
Dupré was speaking to Personal Wealth on the sidelines of the KWAP Inspire Environmental Conference 2018 in July.
"We are in active conversation with environmental, social and governance (ESG) data providers so they will either use our data or directly source the same type of data to develop some forward-looking analysis. So far, they have been very focused on carbon footprint and backward-looking metrics. But I think that since scenario analysis is gaining traction, they are creating new systems," he says.
The 2° Investing Initiative works with several European financial institutions, government departments and universities to develop climate metrics for financial portfolios. Initially, extracting data on the companies' future plans was a challenge they had to overcome, says Dupré.
"The starting point was that we wanted to compare the companies' trajectories with climate goals. But the problem was that companies only report on past emissions. They also have gaps all over the report. It is not comparable and sometimes, the indicators are not meaningful. So, we decided to bypass all that and contract with business intelligence data providers," he adds.
"Part of our work is to match all this data with the companies, their parent companies and their securities. We were able to map the trajectories of all issuers in the power, oil and gas, coal mining, aviation, shipping, cement, steel and automotive industries. We are extending this to other sectors."
The tool, which covers global data, allows investors to upload their portfolios and get an assessment of how their portfolios of listed equities and corporate bonds compare with the 2° transition strategy, as defined by the International Energy Agency.
"What we have in the business intelligence data is the capital expenditure plan of the company for the next five to seven years, [for example] the production plan of carmakers, so we know what models they plan to produce and in what quantities. We can compare that with climate goals. If investors start to engage with the companies and say they need to develop more electric vehicles and reduce the production of SUVs, we can see how the investment plans of the companies change," says Dupré.
This also allows them to track the implementation of policies over the long term. "With this data, we can churn that into a concrete decision," he says.
It is easy for a company to say it wants to achieve something in 10 years. The question is, what is it doing today to get there?
"What about this coal-fired power plant? Should it be closed to meet the target? When do you plan to retire it? You can have a more concrete conversation between the investor and investee about actual investment decisions rather than the prospect of what the emissions will be in the future," says Dupré.
But this strategy cannot work for sectors such as agriculture and real estate because there are challenges in identifying the owner of the land, he points out. While it can get raw data on deforestation, for instance, through satellites, it is difficult to find out who owns the land and who is responsible for the deforestation.
Dupré began working with banks six months ago to develop scenario analysis for its corporate lending and asset management portfolio. The use of business intelligence data is particularly useful in this situation because large lending portfolios typically cover non-listed parties.
Incubating fintech start-ups
The 2° Investing Initiative is incubating two financial technology (fintech) start-ups. The idea emerged because the think tank had collected a huge trough of data on companies but did not want to sell the information.
"We do not want to have commercial activities. But for us, it is necessary that people use it and start developing commercial tools. Otherwise, we will need to subsidise this forever and we do not want to do that," says Dupré.
"So, we created a spin-off that will sell the data. It will be owned and governed by non-governmental organisations and universities. And the equity of the company will be put in a trust."
The other start-up is coming up with a robo-advisor tool that financial institutions can use to help retail investors identify the best sustainable investing products. This comes as the EC released a proposal in May that requires financial advisers to ask their clients about their non-financial objectives.
"If you go to a bank in Europe as a retail client, usually they ask you about your financial objectives, how much you want to make and how much you are ready to lose. But they don't ask whether you want to make a difference with your money. So, after the change in regulations, they will be obliged to ask you about your non-financial objectives," says Dupré.
This may make it difficult for financial advisers to choose from a huge range of products. For instance, an investor may want to support specific goals such as reforestation and avoid weapons manufacturers.
"We want to use this opportunity to develop the equivalent of booking.com or eBay to ask retail investors questions, establish their profile, write all the investment options based on very specific criteria and come up with a ranking that will help them sell a very customised product," says Dupré.