This article first appeared in Personal Wealth, The Edge Malaysia Weekly, on July 13, 2020 - July 19, 2020.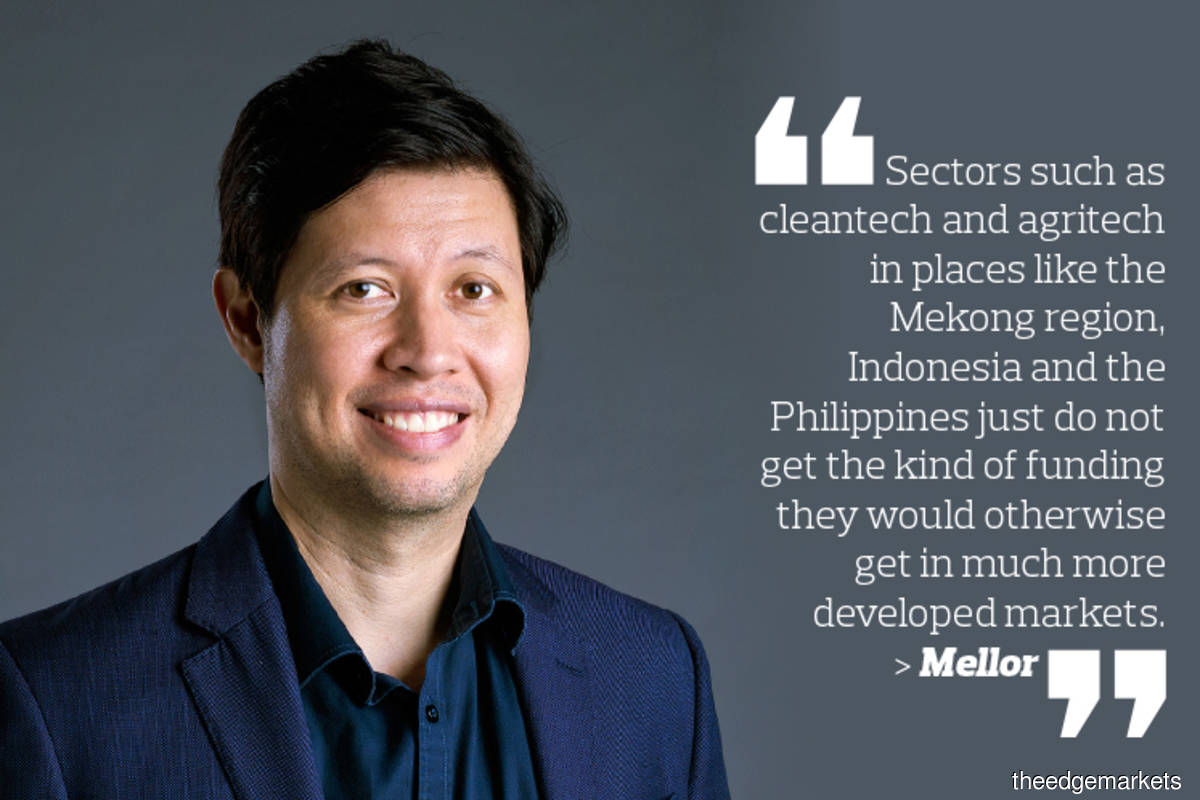 Impact investing has been gaining traction among those who want to achieve both financial returns and philanthropic goals. But there has been a disparity in the ecosystem, with some communities being more vibrant that others.
This vibrancy is more palpable in South Asia and Southeast Asia due to the vitality of their entrepreneurial ecosystems, says ADB Ventures senior investment specialist Dominic Mellor. 
ADB Ventures is an offshoot of the Asian Development Bank (ADB). It was set up in January to feed investment and support to start-ups focused on developing impactful solutions aimed at achieving the UN Sustainable Development Goals (SDGs) in Asia-Pacific.
"One of our goals is to crowd-in, de-risk and encourage more venture capital funding in the nascent, early-stage venture capital investment industry in the emerging markets of South Asia and Southeast Asia. For example, in sectors like agriculture tech (agritech) and cleantech, the existing investments in these regions are only a small percentage of the total venture capital funding [for both sectors globally]," says Mellor.
"A lot of venture capitalists (VCs) are going into areas like e-commerce, online gaming and certain financial technology (fintech) verticals, but not into other areas because they are riskier and more capital intensive. Therefore, it is harder for start-ups in these areas to raise meaningful funding."
It is necessary to expand the ecosystem to include impact technology solutions if the countries in the region are to meet all of the SDGs, he adds. "Sectors such as cleantech and agritech in places like the Mekong region, Indonesia and the Philippines just do not get the kind of funding they would otherwise get in much more developed markets."
Southeast Asia remains a laggard because the deployment of impactful technologies has been impeded by the nascent innovation ecosystem, poor technology transfer and limited access to venture capital in emerging markets and impact sectors, according to a paper entitled "Establishment of the ADB Ventures Financing Partnership Facility".
Entrepreneurs are in need of support and networks to take their products and services to market but are often disrupted by the lack of supportive tools and complexities that come with having to adapt their technology to fit markets that are diverse and fragmented by language, geography, culture and business environment.
According to the paper, venture capital investment flows to emerging markets in Asia-Pacific have slowed since 2015 as investors focused on later-stage deals and tended to concentrate on selected markets and sectors such as e-commerce. On the other hand, impact investing is treated as a niche in the broader venture capital industry.
"The lack of risk capital is particularly acute for early-stage companies accessing smaller markets and more remote geographic areas, companies serving public-sector customers and innovators in capital-intensive sectors," says the paper.
"While there is a growing pool of 'patient capital' from diverse sources such as corporate VCs, social impact funds, foundations and family offices, these funding sources remain fragmented and struggle with market insights and transparency. The angel investing ecosystem remains nascent in most emerging markets."
It adds that technology solutions that conserve energy, reduce waste and deliver public services more effectively to low-income groups have achieved a wide uptake in developed markets, but these are not prevalent in developing and frontier Asian markets. This is despite the fact that the cost of deploying and scaling these technologies has come down drastically, says Mellor.
"ADB developed 'Strategy 2030' through a very extensive consultative process across the region. There has been a very big push for ADB to find ways to take on more risk, particularly in our private sector investments, and to pursue projects that can have more development impact and do more in frontier markets," he adds.
"One of the motivations was that there needed to be a new vehicle that would allow ADB to take on more risk to pursue more development impact. At the same time, we felt that ADB could add more value to the journey of start-ups and young companies, in helping them scale across the region because we have a unique network for our existing operations."
The venture capital platform, which saw its first close of US$50 million (RM213.74 million) for its Investment Fund 1 in April, leverages ADB's more than 50 years of experience working with governments, industries and large corporations in Asia-Pacific. The anchor fund was largely financed by institutions such as Finland's Ministry of Foreign Affairs, the Nordic Development Fund, Climate Investment Funds and the Republic of Korea's Ministry of Economy and Finance.
However, as one of its main aims is to mobilise private capital through co-investments with private sector investors, there are plans in the pipeline to co-invest with sophisticated investors, family offices, foundations and other impact funds. "We set up ADB Ventures as a co-investment vehicle with the mission of trying to reduce market and financial risks to encourage more parties to co-invest with us," says Mellor.
"We are investing for impact in developing South and Southeast Asian markets such as Myanmar, Cambodia, Laos, Vietnam, Thailand, Bangladesh, Nepal, Sri Lanka, Indonesia and the Philippines.
"We are focusing on these markets because it is riskier and harder to access capital there. However, we are not exclusively investing in companies domiciled in these countries. Our portfolio companies can be headquartered anywhere in the world as long as they plan to scale up their impact in our focus markets." 
Via Investment Fund 1, ADB Ventures plans to make 15 to 30 investments in impactful technology companies over its lifespan. The investments will range from US$100,000 to US$4 million, primarily in the form of equity or quasi-equity.
Investment Fund 1 will mainly invest in early-stage start-ups and focus on companies with solutions that can address climate change and empower women in Asia-Pacific. The fund has a 17-year life span, allowing ADB to invest patient capital in cleantech, fintech, agritech and health technology solutions.
"By playing a role in the early-stage start-up space, ADB can generate impact and we are in a position to help these companies," says Mellor.
However, recognising that funding alone is insufficient to invigorate the start-up ecosystem in the target regions, Investment Fund 1 is augmented by a three-year, US$12 million Technical Assistance programme. It will support impact technology start-ups through two primary activities: ADB Ventures SEED and ADB Venture Lab.
ADB Ventures SEED is a grant programme to validate and de-risk technology pilots and promote expansion into emerging markets that start-ups may otherwise not prioritise. ADB Venture Lab is a suite of corporate innovation programmes implemented in partnership with industry and accelerators for start-ups.
The venture platform will then leverage ADB's operational networks and industry expertise to generate technology pilot opportunities and support the latter's portfolio companies. The rationale behind the SEED and Lab programmes is that they are essential to reduce investment risks.  
"For example, we find a company that we could potentially support and invest in, but it is still [considered] a bit too high [of a risk] for reasons such as the entrepreneur has yet to validate the technology in a particular market and there is a certain go-to-market risk. We can then provide reimbursable grants to these companies to test and validate their solutions in those markets," says Mellor.
"In return, we will get the investment rights in these companies. And if they are successful and plan to raise funds at a later date, we can follow up and invest in them through the investment fund. That is one way we can de-risk, by providing reimbursable grants through our seed programme."
Through the Lab's initiative, ADB Ventures looks to match potential customers with the technologies developed by its portfolio companies. Unlike most venture capital funds, which have an investment horizon of seven years, ADB Ventures' Investment Fund 1 was designed with a 17-year lifespan as it is what the market needs, says Mellor.
"Impact technology entrepreneurs entering developing markets need patient capital and access to client networks.We also did a survey of other investors in cleantech and agritech, the markets and the pipeline of the types of companies that we could potentially support. The design of ADB Ventures was based on the balance of all these factors. 
"Therefore, the targeted returns of our fund are less than those of normal venture capital funds, which typically look to invest and exit within several years. We have a single-digit  return target, which we know is lower than the industry.
"But we are also considering future funds that will feature debt instruments with different terms. And we are looking to build relationships with the wider ecosystem of impact investors and family offices, which is not necessarily just us raising funds from them to manage but also to potentially co-invest and support their existing portfolio of companies."
Mellor says those operating with an impact ecosystem, such as technology providers, will be the ones hardest hit by the Covid-19 pandemic. "Unfortunately, there is the drying up of liquidity and funding, even for industries and corporates. In the short term, it is just survival. These companies may not necessarily prioritise sustainability over the short term.
"Governments themselves have a lot of challenges now in managing huge budget deficits and trying to find ways to resurrect their economies and to support their health sector."
He adds that the gains or progress made by the impact investing industry could easily be relinquished in the light of Covid-19. "This may even set the industry back in the short term. But in the long term, beyond the crisis itself, the impact investing industry and impact technologies will be very critical in supporting post-Covid-19 recovery.
"We are already seeing this — whether it is agriculture, manufacturing or services such as tourism. A lot of these sectors will have to change and adapt to the new environment and there will be processes that will need to be automated and become more efficient."
Moreover, governments and its agencies will have to adapt so they are better prepared to predict and manage future crises, for which impact technology will play a crucial role, says Mellor.