This article first appeared in Enterprise, The Edge Malaysia Weekly, on March 11, 2019 - March 17, 2019.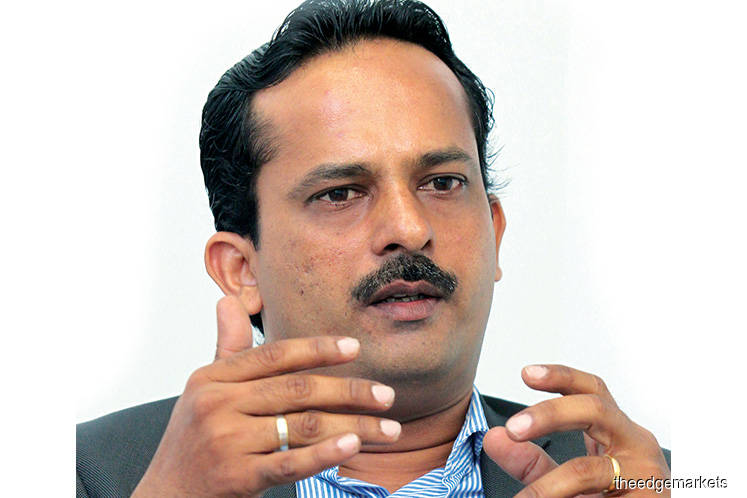 As a petrochemical engineer who worked on several continents for about 12 years, Sathia Ramanaidu had the privilege of travelling extensively and picking up a few languages. He was living the dream — earning more than most of his peers in Malaysia and being exposed to the valuable insights and know-how of multinational corporations.
Then, his wife was offered a job in Malaysia. So, he decide to apply for Talent Corp Malaysia Bhd's Returning Expert Programme. His application was approved, but his decision to return home puzzled his family and friends.
"People said things like, 'You had such a good life and everything was paid for. You should have just stayed there," says Sathia.
"But you cannot get roti canai and mutton curry there," he would reply in jest.
"There is no doubt that I get paid a lot more abroad. But it is not home. We always felt that we had to return and give back," says Sathia.
When he finally made his way back to Malaysia, he accepted a chemical engineering job that sent him travelling across the country. His sense of exploration never waned, so he found the work rewarding. Yet, he still felt that something was missing.
"I spent the next year there but I had this nagging feeling that did not allow me to sleep peacefully or think about anything else. If there is one thing that I would rather not have on my deathbed is the regret of not having given back, of never finding meaning in life," says Sathia.
When he was working in the oil and gas industry, he saw many limbs and lives lost. The less developed a country is, the less it values a human life, he observes. "I find it infuriating when I see safety features lacking on construction sites. It is as if human lives do not mean anything," he says.
Sathia's exasperation led to him seek (and find) a solution in the insurance industry. The 41-year-old and four other similar-minded people, most of whom were his long-time friends, banded together to set up GoInsurans Sdn Bhd.
"Our aim is to provide a safety net to people who need it because RM30,000 to RM50,00 [in medical expenses] is something huge for about 80% of the Malaysian population. It is what separates them from having a roof over their heads or sending their children to school. For about 20% of the population, that amount may not be a big deal. But for the rest, it is something that would keep them from living on the streets," says Sathia.
When it comes to getting insured, he points out that those in the top 20% (T20) income group have everything they need while the middle 40% (M40) would try to get coverage for most of the major risks. But the lower half of the M40 and the bottom 40% (B40) are the "least bothered" because they do not think they can afford it.
They are not wrong because not all insurance carriers have products that can cater for their needs, says Sathia. He notes that insurers are seldom required by law to offer such policies. "The Patient Protection and Affordable Care Act in the US was a law created in that direction, but even that has been overturned," he points out.
Sathia believes that if left unchecked, this "gap" may create a backlash that will affect society. "You may try to push the B40 away and not think about them. But in the long run, if enough people feel left out, they will revolt. And that will not be good for anyone," he says.
"But beyond that, as human beings, don't you think it is equally our responsibility to give something back to those who need it the most? Whether it is in the form of awareness, education or funding, we should do it if we can.
"When you have more than your fellow human beings — be it knowledge, money or experience, it becomes an obligation for you to share and help others. If insurance companies thought less about their profit margins and more about giving people coverage, I am sure it can be done.
"That is why the government is trying to introduce a new insurance initiative to provide coverage against critical illnesses for this segment. RM8,000 in coverage may not be much for a lot of people. But for those who need it, it is everything."
From awareness to trust
Sathia acknowledges that there have been countless attempts to disrupt or transform the insurance industry and many have met with failure. The option to buy insurance policies on the GoInsurans platform is unavailable for this reason, he points out.
"Asians, especially Malaysians and Indonesians, are accustomed to conducting transactions in the flesh due to the trust factor. So, we need to tap into the agency force. Going the aggregator way may make us more money, but we are more interested in transforming the market," says Sathia.
"We want to be able to cater for all segments of society, including the underserved. To do so, we need to work with both insurance carriers and agents — people who already have the market's trust. By having them on board, we will create more credibility in the market for GoInsurans, which will bring in more buyers. Consequently, we can create a bigger volume for insurance carriers and agents."
To reach out to the B40 and bottom half of the M40, he travelled across the country to increase awareness of not only the platform but also the importance of insurance, especially in places where there is a higher percentage of uninsured. "That is why our flyers are in the hands of grocery store and restaurant owners in Kota Baru, Kelantan; Alor Setar, Kedah; Kota Tinggi, Johor and so on — because they [the patrons of these establishments] are the people who need insurance," says Sathia.
With an overarching mission to increase insurance penetration in the country, the company needs to capture two disconnected markets — the affluent who are more financially literate and the underserved who are less so, he says. The former are concentrated in the Klang Valley and are more likely to use the agent rating system on the platform.
"This segment is more likely to leave reviews while the other would prefer to deal with insurance on a personal-touch basis. We rolled out in the Klang Valley first because we need to have a database [of ratings on agents]," says Sathia.
Ultimately, the platform's purpose is to connect insurance agents with customers. But what sets GoInsurans apart from similar platforms is that it allows users to ask agents about insurance without having to reveal their contact details. "It informs customers who the agents are, who are the most professional and who provides the best service, thanks to the rating system," he says.
How do customers and agents communicate? Sathia says there is a chat feature on the platform. All users need to do is register, approach any agent in their vicinity and start asking questions. "If an agent responds in a way you appreciate, why wouldn't you do business with him? If after the fifth question, the agent stops responding, then you know he is not going to serve you in the future," he adds.
Sathia believes the product can help consumers get the information they need about insurance, but he also realises that more than half the population does not read English. Hence, the platform operates in three languages — Malay, English and Mandarin — so that people across the country can access the website.
The model appears to be promising. Relying on "very little advertising", the platform managed to draw more than 100 agents in the first month, says Sathia. "We do radio advertisements on Astro for a pittance because we make it a point to find the best deals that can deliver the best bang for every buck.
"It would be dishonest to say that we are not trying to make money, but our main objective is to have the market covered. If everything else failed and we lost all the money we had put in, but we still managed to cover 50 people, we would have done something and made a difference in the market."
To sustain its business, GoInsurans charges agents for leads instead of charging the consumers. By doing this, it hopes to make consumers think of the platform first whenever they need to fulfil their insurance needs.
"We want to make our brand synonymous with insurance. That is why we make it absolutely free for customers. Anybody who is interested can just register. Meanwhile, we are building our database," says Sathia.
"The agents, on the other hands, want business. So, we give them two free leads a month, which means they can only reply to two customers per month. By paying RM150 annually, however, they can get more than that."
He adds that the low annual fee is attributable to the start-up's efficient cost structure.
The next few months will be about building the business and, according to Sathia, the company is seeing exponential growth in the number of agents and users on board. He is confident that GoInsurans will break even soon, though he does not reveal how near it is to reaching that point.
The biggest hurdle for Sathia and his co-founders is the perception that insurance is expensive, especially among those in their target market. He says for many people, the word "insurance" conjures up scenarios of being conned or sold something they do not need.
"A lady I spoke to in Kota Baru said financial security is about getting her family covered. But it also means putting aside enough money in the bank or under the pillow, as opposed to having a safety net in the form of insurance," says Sathia.
"So, our challenge is to let people know that insurance is not here to cheat them, nor is it expensive. It is also to tell them that insurance can be as good as, if not slightly better than, putting their money in the bank."