This article first appeared in Enterprise, The Edge Malaysia Weekly, on April 8, 2019 - April 14, 2019.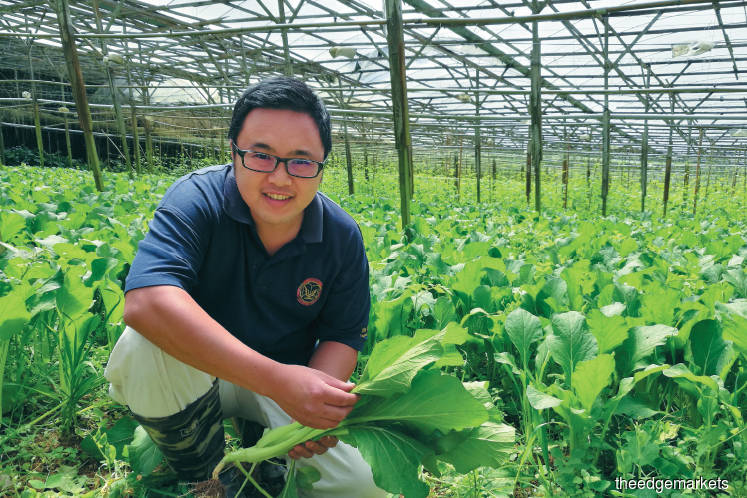 Vincent Choi's day begins at six each morning. After sending his seven-year-old son to school, he heads to his four-acre farm that is nestled amidst the rolling hills of Cameron Highlands in Pahang.
This is Choi's pride and joy — his organic farm, Mivi Garden, which he set up some time in 2016. With six farmhands, Choi works the land, producing 13 types of vegetables including leafy greens, tomatoes, sweet corn, pumpkin and beans.
A second-generation farmer, the 34-year-old had worked on the family farm for about a decade before deciding to branch out on his own to pursue organic farming. "I had that interest in organic farming. I knew that it was better for the environment, consumers, and better for the farmers as well," says the father of four. As he had no experience with organic farming methods, he enrolled in courses conducted by a veteran organic farmer in the area.
"I started off small, with just half an acre, and planted leafy vegetables like sawi, siew pak choy, sweet corn and French beans," Choi says, explaining that his approach to farming follows that of biodynamic farming principles. "We start off by planting green manure, which are basically weeds that are then cut and used to fertilise the soil. It's only after this process, which can take about two months, that we plant the vegetables," he adds.
Very similar to organic farming, biodynamic is a form of alternative agriculture. Here, the biodynamic farm is an integrated, whole, living organism. According to the Biodynamic Association's website, this organism is made up of many interdependent elements, including fields, forests, plants, animals, soils, compost and people, as well as the spirit of the place. Biodynamic farmers such as Choi work to nurture and harmonise these elements — managing them in a holistic and dynamic way to support the health and vitality of the whole.
Biodynamic farms are inspired by the biodiversity and uniqueness of each landscape and in his home in Cameron Highlands, Choi found that inspiration. But it was not plain sailing from the get-go. "The yields fell in the beginning but as the soil condition improved, they increased as well," he says, adding that after a year, he expanded the farm to its current size.
All natural
Eschewing all forms of chemicals, Choi uses only organic pesticides, one of which is derived from neem oil. Mivi Garden, which has been awarded the myOrganic certification issued by the Malaysian Department of Agriculture, also practises crop rotation to ensure soil health. "We rotate the planting of vegetables after each harvest, for example, sweet corn to tomatoes, then French beans, and leafy greens. And every year, we return to the planting of green manure to replenish and nourish the soil," he says.
Choi does not regret his foray into organic farming but concedes that it has not been easy. Although he saves on herbicides and fertilisers, the costs are higher because of the need for more workers to cut the grass and prepare the green manure. In addition, the yields cannot match those of conventional agriculture. "With conventional farming, you could probably produce one tonne of sawi a day on a four-acre parcel but with organic farming, the yield is probably only 200kg," he says.
Still he is satisfied with the production rate. "This is good enough for now because the worry is that the market may not be able to absorb all that is being produced anyway." Although the farm is now turning a profit, he says the earnings are 30% less than farming via conventional methods.
For Choi, the biggest hurdle he has faced so far is marketing and selling the produce. "Under conventional farming, the produce would be sold to an agent in Cameron Highlands, but in the case of organic produce, although there are agents and middlemen, the prices are low," he laments. To secure better prices, he sells his vegetables directly to customers in Cameron Highlands, Ipoh and even as far away as Penang via veggie boxes, which are packed with a minimum of six types of vegetables. In a week, Choi says he sells about a hundred of these boxes. Online retailers such as Everleaf Store are also one avenue to market and sell Mivi Garden's produce.
In the two years that he has been in the organic farming business, Choi says one of the biggest lessons he has learnt is the need for variety. "That is the feedback that I have received from the agents and middlemen. They cannot cope with the volume but they want variety because it gives consumers a wider choice. After all, if you eat the same types of vegetables every week, you would get bored."
Choi reckons that as more consumers are exposed to the benefits of organic produce, the situation will improve for farmers like him. Increased demand would mean that farmers would be incentivised to increase yields, and be able to make a decent living. He says making ends meet is a challenge at the moment, and to supplement his income from Mivi Garden, he also tills a 1.5-acre conventional farm.
'Sweetness to the vegetables'
Listening to Choi speak of his venture, his passion for the natural, chemical-free way of farming shines through. "I am very happy to see vegetable after vegetable being planted. The quality is also improving — the vegetables look healthier and are tastier," he says.
That the families of his farmhands now look forward to eating the produce from Mivi Garden is a point of pride for Choi. "The children of my workers used to not like eating vegetables but after eating our produce, they now look forward to them. They say that there is a kind of sweetness to the vegetables, and that they are very tasty. And that makes me happy."
Apart from increasing the varieties grown on the farm, Choi also plans to set up homestay facilities by building chalets to encourage visitors to come to the farm. "The hope is that through tourism, we can educate people about organic farming."