This article first appeared in Personal Wealth, The Edge Malaysia Weekly, on June 15, 2020 - June 21, 2020.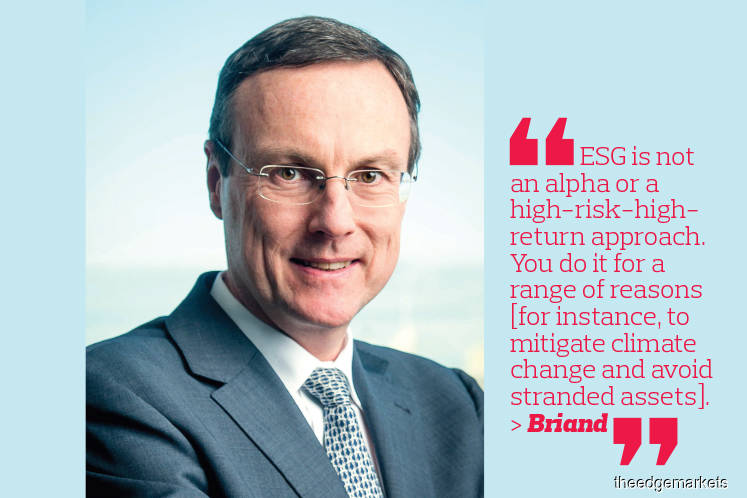 The introduction of the MSCI ESG Fund Ratings tool has made it easier for wealth managers and retail investors to examine the environmental, social and governance (ESG) performance of their portfolios. Introduced in late May, it provides coverage on 36,000 multi-asset unit trusts and exchange-traded funds around the world.
The tool is available for anyone to analyse a particular fund's ESG ranking against those of its peers in terms of carbon intensity, green (renewable resources) and brown (non-renewable resources) revenues as well as corporate governance performance. While MSCI is not the first company to provide such a tool globally, its ESG fund ratings tool is one of the few freely available solutions for Malaysian investors to ascertain the ESG performance of local funds.
Remy Briand, head of ESG at MSCI, says that while it is typical for investors to look at risk and return characteristics, the ESG dimension is also important in the due diligence process.
"As an investor, you would want to understand whether a fund is exposed to carbon emissions or risks as we transition into a low-carbon economy," he points out.
This focus on ESG factors is especially relevant during this time of market turmoil, as companies with high ESG scores are more resilient, Briand observes. He cites the outperformance of the MSCI ACWI (All Country World Index) ESG Leaders Index over the MSCI ACWI since late January as an example.
"The ESG index has been more resilient than the overall market in this period of crisis. This was also the case in the previous period, which was a bull market," he says. The ESG index has outperformed the general index for the past three and five years, according to data by MSCI.
"ESG is not an alpha or a high-risk-high-return approach. You do it for a range of reasons [for instance, to mitigate climate change and avoid stranded assets]. The reason we talk about performance characteristics is to debunk the myth that you will lose money by integrating ESG analysis into your investments. That is not the case."
It is becoming standard practice for wealth managers in Europe to include ESG analysis in their services. The European Union passed new regulations last year that require asset managers to disclose how they are integrating and adhering to ESG objectives in their investment decisions.
"In the US, large wealth management organisations are also undertaking an active exercise to provide such information to their clients. It's less common in Asia now, but the underlying drivers are there. It's a matter of time before [more] wealth managers in Asia also do this," says Briand.
For instance, MSCI is working with DBS Bank in Singapore to provide the bank's wealth management clients with greater transparency on the ESG characteristics of their investment portfolios.
"We believe it is important for the end-user, buyer of funds or pension funds to have transparency on what they own in their portfolios. This transparency is important to fight greenwashing as well," says Briand.
Spotting risks and opportunities
To collect data for its tool, MSCI examines the ESG performance of funds from the disclosures made by the fund managers to data providers like Lipper and other public information sources. If there is a lack of information, it relies on models to estimate the carbon intensity of the industrial processes used by a company, for instance. The search tool is updated on a daily basis and leverages the ESG API to pull the ESG fund ratings data.
"That's to avoid companies getting away with not disclosing any information about their carbon emissions. We also have a process whereby we send the analyses to the companies to comment, so they can either provide more information or highlight errors in the data. Not all companies will respond, but we've been seeing the response rate go up in the last decade," says Briand.
The MSCI ESG Fund Ratings tool focuses more on environmental risks as opposed to social and governance risks because the former can highlight investment opportunities as well. The transition to a low-carbon economy to mitigate climate change is driven by consumer demand, regulations and technological advances. This phenomenon promises both new investment opportunities and risks.
For instance, solar and wind energy have become competitive and viable alternatives to coal-fired power plants. From an investment standpoint, the former is an opportunity while the latter is a risk. "If you own a coal-fired power plant, you have a huge risk of being disrupted. That's called the asset stranding risk. But you can also have huge opportunities in companies that will benefit from this transition," says Briand.
The carbon intensity measure reflects the transition risk investors face when a carbon tax is implemented or regulations push for renewable energy, for example.The higher the carbon intensity, the more an investor is exposed to transition risk. The green versus brown revenues measure shows the percentage of the fund's holdings which are in new, sustainable areas versus those that might become stranded assets. For example, green revenues could be derived from alternative energy, while brown revenues could be from thermal, coal or oil and gas.
"A fund manager who wants to manage the overall exposure to carbon emissions in portfolios could sell or reduce the overall exposure to carbon emissions and increase the overall exposure to greener alternatives," Briand says.
The MSCI ESG Fund Ratings tool also reveals the level of corporate governance through the independence and diversity of the boards of companies held by the fund. In the social component, it flags funds that invest in tobacco or controversial weapons or face severe controversies according to Organisation for Economic Co-operation and Development guidelines or violate the United Nations Global Compact.
"This would cover instances of companies that have a problematic behaviour with their workers or communities. This could be security lapses in mining companies, for instance," says Briand.
Going forward, MSCI is accelerating its efforts to gather information from more fund managers and work with financial information providers.