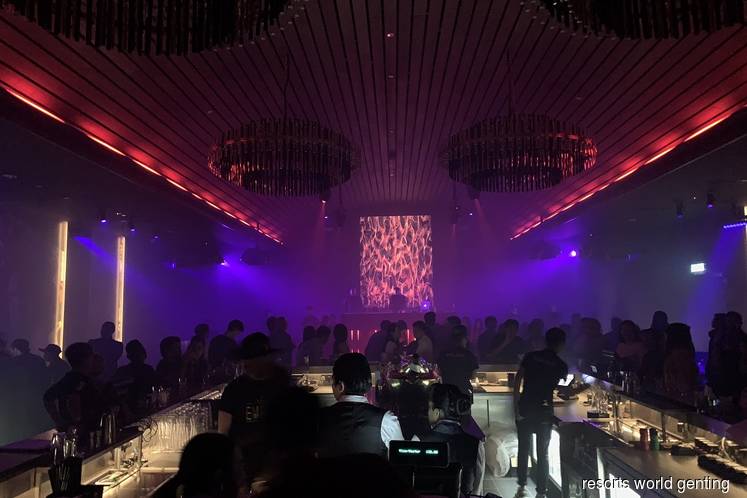 GENTING HIGHLANDS (Nov 29): Resorts World Genting (RWG) has officially opened the newest concept of clubs – Empire by Zouk (Empire) on Nov 21 – one of Zouk Genting's two club outlets, and one of the newest concepts introduced under the Zouk umbrella, it announced in a press release today.
Located in Sky Avenue RWG, Empire is part of Zouk Atrium which encompasses the main club Zouk, Empire by Zouk, RedTail by Zouk, RedTail Karaoke as well as a RedTail BBQ outlet and Fuhu – a new vibe dining restaurant in 2019, all in one trendsetting space.
Spanning 5,000 sq ft and located inside the 40,000 sq ft Zouk Atrium, Empire will seamlessly have an urban blend of art, fashion and music. In true Zouk fashion of having separate areas to cater for different tastes, Empire will be dedicated to hip hop. The space also allows for a private party for anyone looking to throw a blowout for up to 500 people with a bar and 20 tables.
The idea of Empire by Zouk was conceived from a hip-hop themed, dual club-lounge that is reminiscent of the upscale, private lounges in New York.
"RWG was a natural fit since it is the pioneer integrated resort of our parent company. With the introduction of Zouk, it is our hope to expand its market segment, enhance and diversify the lifestyle experiences in the resort. I'm excited for guests to experience the music and vibe at Empire. Deliberately apparent with its references and swanky design language, the space to me, is captivating with an old-school charm that is further amplified by music that will be played," said Zouk Group CEO and executive director Andrew Li.
He added that Zouk has always been loved for being a multi-concept complex and that they are looking to create that experience for guests at Resorts World Genting.
"With the rising popularity and appreciation of hip-hop culture, we thought it'd be an opportune moment to introduce a brand new hip-hop angled concept," said Li.
Meanwhile, Zouk Genting project director Joseph Ryan said that they are looking to redefine the clubbing experience yet again and believes it has been achieved with Empire by Zouk.
"When we started creating the space, we wanted a place that visitors would feel as if they have stepped into an alternate universe. We've paid attention to each detail and worked with experts in their own field in terms of lighting, the sound system and the art that is the focal point of the club to create the best club in Malaysia," said Ryan.
Zouk Genting is also looking to up its game in its food segment which is often not the focus at clubs.
"With the upcoming launch of Fuhu, we are looking to continue building our F&B portfolio. At Zouk Genting, I will be focusing on incorporating delicious tastes, matched with theatrical presentation, exciting surrounding atmosphere and friendly yet finessed service from the moment you arrive to the minute you leave. The end goal is to contribute to building Zouk's establishments as the ultimate hotspot to wine, dine and play," said Zouk Group culinary director Chef Steven Chou.