This article first appeared in City & Country, The Edge Malaysia Weekly, on February 7, 2022 - February 13, 2022.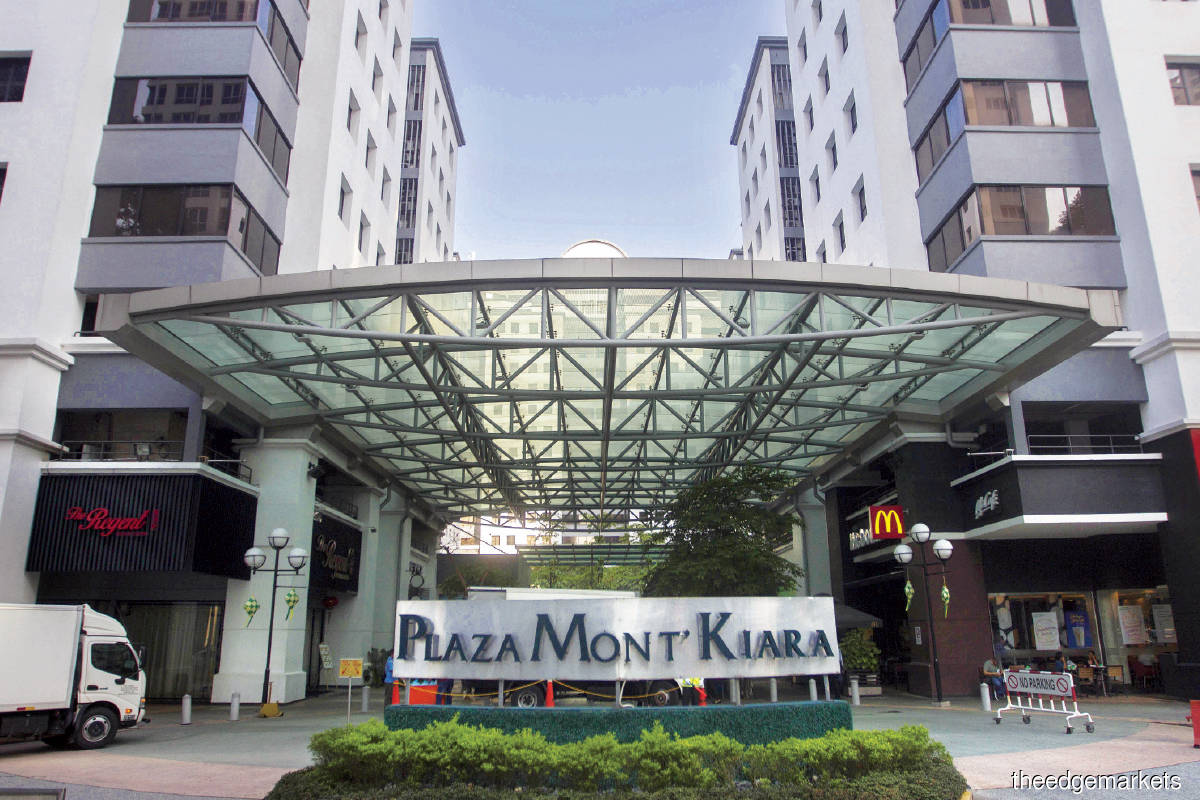 Mont'Kiara is a favourite area among expatriates and locals, who enjoy the many food and retail offerings there, as well as find it a suitable place to live, work and educate their children. As a result, the area has an attractive rental market.
"As a neighbourhood, it has grown to be a preferred location for many, with a strong expatriate community and a good number of amenities such as shopping centres, food and beverage (F&B) outlets, international schools and social and recreational private clubs, as well as the lush greenery of Bukit Kiara and Bukit Kiara Trail," says Rahim & Co International director of research Sulaiman Saheh.
"Back in the 1990s, Sunrise Sdn Bhd along with a few other developers were catering for the upgraders and investors' market, which was fuelling demand in Mont'Kiara due to its strategic location. This led to the boom in the condominium and serviced apartments market, which augmented the modern lifestyle changes seen in Kuala Lumpur.
"As the area is close to other established neighbourhoods like Damansara Heights and Sri Hartamas, and amid green hills on the western side, it had the makings of an exclusive residential area. As the roads surrounding the area were upgraded and its image improved because of Istana Negara located nearby, its positive status was further enhanced.
"Commercial properties in the area are seen as being more niche rather than mainstream, with office suites and boutique-like retail lots, such as those in Solaris Mont'Kiara and 1 Mont Kiara."
According to JLL Property Services (M) Sdn Bhd country head YY Lau, Mont'Kiara offers a wide range of high-end properties to rent. These include older projects such as Mont Kiara Palma and Mont Kiara Bayu, which were built in the mid-2000s, and the latest ones like Agile Mont Kiara and Residensi 22. There are also small office/home offices (SoHos) and serviced apartments such as Verve Suites and Arcoris SoHo, as well as projects that offer large units in Mont Kiara Banyan, 10 Mont Kiara and 11 Mont Kiara.
 The amenities include international schools like Garden International School and Mont'Kiara International School, as well as neighbourhood malls and commercial areas with F&B options such as Publika, 163 Retail Park and Solaris.
There is also the ease of accessibility and connectivity to the surrounding areas through Penchala Link, the Federal Highway via Kerinchi Link, Jalan Tuanku Abdul Halim and Jalan Kuching, she says.
An affluent neighbourhood
The people who live in Mont'Kiara play a big part in attracting tenants. "As an area that has been long established and maintained as being mid-high to high-end and expatriate-friendly, one of the biggest reasons residents and tenants seek to find a place in Mont'Kiara is the experience of living in an upper-scale neighbourhood that has amenities and facilities to live, work and play. It is also a mark of personal and financial success," says Sulaiman.
Lau concurs, stating that Mont'Kiara is "a highly respectable and affluent neighbourhood with managerial professionals and high-net-worth individuals". Moreover, the products here are prime developments that include luxury projects.
"Every new project tries to outdo the older ones, bringing modern, well-designed concepts with lifestyle features and amenities. This reinforces its identity as a prestigious address, one of the key points of attraction for prospective tenants," she says.
The range of properties for rent varies in terms of unit size, location and build, which play a part in determining the rental rate. For larger units, rents can be in the five-figure bracket. For instance, according to Rahim & Co's data, units in Seni Mont Kiara have built-ups ranging from 2,347 to 6,706 sq ft and can fetch rents of between RM7,000 and RM18,000 a month. For smaller units, such as those at Verve Suites — according to JLL's data — where unit sizes are from 462 to 1,394 sq ft, the monthly rent can be between RM1,600 and RM5,000 a month.
"We note that the majority of the market are mid-sized units (1,800 to 2,100 sq ft). These units have maintained their asking rents due to the demand-supply balance," says Lau.
"It is observed that new projects with better amenities can fetch higher rents. The presence of unique amenities such as heated or salt pools successfully retain tenants in slightly older projects. Proximity to schools is another attraction that fetches a premium."
She adds that residential properties can fetch rental yields of 4% to 4.5%, provided that there is a tenant.
The office and commercial rental sector is also active in Mont'Kiara. "Of the newer commercial entrants, 163 Retail Park offers a wide choice of culinary eateries and international grocers suited to the needs and preference of Mont'Kiara residents, both local and foreigners. Other well-known spots are Solaris Mont'Kiara, Plaza Mont'Kiara, Gateway Kiaramas and Arcoris Business Suites," says Sulaiman.
"Compared with the rental range of between RM3 and RM5 psf per month in the area, the yield for commercial properties here range from 4.8% to 6.7%, depending on the location, type and popularity of the project."
Lau similarly observes that 163 Retail Park, developed by YNH Property Bhd, offers fresh F&B and lifestyle offerings. She also points to the Publika mall, developed by UEM Sunrise Bhd.
She highlights the 21-storey Menara 1 Dutamas that is 85%-occupied and is connected to Publika mall. Asking rents are between RM6.50 and RM7 psf. Meanwhile, Wisma Mont'Kiara is a 16-storey office building atop a 4-storey retail podium. This older building has smaller built-ups and therefore caters for a different market segment, with rents between RM4 and RM5 psf.
Other office developments include Menara 1MK, a stratified office building with about 186 units, and Plaza Mont Kiara.
"[Menara 1MK] was developed as part of a mixed-use development alongside a retail mall. This grants the building access to mall amenities such as F&B offerings, retail shops as well as some services," says Lau.
"Plaza Mont'Kiara is a stratified office building surrounded by a variety of amenities. Employees have access to mini-marts and various eateries in the surrounding area from which they can get their daily necessities. The building comes equipped with covered and open car parks, so customers and employees do not have to look so hard for parking spots."
She adds that future supply will come from The MET Corporate Towers, whose developer has appointed JLL as the sole agency for their sale. The 30- and 42-storey towers will be the first premier-grade, strata-titled buildings in the area.
Challenges and outlook
For Sulaiman, the main challenge in the area is the traffic and he suggests that certain roads be rerouted. "Although it would be challenging, rerouting as well as the pedestrianisation of some roads, coupled with lush softscaping, could help create a more relaxed ambience that will enhance the lifestyle offering in the area. Notably, with the huge number of high-rise residences, population density and movement are things that need to be addressed," he says.
Lau similarly observes that while congestion is a key issue, this is exacerbated by new residential supply. "The primary challenge in the Mont'Kiara market is the continuous introduction of new supply, which is gradually leading to an oversupply situation. The asking rents of older properties are observed to be dropping due to the increased competition in the market. The incoming supply has also resulted in traffic congestion during peak hours, changing the overall exclusive and peaceful vibe of the locality."
The pandemic has also put pressure on rents, resulting in a decline in demand. "With the movement restrictions during the pandemic, the demand for rental properties in Mont'Kiara took a step back. But a recovery is anticipated once the restrictions are lifted," says Sulaiman.
He adds that while vacancy rates have gone up with downward pressure on rents, there have not been many fire sales or bargain prices as property owners are financially secure and able to ride out the situation.
Lau agrees that border closures and the relocation of expatriates have affected Mont'Kiara's rental market "severely" and points out that asking rents have dropped. "While some landlords are holding the properties on account of the loan moratorium and other benefits, sale listings have increased, along with auction properties," she adds.
However, she believes that Mont'Kiara's rental market will likely remain popular and be more resilient than other submarkets and suburban areas in KL. "As the vaccination rate increases, international borders reopen and the inflow of the expatriate population resumes, the rental market in Mont'Kiara is likely to revive, as long as the policies for the hiring of expats remain friendly."
Lau says new projects are likely to put downward pressure on rents at older properties while the upcoming MRT station in Dutamas will have a positive spillover impact on demand in the long run.
Sulaiman agrees that Mont'Kiara will continue to draw tenants despite the brakes pulled by the pandemic. "Mont'Kiara will continue to maintain its status as a mid-high to high-end, expat-friendly area that is fully equipped to meet the demand of single adults, families with children and even retirees."
He adds that there is confidence in Mont'Kiara recovering its vibrant and prestigious status once Covid-19 has been defeated.
A good location with plenty of amenities and facilities for its residents, Mont'Kiara's offerings continue to create a sustainable and attractive rental market.