This article first appeared in The Edge Financial Daily, on May 13, 2019.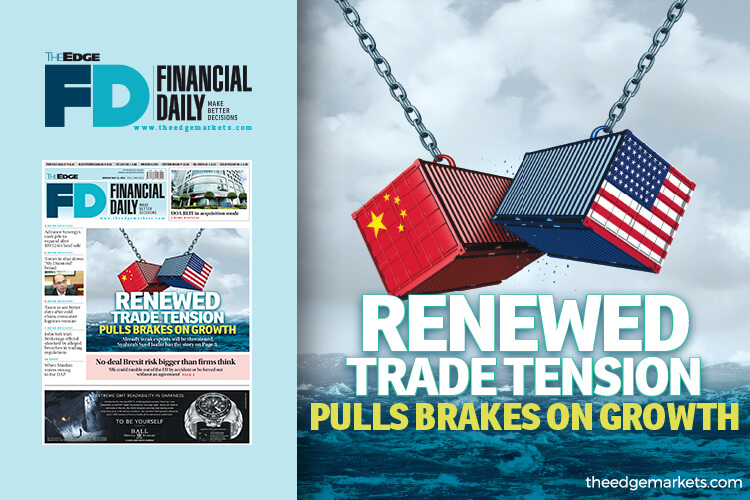 KUALA LUMPUR: US President Donald Trump, akin to dropping a bombshell on the world economy last week after the two-day trade talks, said last Friday that the tariffs which he raised to 25% from 10% last week on US$200 billion (RM832 billion) imports from China "may or may not be removed depending on what happens with respect to future negotiations".
Trump also asserted on Twitter that there was "no need to rush" to get a deal between the world's two biggest economies.
Many conclude that last week's Sino-US trade talks achieved no progress and the trade frictions will drag on.
The recent round of tariff hikes on China's exports to the US came as a shock to global markets as many anticipated the ongoing spat to have been nearing a truce that would end a 10-month trade war.
China has ensured that it would strike back.
The tariff hike spooked global markets amid renewed concerns about global economic prospects.
The Dow Jones Industrial Average, which was on its march to a record high, took a nosedive. But the saving grace, the benchmark index managed to regain some lost ground last Friday to crawl back to a positive zone, up 114 points at 25,942.37 points.
On Bursa Malaysia the news had just exerted more pressure on the FBM KLCI benchmark index, which slipped to lowest level since the first quarter of 2017. It closed at 1,610.27 points last Friday. It has declined some 13% over the course of one year.
Local economists and market analysts contacted by The Edge Financial Daily did caution that such developments will be detrimental to the global economy, as a result, adversely impacting the Malaysian market in the near term.
Sunway University Business School's professor of economics Dr Yeah Kim Leng said the failure to reach a deal suggests the US-China trade talks do not augur well for the progress of trade negotiation especially following earlier optimistic pronouncements by the US president.
Although Malaysia is likely to be a beneficiary of the trade war, Yeah said the domestic economy will not be spared from the ripple of adverse impact should trade tension escalate.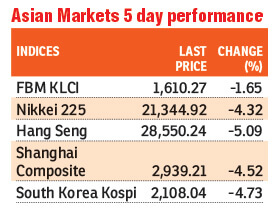 "Being more tied to the Chinese economy, [the] Malaysian economy and currency would take a hit despite resilient domestic demand and diversified export markets, especially if global risk aversion and a flight-to-safety among investors manifest in the financial markets," said Yeah.
Affin Hwang Investment Bank Bhd chief economist Alan Tan said growth in private investment, which is highly correlated with external and domestic conditions, may experience further slowdown as businesses may hold back as a result of possible unfavourable export development and gloomier global economic outlook.
"As a result, there is downside risk to our current real gross domestic product (GDP) growth projection for Malaysia, which is estimated to average around 4.7% for 2019, at the upper end of the official forecast of 4.3% to 4.8% (4.7% in 2018)," said Tan.
Lee Heng Guie, executive director at Socio-Economic Research Centre concurred, adding that the unsettling trade friction, should it worsen, would continue to roil the financial markets and cast a shadow on the already slowing global economy and global trade.
"With Malaysia's export growth already contracted at an annual rate of 0.7% in 1Q (first quarter of) 2019, any unwarranted negative development in the trade talk truce does not bode well for our exports.
"The weakening global economy and demand for electronics and electrical products as well as moderated commodity prices would outweigh the trade diversion effect. Besides that, Malaysia will be affected given its integration into [the] global supply chains," Lee noted.
Looking at foreign exchanges, FXTM market analyst Han Tan said most Asian currencies weakened last week as the ringgit broke meaningfully above the 4.15 level against the US dollar.
"Noting that China vowed to impose 'necessary countermeasures', any ramp-up in US-China trade tensions which translates into heightened barriers to global trade could dampen both risk sentiment and the worldwide growth momentum," he said.
Tan added that bouts of risk aversion are also likely to weigh on Asian currencies moving forward, including the ringgit. At the time of writing (last Friday), the ringgit had weakened against the greenback, settling at 4.1585.
The silver linings in the dark clouds is probably the relative firm domestic demand as reflected in the country's stable labour market conditions, said Affin Hwang's Tan, adding that household spending will be supportive of economic growth.
He added that Bank Negara Malaysia's recent interest rate cut to 3% acts as a pre-emptive action to support the country's domestic demand.
"Nevertheless, the strength and sustainability of Malaysia's real GDP growth in the quarters ahead still hinge on developments in the global environment as the domestic economy will not be spared from the possible weaker global demand from trade disruptions due to the unresolved trade tension," Tan commented.