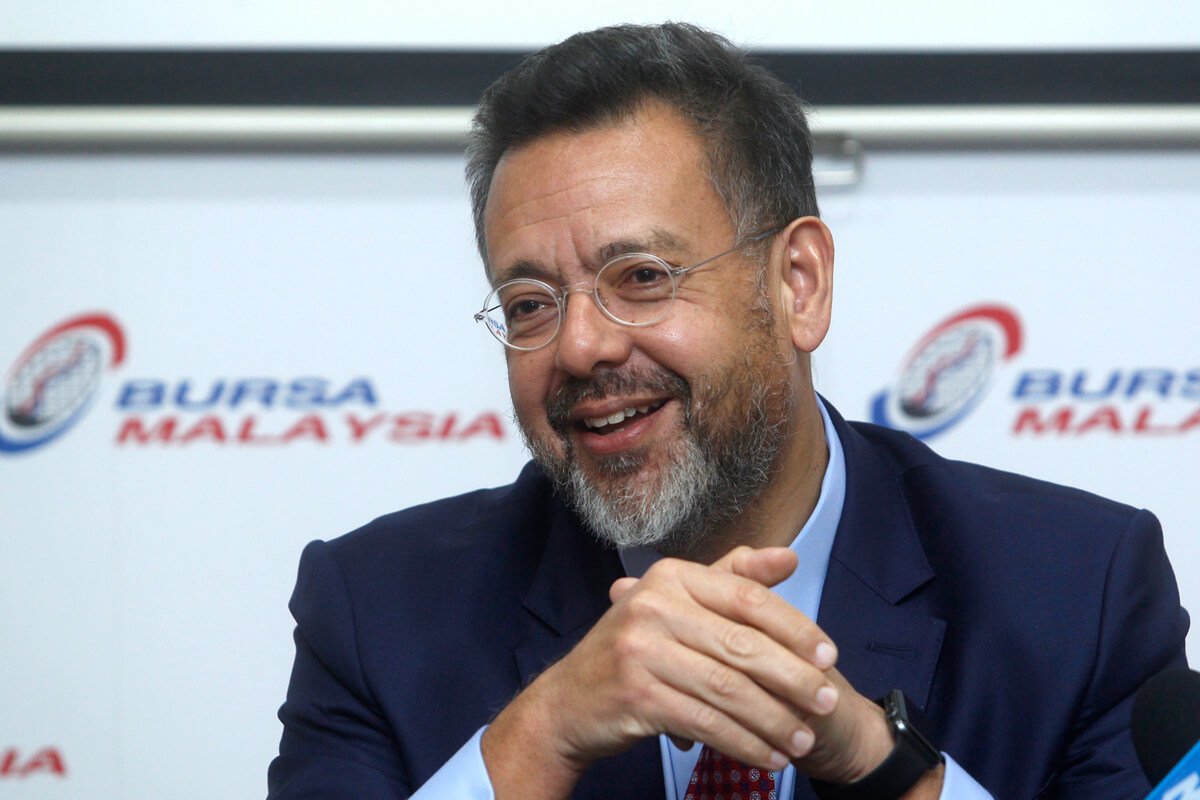 KUALA LUMPUR (Oct 21): The renewed optimism on the prospects of an earnings recovery as broader economic reopening commenced, alongside policy clarity and various domestic reform initiatives, is expected to attract renewed interest towards Malaysia, said Bursa Malaysia Bhd chief executive officer (CEO) Datuk Muhamad Umar Swift.
"Moreover, fiscal injections in four assistance packages announced this year, namely PERMAI, PEMERKASA, PEMERKASA Plus and PEMULIH, totalling RM225 billion or 14.8% of gross domestic product (GDP), sparked optimistic investor sentiment, propelled by a projected GDP growth of 6% and 5.8% according to the International Monetary Fund and the World Bank estimates, respectively," he told The Edge in an email.
According to him, the global risk off sentiment spurred by uncertainties surrounding the pandemic and broader geopolitical headwinds has instituted a prolonged trend of outflows across emerging markets.
However, relative to its ASEAN peers, he said, Malaysia recorded the lowest net outflow of US$898 million year to date as of September, second only to Indonesia.
"Moreover, the trend of outflows was observed to reverse beginning August, recording inflows of RM1.1 billion and RM754 million in August and September respectively," he added.
Muhamad Umar also said Malaysia is blessed with rich resources and is one of the key benefactors of the commodity price rally.
"We have seen improved performance in sectors such as technology, plantation, oil and gas, and steel," he said.
He also noted Bursa Malaysia's forward price to earnings of 15.7 times is currently the second lowest in the region, with other neighbouring peers ranging between 18 times to 19.7 times.
"This makes our market more attractive especially as the economy recovers and improvements become more widespread across the broader market," he said.
He also said Bursa Malaysia has been steadfast in establishing itself as a preferred destination for global capital, as it continues to invest its efforts in adopting best practices and standards in all aspects of capital market activities.
"Moreover, the heightened emphasis and commitment to embrace sustainability principles, carbon neutrality and digital transformation among our corporates will undoubtedly differentiate Malaysian equities from regional peers, especially under the investment lens of foreign investors," he said.
He also said Bursa Malaysia's continued collaborative efforts with intermediaries and service providers to enhance the proximity between foreign investors and Malaysian corporates via its flagship Invest Malaysia conversations will maximise the impact of the above, positioning Malaysia as the preferred investment destination in ASEAN.
He said the stock exchange operator will also continue to work on initiatives to improve corporate performance of public listed companies (PLCs) via the PLC Transformation Program which was recently announced by the Minister of Finance at the first Invest Malaysia series for 2021.
"The program will enhance Investor Relations capabilities of our PLCs via our investor relations and public relations incentive program and continue to improve liquidity of our PLCs via our various exchange initiatives," he said.
At noon break, Bursa Malaysia fell eight sen or 1.03% to RM7.67, valuing the group at RM6.3 billion.