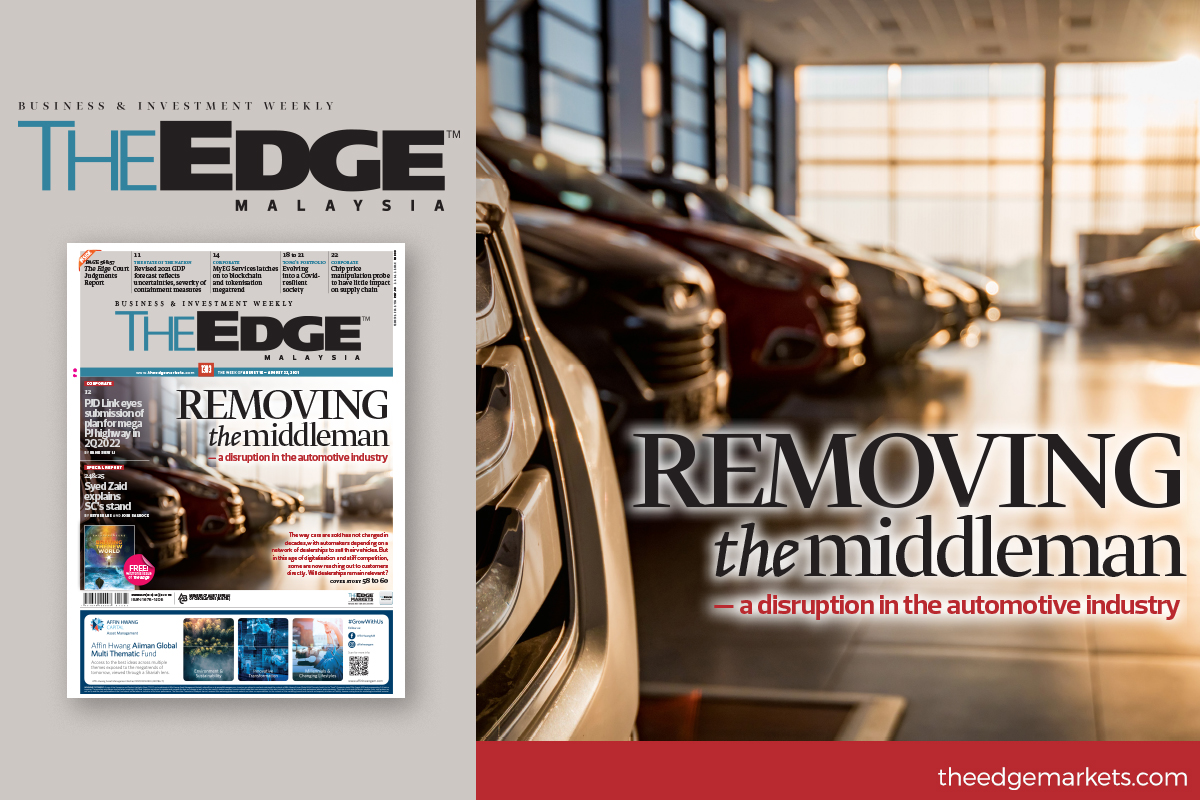 KUALA LUMPUR (Aug 14): As costs pile up for automotive companies from propping up their dealers who have been suffering from lower sales due to the Covid-19 pandemic, many of them are relooking at their retail distribution model to save costs.
According to management consultants Roland Berger, with retail revenues expected to decline by between 20% and 30% this year, dealers require support from automotive companies. These support measures have increased carmakers' cost of distribution by an average of 10%.
For European automakers, this translates into eight billion euros worth of additional costs that must be incurred to enable the survival of the current retail network between 2020 and 2023, according to Roland Berger.
For this reason, and the fact that digital revolutions in the automotive industry enabled carmakers to sell their products directly to prospective customers, they are replacing the retail dealership model with the agency model.
Through the agency model, automotive dealers no longer need to invest in expensive showrooms, and hold stocks to serve their customers. Their role will be to just sell the cars and earn commissions from each sale.
In a report released in May, Alexander Brenner and Jan-Philipp Hasenberg said automakers employing a direct and online-focused sales model can achieve a cost of distribution that is below 10% of gross revenues, compared with between 25% and 30% by companies with traditional sales and distribution channels.
"We found the agency sales model to be the best answer. Acting as a 'golden mean' between direct and indirect sales, agency models allow OEMs and dealers to benefit from a more centralized sales model, creating efficiencies in the overall system.
"Altogether, the cost of distribution for OEMs can be decreased by 1% to 2% points in the short term and up to 10% points in the long term," says Brenner and Hasenberg in the report. Both Brenner and Hasenberg are senior partners at Roland Berger.
For an automotive manufacturer in an increasingly competitive environment, earning more by reducing middlemen is something that they must consider to stay afloat. One group of middlemen that they could easily control are the dealers.
But what's going to happen to the investments that the dealers have invested throughout the years? Some of the showrooms, especially those that are of 3S or 4S standards, cost tens of millions of ringgit, so it might take years to recoup those investments.
However, moving out of the dealership model is inevitable, as digital infrastructure these days allows customers to place their orders and make purchases online, even for cars. The trend has in fact started a few years ago.
What is the future of automotive retail industry in the country? Is it still going to be business as usual, or will the industry move with the times towards a more centralized distribution network supported by digitalization?
Find out in The Edge Malaysia weekly's cover story in this week's issue.