This article first appeared in City & Country, The Edge Malaysia Weekly, on August 29, 2022 - September 04, 2022.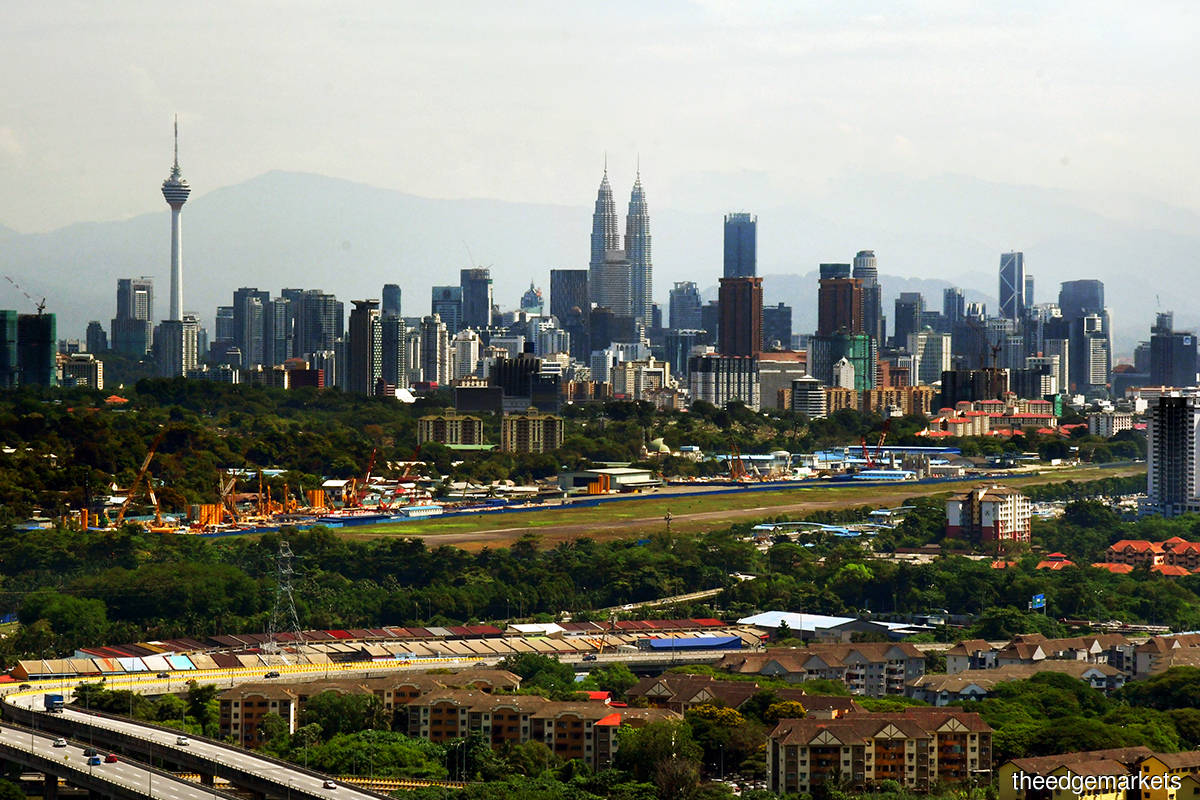 The architecture of Kuala Lumpur is a blend of colonial influences and Chinese and Malay-Islamic inspirations. As KL developed over the years, the capital city's skyline has seen drastic changes, with some historical buildings having to make way for new ones.
In conjunction with the 65th Independence Day of Malaysia on Wednesday, we take a trip down memory lane and recall some of the landmarks in KL that have been transformed.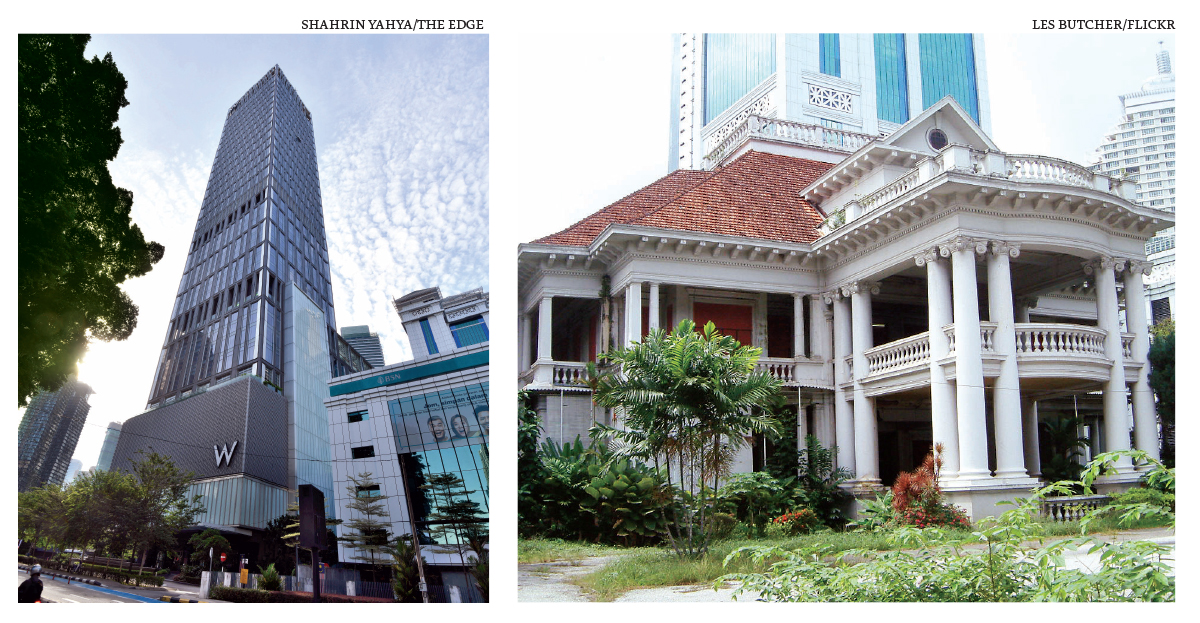 1. Bok House — W Kuala Lumpur
Located along Jalan Ampang in KL, Bok House was an imposing mansion that once stood across from Suria KLCC.
According to trx.my, Bok House was constructed between 1926 and 1929 for philanthropist and entrepreneur Chua Cheng Bok and his family. They continued to live here until 1958. From the 1960s until its closure in 2001, the mansion was home to an upscale French restaurant, Le Coq d'Or.
In 2006, Bok House was demolished to make way for redevelopment. The parcel then remained vacant until late 2012, when hoarding around the site was put up and construction of a proposed W Kuala Lumpur started. Opened in 2017, the five-star hotel now stands in its place, comprising 150 rooms and suites, a 12,917 sq ft meeting space, a ballroom as well as five meeting and function rooms, according to edgeprop.my.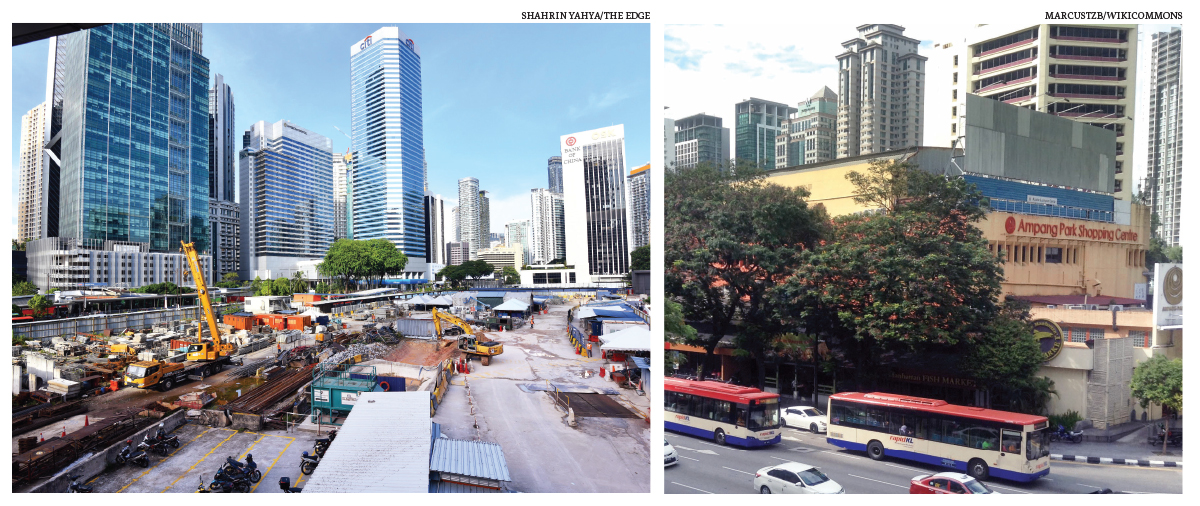 2. Ampang Park — MRT Ampang Park 
Ampang Park shopping complex was located at the junction of Jalan Ampang and Jalan Tun Razak in KL. Built by Low Keng Huat Brothers Realty Sdn Bhd in 1973, Ampang Park is thought to be Kuala Lumpur's first shopping complex. In its heyday, customers frequented the place for its wide range of outlets to meet their fashion and daily shopping needs. These included a pharmacy, textiles, shoes, groceries, household products and currency exchange services, according to malaysiacentral.com.
The complex was located opposite the Ampang Park LRT station, which is part of the Kelana Jaya Line. In 2015, news broke that the iconic mall would be demolished to make way for the Ampang Park MRT station.
Ampang Park was subsequently closed on Dec 31, 2017, and demolition started in May 2018. The new Ampang Park MRT station will be one of the underground stations that are part of the Putrajaya Line. It is due to be completed and start operations in the first half of 2023, according to mrt.com.my.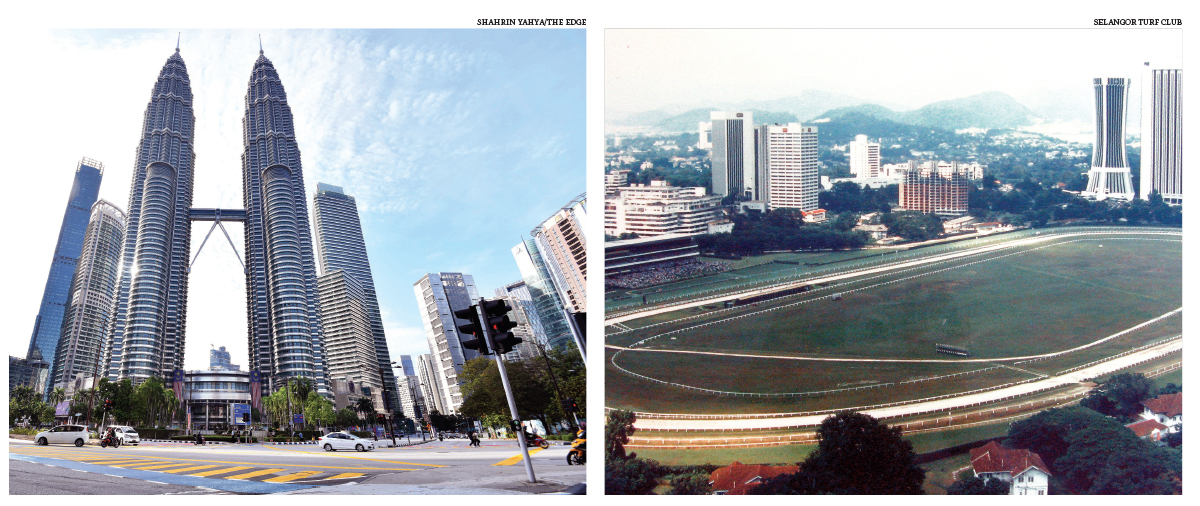 3. Selangor Turf Club — Petronas Twin Towers
Formerly known as Selangor Gymkhana Club, Selangor Turf Club, a 100-acre horse racing track in Jalan Ampang, was opened in 1896. Back then, it was one of three horse racing courses in the country, with the other two located in Penang and Ipoh.
According to selangorturfclub.com, in 1988, the club decided to relocate to a bigger site in Sungai Besi. Construction started in June 1990. Three years later, the Selangor Turf Club unveiled its brand new race course with multipurpose sports facilities.
The previous race grounds have since been transformed into the iconic Petronas Twin Towers. Construction of the skyscrapers started in 1993 and these were subsequently named the world's tallest buildings from 1996 to 2004.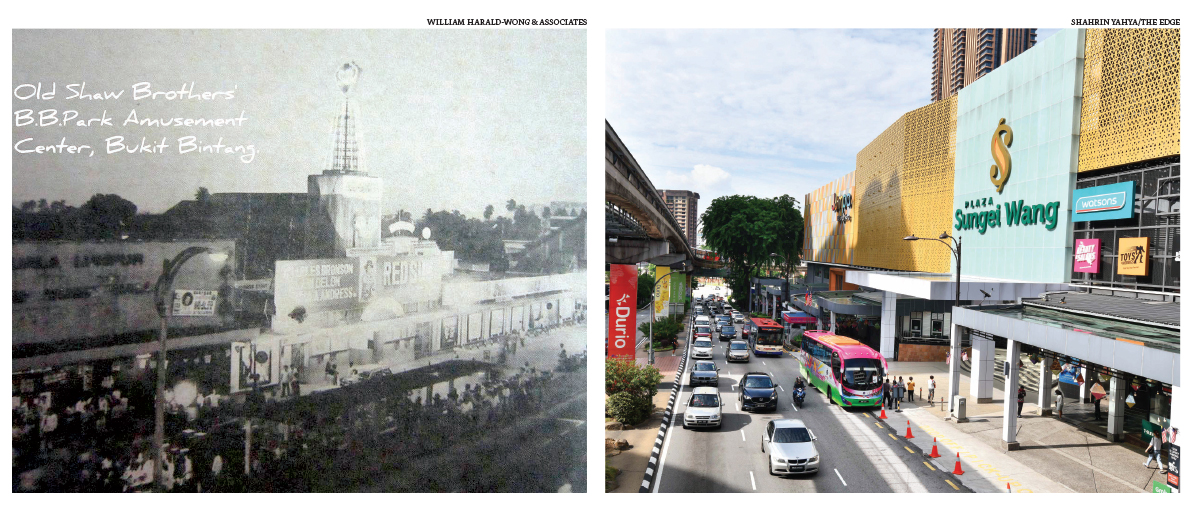 4. BB Park — Sungei Wang Plaza
Sungei Wang Plaza in Bukit Bintang was built on the site of the former Shaw Brothers Studio's BB Park, an amusement centre where the late legendary Taiwanese singer Teresa Teng once performed when she was 10 years old.
Known for its cabarets and dance halls, the entertainment hub also featured boxing matches, stage and theatre shows, restaurants, exhibitions and games stalls until it was closed in the early 1970s, according to whwdesign.org.
In 1972, the structure was torn down to make way for Sungei Wang Plaza. The 1.2 million sq ft shopping mall opened for business in 1977 and boasts seven retail levels and three split-level basement parking.
Synonymous with fashion, food and beauty products, the mall was also home to an Olympic-size ice skating rink, bumper cars, game arcade, discotheque hall as well as Malaysia's first indoor cinema that could accommodate up to 1,700 people.
In 1992, the retail floors were refurbished. Subsequently, the mall underwent another massive refurbishment in 2012. The RM30 million project saw changes such as brighter painted ceilings and floor tiles, a freshly repainted façade, upgraded lift lobbies, improved signages as well as a centre court, according to sungeiwang.com.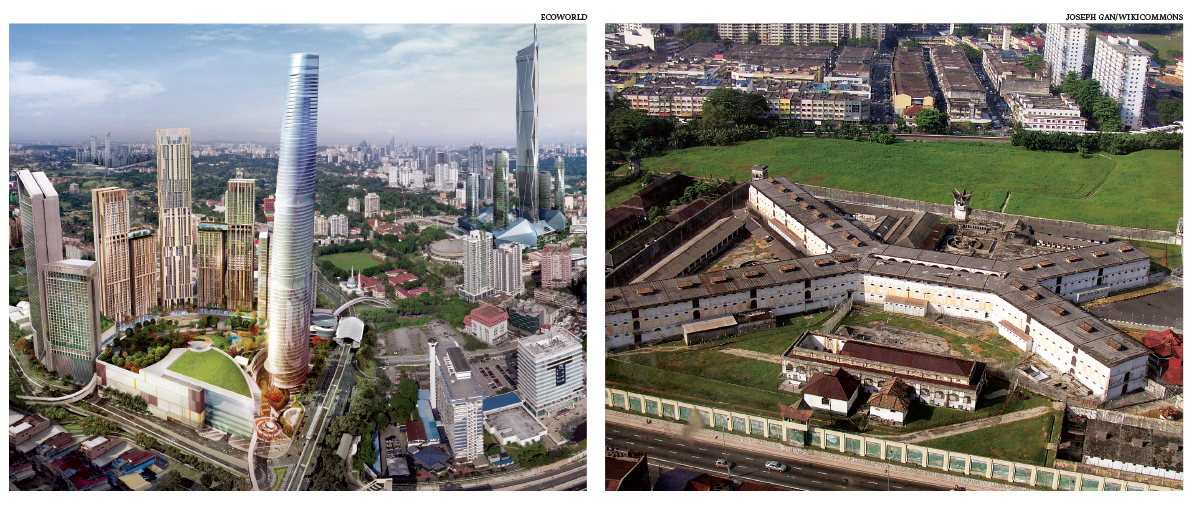 5. Pudu Prison — BBCC
Pudu Prison along Jalan Hang Tuah in KL was a well-known correctional and detention facility built between 1891 and 1895. According to thesmartlocal.com, it ceased operations in 1996 due to security concerns, as commercial developments like Imbi and Bukit Bintang had sprouted up around the area in the 1990s. Its closure was also because of the deteriorating conditions of the facilities. The structure, however, remained in use until 2009 as a day holding facility for prisoners to attend court hearings.
In 2010, the eastern wall of the prison complex was demolished for a road-widening project. In 2012, the entire structure was completely knocked down for a mixed-use development called the Bukit Bintang City Centre (BBCC).
A joint venture between UDA Holdings Bhd, Eco World Development Group Bhd and the Employees Provident Fund, the 19.4-acre BBCC comprises a shopping mall, residences, serviced apartments, office buildings and hotels.
The government agreed to maintain part of Pudu Jail's exterior wall and landmark main gate. These remaining features were incorporated into the fountain park that forms part of LaLaport BBCC, a Japanese lifestyle retail mall that opened its doors early this year.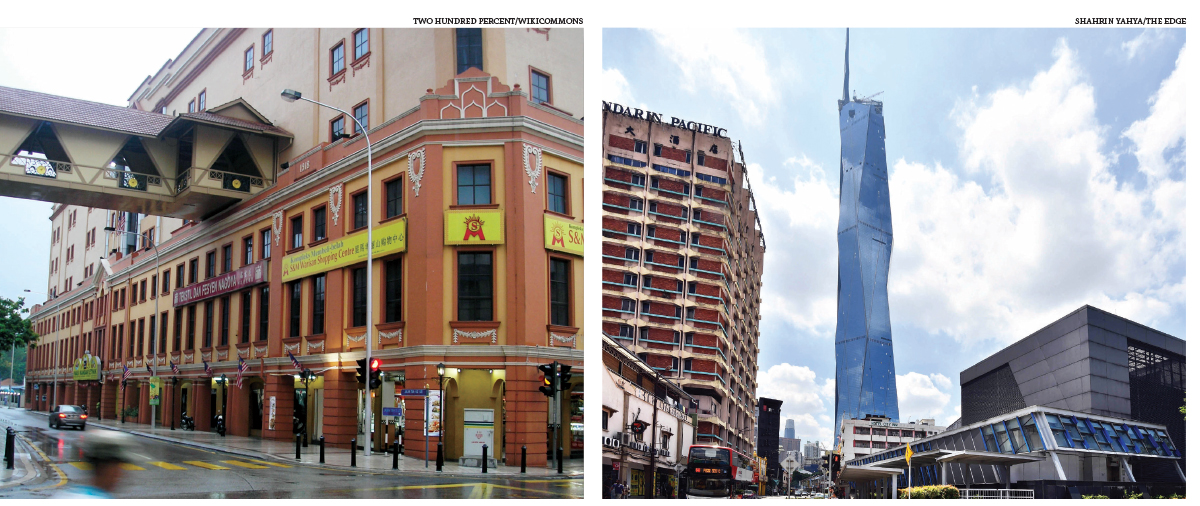 6. Plaza Warisan — Pasar Seni MRT station
Spread over five storeys, Plaza Warisan was located along Jalan Sultan in KL and housed businesses such as the S&M Warisan Shopping Centre and Nagoya Textiles and Fashion, which used to serve mostly working-class shoppers.
Due to its prominent location near Petaling Street, Plaza Warisan — along with two other buildings in Jalan Sultan, namely Pasarama Kota (also known as the old Klang bus station) and UO Mall (formerly UDA Ocean Superstore) — made way for an underground extension of Pasar Seni MRT station in 2012. The station commenced operations in 2017 when the second phase of the MRT Kajang Line was opened, according to thesmartlocal.com.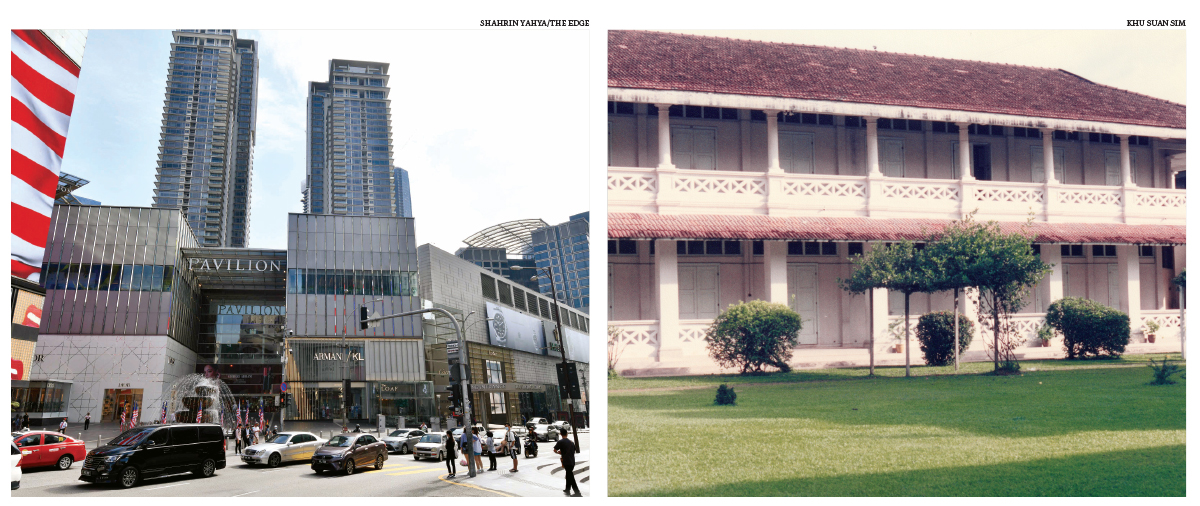 7. Bukit Bintang Girls' School — Pavilion Kuala Lumpur
In 1893, the Bukit Bintang Girls' School (BBGS, formerly the Chinese Girls' School) was established in Jalan Brickfields, KL. The all-girls' secondary school gained its name after moving to premises in Jalan Bukit Bintang in 1930.
According to bbgs.com.my, BBGS was the oldest school in KL, surpassing the Methodist Girls' School Kuala Lumpur (1896), Methodist Boys' School Kuala Lumpur (1897), Convent Bukit Nanas (1899), St John's Institution (1904), St Mary's School (1912) and Maxwell School (1917).
In 2000, BBGS announced its closure and the buildings were demolished to make way for Pavilion Kuala Lumpur, a premier shopping centre that has more than 700 retail outlets and restaurants spread over 10 levels and eight themed precincts.
The same year, BBGS was relocated to Taman Shamelin Perkasa in Cheras and changed its name to SMK Seri Bintang Utara.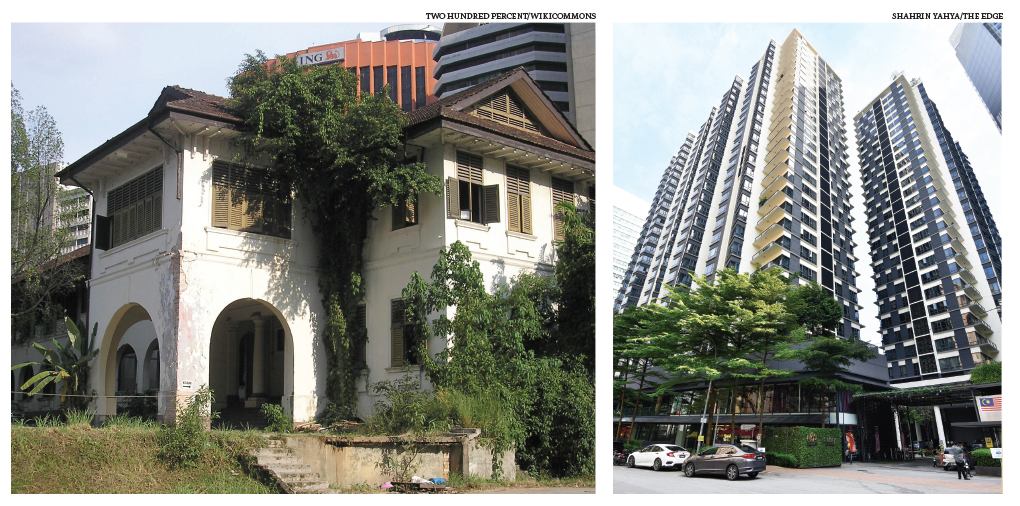 8. St Mary's School — St Mary Residences
Housed in a bungalow of a former coffee plantation, St Mary's School was an all-girls' secondary school established in 1912. According to smkstmarykl.tripod.com, the school was previously situated along Middle Road, now known as Jalan Tengah, in KL. However, as the surrounding area evolved into a commercial hub, the location was no longer suitable for a school.
In 1998, the school relocated to Jalan Intan Baiduri, a more conducive environment. Standing in Jalan Tengah now are Eastern & Oriental Bhd and Lion Group's St Mary Residences. Completed in 2012, the serviced apartment project comprises three 28-storey blocks, offering a total of 440 units, according to edgeprop.my.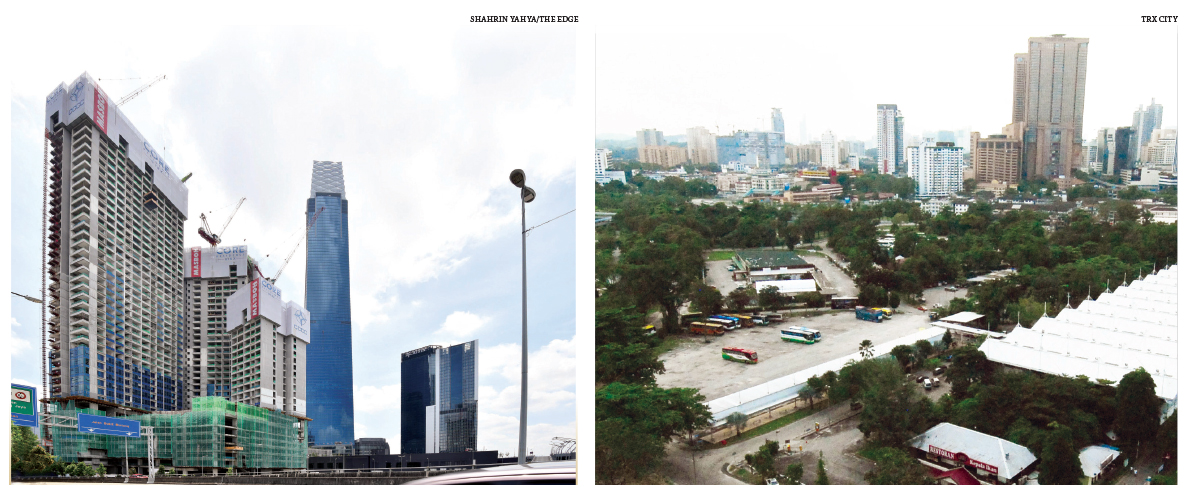 9. Pasar Baru Bukit Bintang and Pasarakyat — The Exchange 106
Located in the 70-acre Tun Razak Exchange (TRX) in Jalan Imbi, The Exchange 106 is developed by Mulia Group, and one of the tallest buildings in Asia. Commencing operations in December 2019, it is the corporate address to almost 20 multinational corporations that occupy more than 700,000 sq ft of office space, according to theedgemarkets.com.
According to exchange106.my, the area between Jalan Imbi and Jalan Davis back then was dotted with bungalows, which used to house public-service employees from the 1920s to 1990s. Among the KL community, it is a prominent landmark known as "Pak Luk Kan", which translates to "Land of the 106 Bungalows".
The bungalows later made way for Pasar Baru Bukit Bintang, also known as Imbi Market, as well as the Pasarakyat development, which comprised a wholesale market, restaurant, bus terminal and showrooms.
Sadly, both Pasar Baru Bukit Bintang and Pasarakyat were demolished in 2013 and 2016 respectively to make way for the TRX development. Today, The Exchange 106 sits at the core of TRX, complementing the country's architectural treasures of Petronas Twin Towers and KL Tower, according to nst.com.my.