This article first appeared in The Edge Malaysia Weekly, on December 24, 2018 - December 30, 2018.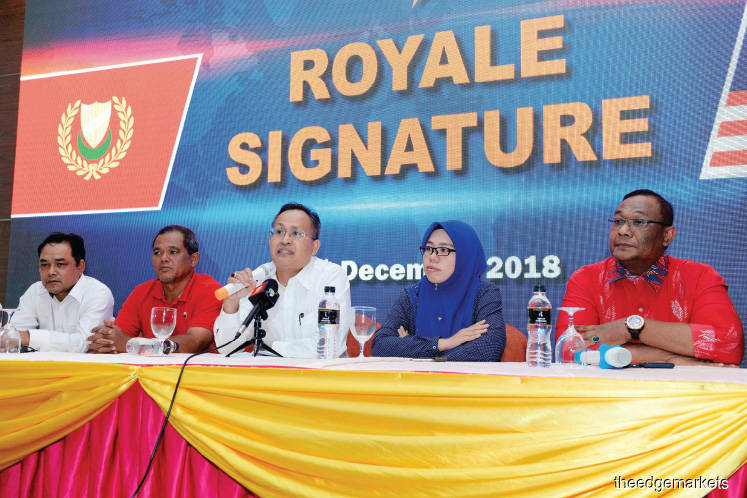 IN the wake of the recent defections from Umno, a friend drew my attention to the lyrics of the political party's anthem, or rather one line in it. It goes, "Bersatu kita bersatu …" Hence, said my friend, Umno has been saying all along that "we are Bersatu." So, why the fuss about its members wanting to cross over to Bersatu?
The "bersatu" in Umno's anthem is about party unity while my friend was referring to Parti Pribumi Bersatu Malaysia, or Bersatu in short.
He was joking, of course, or being sarcastic. Perhaps both. Nonetheless, I thought what he said was funny.
However, what is happening now between Bersatu and Umno is no joke.
Which brings me to something we often hear from people who have just lost a battle and are about to lose the war. The almost vanquished will say to the would-be victors that they will bring them down as well. Meaning, the vanquished will, or at least try their level best, to drag the victors down so that they fall together.
As I see it, Umno is doing just that to Pakatan Harapan, knowingly or otherwise. But this is not to say Umno has not lost or Harapan has not won, going by the 14th general election (GE14) results.
But by sending two different teams to meet Tun Dr Mahathir Mohamad and Datuk Seri Anwar Ibrahim separately, Umno has sent the wrong signals, whatever the reasons given to justify the meetings.
Anwar himself has revealed attempts to use the mass Umno resignations to create tension between him and Mahathir.
When Umno members, in particular the MPs, quit the party and evince interest in joining Harapan, especially Bersatu, they succeed in sending bad vibes to the Harapan components.
And when Bersatu shows interest in accepting the Umno turncoats, that seems to put Harapan leaders at odds with each other, with DAP and PKR clearly not amused by the antics of Bersatu.
People who claim to have voted for Harapan are riled up. True, Bersatu has said from the outset that the wannabe members will first have to be vetted, but that has not pacified the supporters. They became even more incensed when some Umno MPs were accepted into Bersatu almost immediately after quitting their party.
It is sad that people who have been singing Mahathir's praises pre and post-May 9 are now speaking badly of him. It is sad that all the hard work that has been carried out — and which is still being done — by Mahathir and his administration has seemingly been forgotten.
Instead, many are accusing Harapan, in particular Mahathir, of taking them for a ride and making a mockery of democracy and the electoral process.
All this because of a flirtation with a party that is sinking fast. Why? Is the prize worth it?
So, I ask, doesn't all that fit the notion that Umno is pulling down Harapan to drown with it?
Datuk Kadir Jasin, the special media adviser to the prime minister who is also a Bersatu supreme council member, has cautioned his party not to be "cheap" in accepting former leaders who have no value in Umno.
Why is Bersatu giving face to Umno? Many say it is to shore up the party. It is all about the numbers to gain a stronger voice in parliament. In GE14, Bersatu won 13 parliamentary seats. Now it can count three more, thanks to Umno defections.
But Bersatu deputy president Datuk Seri Mukhriz Mahathir has shot down such views. To him, it is about being open to people who want to join as part of the democratic process and definitely not a shortcut to gain extra seats in parliament.
But that might as well be the case because in the words of lawyer-activist Datuk Ambiga Sreenevasan, should Harapan need a two-thirds majority in parliament to push through constitutional reforms, for example, it should be obtained through bipartisanship and not defections.
That view is shared by PKR's Setiawangsa MP Nik Nazmi Ahmad, who says Harapan already has the numbers in parliament. Any issue that requires a two-thirds majority "ought to be attempted via bipartisan efforts involving the government and the opposition".
If I read that right, it means in the event that a good law is tabled that needs a two-thirds majority, members on both sides of the political divide should vote for it.
Umno turncoats should not be allowed to hold Harapan to ransom by demanding that the coalition "take us and you get your two-thirds majority".
However, Mahathir is now saying he does not like a two-thirds majority. Instead, he is all for a strong opposition, which is a change from his earlier statement.
Some political observers say that while Umno members have the right to leave their party, it is best that they remain as independents and be good lawmakers, and in the long run, win the hearts of Malaysians.
The beauty of being independent is that they are not obligated to the Umno or Harapan whips.
However, the current independents have already pledged support to Mahathir and the Harapan government. That would be good for Harapan as initiatives tabled in parliament that are beneficial to the rakyat would be supported fully by these Yang Berhormats.
That is also tantamount to saying that Harapan will enjoy a super-majority, what with its current numbers, possible recruits and Harapan-friendly independents.
Which brings me to this question: Who will ensure checks and balances in the country? With BN in such a sorry state and Umno's numbers dwindling fast, PAS will become the main opposition. But just how effective PAS will be is open to interpretation, considering its brand of politics.
Nevertheless, Nik Nazmi gave a reminder that "we need a strong opposition to prevent past tragedies from being repeated".
I take past tragedies to mean the abuse of the big mandate given by the people to BN for decades. The huge endorsement was used as licence to bulldoze through many things that were highly detrimental to the public interest.
In the absence of a strong opposition, the onus is on Harapan MPs themselves, including the likes of Nik Nazmi who are outside the government, to provide checks and balances for the government.
I think they have shown themselves to be a lot who know how to agree to disagree. Still just how effective they would be in making sure that their voices are heard by the government is open to interpretation as well.
Nik Nazmi has given a timely reminder: "Malaysians must be confident that we will not only be a new government but also govern in a new manner."
Good advice that the government should heed. However, the issue at hand is the possible exodus from Umno into Bersatu, which must be resolved.
To be fair, nothing has been finalised. However, the indications are that Bersatu will take in people who quit Umno into its fold — big time. At least that is what the political observers say. Hence, there is talk of Umno 2.0 taking shape. Or should it be Umno 3.0, taking into account the Umno of 1946 and Umno Baru of 1988?
Anyway, in short, quite a number of people believe Bersatu will take over Umno.
Political analyst Sivamurugan Pandian has a lengthy take on the matter. He says Mahathir has on many occasions mentioned that Bersatu holds to the spirit of the Umno of 1946. Thus, Siva feels "it will be no surprise if they take over Umno as soon as they organise and structure things".
And if Umno is deregistered for contravening the Registrar of Societies' regulations over its delayed annual general meeting, that, as Siva sees it, will clear the path for Bersatu to take over the party as what Mahathir needs is more MPs to strengthen Bersatu and Malay political power.
As it is, Umno continues to be in a state of disarray.
Tremendous internal pressure forced party president Datuk Seri Zahid Hamidi to step aside and pass on his duties to his deputy Datuk Mohamad Hasan, obviously to stop the party from haemorrhaging. However, bear in mind that he is still party president — one who, in his own words, "does not carry out the duties of president".
A day after his announcement, Zahid's boys deemed it fit to post on Facebook a note from him, which reads, "Bukan serah tugas. Memberi kepercayaan kepada timbalan presiden menjalankan tugas tugas presiden." Meaning he has not handed over his duties, but merely giving his trust to the deputy president to carry out the duties of the party's No 1.
The target audience is obviously Umno members who must be wondering what is going to happen to their president. Already, they are said to be confused as to how long this arrangement will last.
When reporters asked Zahid, his answer was, "Until Mohamad Hasan feels he no longer wants the responsibility anymore or he feels I can continue the job." Can you blame Umno members for being confused?
As if that were not enough, Umno is now split into five camps, as Zahid himself revealed.
There are people who want Umno to rebuild itself, a faction that wants it to merge with a Harapan component, another faction that wants Umno to collaborate with a party in Harapan that works with the DAP, a fourth that is pushing for a merger with PAS and a fifth that wants the party to establish a new alliance without Harapan.
In a nutshell, all this does not augur well for the party.
So, will PWTC become the headquarters of Parti Pribumi Bersatu Malaysia? And we are back to where we started prior to May 9?
Mohsin Abdullah is contributing editor at The Edge. He has covered politics for more than four decades. 
 
Save by subscribing to us for your print and/or digital copy.
P/S: The Edge is also available on Apple's AppStore and Androids' Google Play.