This article first appeared in The Edge Malaysia Weekly, on October 15, 2018 - October 21, 2018.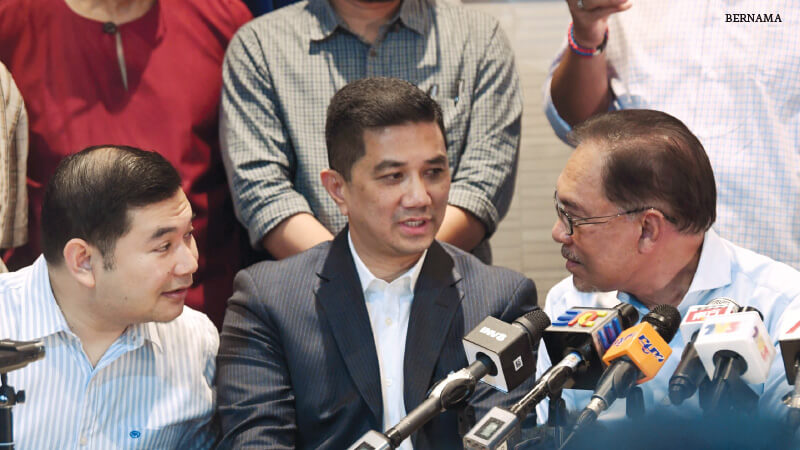 Deputy presidency hopefuls Rafizi and Azmin with Anwar ... The race for the PKR deputy president's post is much closer than most had expected
SELANGOR has always been important as far as PKR goes. As the state has the highest number of PKR members, the party polls there will be held over three days, on Oct 14, 21 and 28. If the deputy president's contest goes down to the wire, Selangor would be the deciding factor.
By the time you read this, the first day of polling in the state would be over. At press time on Friday, incumbent Datuk Seri Azmin Ali and opponent Rafizi Ramli were neck-and-neck in the battle.
The polls for the Federal Territory were held a week earlier, on Oct 7, and Rafizi emerged the victor. This was after he emerged on top in Kelantan, Terengganu and Pahang, while Azmin took Penang and Johor. As at Oct 11, according to Malaysiakini's PKR election tracker, Azmin had the slimmest of leads — he was ahead by only one vote, with 19,584 against Rafizi's 19,583.
Bear in mind that the figures are based on calculations made by the media. PKR has not announced the tally thus far and the official results will only be announced at the party congress in November.
But based on the numbers we have, it has been a tough contest so far, tougher than most political pundits and party members had expected. But in a state where he was menteri besar for four years — before he was made a federal minister in the Pakatan Harapan administration under Tun Dr Mahathir Mohamad following the historic May 9 general election — Azmin should breeze through. But will he?
Several PKR people say with his credentials as menteri besar and party veteran, simple logic would point to him winning Selangor. But politics, being politics, is sometimes not about logic.
Obviously, many are not willing to make as definite a prediction now as they would have earlier, when most expected it to be easy for Azmin. After all, he has the necessary experience and a track record of which he can be proud.
Yet, so far, he has found the going tough. The neck-and-neck race, after the polls came to an end in six states, was something many in PKR did not foresee.
In fact, even Rafizi's supporters are surprised at the good showing he had put up thus far.
So why is Rafizi performing well beyond expectations? A PKR insider had this to say: "He is very organised, focused and targeted. Azmin, on the other hand, still has an Umno-like political machinery that sometimes turns people off. Some members also see that he is not in sync with president-elect Anwar."
But then, Azmin had served Datuk Seri Anwar Ibrahim as his officer for many years during their days in Umno and since day one of the Reformasi years. Somehow, the talk, or rather the belief in PKR now, is that although Anwar likes Azmin, he likes Rafizi more. That is to put it mildly.
Anwar is on record as saying that he is neutral as far as the deputy president's contest goes. And Anwar's wife and Deputy Prime Minister Datuk Seri Wan Azizah Ismail has stated that she is not taking sides in the contest for the party's No 2. However, daughter Nurul Izzah, who is the front runner for a vice-president's post, is seen as part of Team Rafizi in the current party election.
To former Batu MP Tian Chua, who is defending his vice-president's seat, "something is not right" in the party polls. Tian Chua, who is with Team Azmin, claims "there are irregularities" but did not specify what he meant by that.
Nonetheless, he says Azmin and team need to "change strategy and must beat the system like how PH did in GE14".
According to him, Azmin, as a federal minister, has a lot of government work to do, and thus, less time for party work and campaigning for the election. In short, he is implying that Rafizi, who does not hold public office, has an advantage in this regard.
However, Tian Chua claims Rafizi's strategy is only serving him well as his "people are not performing in the polls".
Setiawangsa MP Nik Nazmi Nik Ahmad agrees that "while generally, other candidates in Azmin's team are doing better, incumbent vice-president Nurul Izzah is doing very well while Youth leader candidate, Johor Baru MP Akmal Nasir, is also neck and neck in the race." Both, along with Nik Nazmi, are part of Team Rafizi.
To Tian Chua though, Nurul Izaah "is different as she is Anwar's daughter". He stopped short of saying the Permatang Pauh MP is expected or set to become a PKR vice-president yet again.
For the four VP positions, Nurul Izaah is currently way ahead after the party elections in six states were completed. Following behind are Ampang MP Zuraida Kamaruddin, Tian Chua and Bukit Katil MP Shamsul Iskandar Md Akin.
Like Tian Chua, Zuraida and Shamsul are part of Team Azmin.
Team Rafizi candidates in the VP race — Selayang MP William Leong, Sungai Petani MP Datuk Johari Abdul and Sungai Siput MP S Kesavan — are all trailing.
In the contest for Wanita head, Team Azmin's Haniza Talha is leading Rafizi's Fuziah Salleh, the MP for Kuantan. As has been mentioned earlier, Team Azmin's Dr Afif Bahardin is in a close fight with Akmal Nasir from Team Rafizi to be Youth chief.
While Selangor is crucial, Nik Nazmi sees the elections in Sabah, Negeri Sembilan and Kedah as equally important.
That could mean even if Azmin takes Selangor, there are other states that could catapult Rafizi back into the race.
Nik Nazmi himself is very much in the running for a spot in the supreme council where 20 seats are being contested by more than 80 candidates.
The keen fight for the deputy presidency is being closely watched by friends and foes alike. Many are asking if the battle will have an effect on PKR itself, considering the factions and the animosity — which is no secret — between Azmin and Rafizi.
But to PKR communications director Fahmi Fadzil, "this close race is very much a part of the culture of democracy we practise".
Fahmi, who is also Lembah Pantai MP, feels the results "could go either way as we are still a long way from the end of the polls".
Still, he believes "whoever wins the deputy presidency, Anwar has made it clear that he wants all sides to come back together and continue serving the party and I am sure that the leaders will be able to find common ground in the reform agenda promised in our Pakatan Harapan GE14 manifesto and work together towards this goal."
As we do not have a crystal ball at our disposal, we will just have to go with that for now.
Mohsin Abdullah is a contributing editor at The Edge. He has covered politics for more than four decades.
Save by subscribing to us for your print and/or digital copy.
P/S: The Edge is also available on Apple's AppStore and Androids' Google Play.