This article first appeared in The Edge Malaysia Weekly, on September 17, 2018 - September 23, 2018.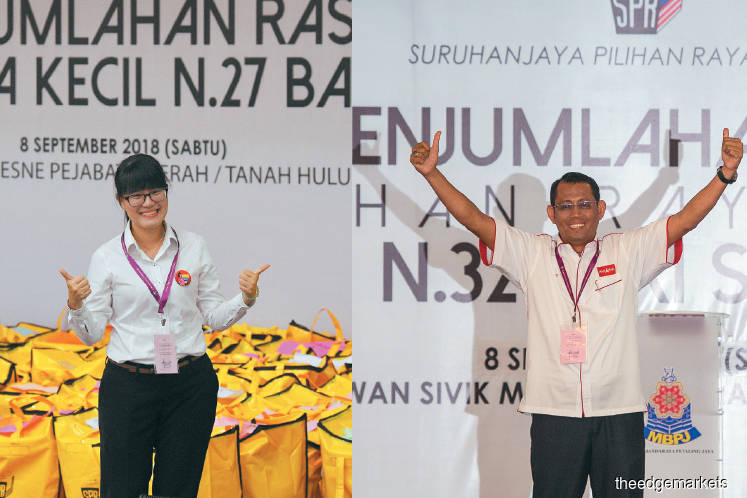 IF the opposition had one "nice" chance to give Pakatan Harapan a hard time (creating an upset was never in the equation), it would have been at the recent twin by-elections in Balakong and Seri Setia — ironically, both in Selangor, PKR's stronghold.
Why? Because there was modal kempen (political capital) that the opposition could have exploited, which they did. Things like PH's 100-day pledges, Finance Minister Lim Guan Eng's acquittal on graft charges, the Sales and Services Tax, and even the bitter PKR polls. That is apart from the usual rhetoric of Malays/Islam being under threat and allegations that the PH government is subservient to non-Malays.
But all that was to no avail and PH came out unscathed, so to speak.
"It shows that democracy in the New Malaysia is maturing with voters rejecting the divisive, hate and fear-mongering politics of the opposition parties," says former Seri Setia assemblyman and current Setiawangsa MP Nik Nazmi Nik Ahmad.
To political analyst Dr Sivamurugan Pandian, there were no major issues that could trip up the new government. Although MCA and PAS harped on the SST and PH's performance in its first 100 days in office, "for the voters it does not matter anymore".
And Dr Oh Ei Sun, another political analyst, sums it up nicely: "I think the results reaffirmed PH's continued popularity among the urban and suburban electorate. Voters placed trust in PH — apparently satisfied with the opposition's 10-year rule in Selangor and the four-month-old PH administration at the federal level".
It would not be wrong to add that PH is now entrenched in the more densely populated west coast of the peninsula.
So it is three out of three for PH, that is, three wins from three by-elections held so soon after the historic May 9 general election. But Nik Nazmi warns that complacency must never be allowed to creep in.
Without taking anything away from PH, the three wins were in constituencies they were expected to win.
The real test, according to political analyst Asrul Hadi Abdullah Sani, is when a by-election occurs in a more rural seat, especially outside Selangor. But this applies also to the cooperation between PAS and Umno.
Bear in mind that PH's presence in the east coast states of Kelantan and Terengganu is negligible, to put it mildly.
As Asrul sees it, PH now has to focus on core issues affecting the people, especially in rural areas, and "with Putrajaya's austerity drive and the prime minister wanting to discontinue monthly aid for fisherman and BR1M, PH could risk losing the support of the lower-income voters".
Bread-and-butter issues are not lost on Nik Nazmi. "We must not ignore the struggles that many Malaysians face to meet the cost of living, especially in light of global economic uncertainties," he says.
PH, he adds, needs to show that "we have a plan to make living in Malaysia — whether in urban or rural areas — more affordable and equitable".
To be fair, PH does have its plans. Hence, it is a matter of implementation. That should do the trick, if you don't mind the expression.
But gaining rural support, especially in the Malay/Muslim majority East Coast states, can be difficult, to say the least .The bangsa dan agama (race and religion) bogey, which continues to be played by Umno and PAS, is unsettling the populace. To an extent, at least.
In short, PH has its work cut out in that area.
PAS-Umno cooperation
In the words of the late spiritual leader of PAS, Datuk Nik Aziz Nik Mat, Umno will talk of cooperation with PAS "whenever it is drowning". Hence, he never agreed to cooperate with Umno as he simpy did not trust the party.
Umno is in dire straits now and Nik Aziz has passed on. So, we now have talk of, or rather, signs of Umno–PAS cooperation,  especially during the recent by-elections in Sungai Kandis and Seri Setia. But cooperation between the two began much earlier and was out there for all to see in the 14th general election, although they did put up candidates against each other.
Many call it an electoral pact. Rightly so, because it has always been about winning elections.
But PAS and Umno have also always denied any form of cooperation or pact. However, PAS' victories in Kelantan and Terengganu in GE14 have or can be attributed to the electoral pact — be it a direct or indirect alliance.
Obviously, PAS gained big, but not Umno.
In the Sungai Kandis by-election, PAS members did not heed their leaders' call to support the Umno candidate, who, as we know, lost.
In the recent Seri Setia by-election, Umno campaigned for PAS. Although its candidate did not win, the party obtained a higher share of the votes compared with GE14, held four months earlier. No doubt Umno played a part.
As it is, the pact has benefited PAS more than Umno.
But boosted by the performance in Seri Setia, the leaders of Umno and PAS are saying they want to step up the level of cooperation. However, former Umno youth head Khairul Azwan Harun begs to differ.
To Khairul, the results of the three by-elections are proof that "the pact between Umno and PAS has not yielded the desired results" as the rakyat "do not want an opposition that openly focuses only on Malays and Islam".
His opinion has apparently fallen on deaf ears among the Umno leadership, who seem bent on pursuing cooperation with the Islamic party.
That being the case, long-time PAS watcher Mohamad Sayuti Omar says, "PAS should not beat about the bush anymore and go ahead to cement the pact or cooperation with Umno."
PAS has not been open with regards to cooperation with Umno, but then, beating about the bush by the PAS leadership is understandable, considering the sentiment of some of its grassroots members.
Says political analyst Siva, "There is a silent protest among PAS members and the Umno grassroots too. Although leaders from PAS and Umno can share the same stage, it has not gone down well with their supporters. Both sets of supporters are facing a crisis of trust and confidence which cannot be resolved overnight."
As such, according to Siva, "PAS and Umno must move beyond election-based cooperation towards a more constructive engagement in order to win over their supporters."
That can only mean a long-term, clear cut and structured cooperation.
Therein lies the problem.
To achieve this level of cooperation, there must be a lot of sacrifices from both parties. And we are not taking about merely giving up seats to contest in elections.
It involves agreeing to align their party constitutions, ideologies, policies and approach — which to keep and which to throw out.  There will have to a lot of giving in and giving up.
There is no denying that the hardliners in PAS — and there are a substantial number — will not be happy if too much ground is conceded to Umno as they want PAS to be, well, PAS. And there is no doubting the many warlords in Umno who are stubborn enough to want things the Umno way.
In a nutshell, it is a long, tedious, hard and sensitive affair before anything can be achieved, if at all.
Still, it would be good to recall that, following Umno's loss of power in GE14, PAS deputy president Datuk Tuan Ibrahim Tuan Man, responding to Umno leader Datuk Seri Tajuddin Abdul Rahman's call for an Umno–PAS merger, instead invited all Umno members to join PAS.
Tuan Ibrahim insisted Umno should join PAS and not the other way round. He was against any form of cooperation. He stopped short of saying Umno should disband and its members jump over to PAS, although many in the political fraternity read his remarks to mean just that.
But, even if that happens, that is, Umno dissolves and its members join PAS lock, stock and barrel — will PAS welcome them with open arms? Or will they see such a situation as bringing problems as well?
Needless to say, pragmatism, what more desperation, can lead people to strange ways and to do strange things. What is it they say about politics being the art of the possible?
The MCA problem
For the Balakong contest, MCA used its own logo, ditching the traditional BN dacing.
That, according to veteran MCA leader Datuk Yap Pian Hon, was a mistake. He could very well be right. There were many other mistakes since the 2008 general election, as Yap sees it. But the bottom line in Balakong was that, according to Siva, "MCA failed to attract its own members." That applies elsewhere as well.
Yap, too, raised the issue. "MCA claimed that it has 7,000 members in Balakong but where are they? What have they done?" he asked.
But going forward, where does MCA go from here? Since the GE14 disaster, some within MCA have called on the party to leave the BN coalition. The leadership is still mulling the proposal.
To Yap, that and all other matters can wait because the main thing to do is to ubah or change. Interesting choice of a word, since ubah has been the battle cry of the MCA's bitter rival, DAP, since 2013.
"The writing has been on the wall since 2008.The Chinese community sent the message clearly but it was not heeded. Things got worse for MCA after the 2013 election and the leaders were talking about the need to change. Still nothing was done and MCA remained the same. All talk no action. Now we are in this very bad situation," says Yap.
MCA, according to him, must start from scratch, beginning with its party polls in November. "I sincerely hope the grassroots will dare to bring about change. Change the current leaders. If the current leaders remain, things will remain the same. There will be no change," he says.
The big question is, will MCA change as envisaged by Yap? Can it?
Mohsin Abdullah is contributing editor at The Edge. He has covered politics for more than four decades.
Save by subscribing to us for your print and/or digital copy.
P/S: The Edge is also available on Apple's AppStore and Androids' Google Play.