This article first appeared in The Edge Malaysia Weekly, on November 26, 2018 - December 02, 2018.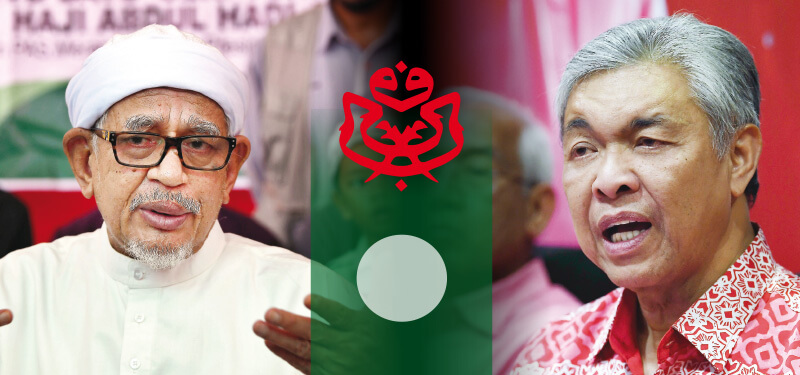 Pas chief Abdul Hadi (left) did not respond directly to Zahid's overture for the two political parties to merge
I wasn't at Pasir Salak when Datuk Seri Ahmad Zahid Hamid reportedly raised the issue so I am relying on a Malaysiakini report published on Nov 17.
According to the news portal, the Umno president, speaking at an event jointly organised by his party and Pas, admitted that Umno had been wrong in making Pas its enemy all this while.
He blamed a certain atok or grandfather for the animosity, for "teaching us to hate Pas during his 22 years of leading Umno" — an obvious reference to Tun Dr Mahathir Mohamad.
But it must be pointed out that the Umno–Pas rivalry, animosity or whatever you want to call it, did not only exist during Mahathir's time. It had been around even when Tunku Abdul Rahman was Umno head and continued during the presidency of Tun Razak Hussein, Tun Hussein Onn, Tun Abdullah Ahmad Badawi and Datuk Seri Najib Razak, although at the tail end of Najib's tenure, Umno–Pas relations became very cordial.
Anyway, after admitting Umno's "mistake", Zahid vowed to make amends. How? By making an open invitation to merge with Pas at the Pasir Salak event. The word he used was "cantum".
This is the first time a formal invitation has been made and it is as clear as it gets. Before this, the talk was only about cooperation and even then, it was vague, with no details.
So, finally, Zahid has taken a bold step, it seems. "Oh, Tuan Guru Haji Abdul Hadi Awang, God willing, Umno under my leadership, let's merge. Bercantum, push aside our differences in the name of Islam, Malays, Malaysia and bumiputera," he implored.
The crowd, comprising Umno and Pas members and supporters, roared their approval. Well, that was what it sounded like, so I was told.
Hence, you may ask what a merger would mean to Umno and Pas. What will it bring? A membership of at least six million? A new name? A combination of the names of the two parties? Umpas, perhaps, or Pasno? And surely, a new constitution to govern the new party?
But hold your horses. According to Malaysiakini, Pas president Datuk Seri Abdul Hadi did not respond directly to Zahid's invitation, or rather, proposal.
Abdul Hadi, who took to the rostrum after Zahid, spoke about cooperation and what not. The usual stuff — things you would have heard of if you have been following developments in Pas and Umno.
A day later, I asked a close aide of Zahid who was at Pasir Salak for details. Things like what will the next step be, the pros and cons, will the pencantuman work, and so on.
His reply was that Zahid spoke about "kerjasama bukan cantum", that is, cooperation and not merger.
I reminded the aide that cooperation was nothing new as it had been brought up many times before.
Long story short, the aide finally admitted that the word "cantum" was used but in reality, Zahid meant "closer cooperation between Umno and Pas in the context of Islam and Malay interests". I guess the their common antipathy over ICERD is one example.
I relayed Zahid's "actual" meaning of "pencatuman" to long-time Pas observer Mohamad Sayuti Omar, and this is what he had to say: "Even if it is cooperation on specific issues, as far as the rakyat is concerned, it is political cooperation. If this is not explained properly, it can become a problem. The best thing is to just cooperate on an official basis. There is no need to beat around the bush".
But judging from previous statements by Pas leaders in particular, a merger has never been part of the equation. They have never mentioned it anyway. The only thing they have been talking about is cooperation and more cooperation.
Examples of this include giving way to each other in contesting the by-elections after the 14th general election and helping out with campaigning, logistics and what have you.
The latest gesture by Pas was that it would make way for Umno to contest the Rantau by-election, and help to campaign and woo Malay voters. Of course. Nothing new there.
The reluctance shown by Pas, or as Sayuti puts it, "beating around the bush", could be due to the fear of a backlash from the grassroots against anything more than mere cooperation. This applies to the Umno grassroots as well.
According to Sayuti, many Pas members are still wary or sceptical, and some even have a phobia of Umno because of what has happened in the past.
For one, Pas was kicked out of Barisan Nasional soon after it joined the coalition in 1974.
Also, perhaps the words of the late Datuk Nik Aziz Nik Mat — "Umno cannot be trusted and it will cling on to Pas when it is drowning" — remain in the back of the mind for many Pas members.
But the Abdul Hadi leadership seems keen on being friendly, very friendly in fact, with Umno but has not dared to take the bold step. Until now, that is.
Following Zahid's invitation for a merger, deputy Pas president Datuk Tuan Ibrahim Tuan Man went on record as saying that Pas will not bercantum with Umno, but will instead cooperate closely.
But to Sayuti, considering the defeat of Pas and Umno in GE14 (although Pas did win Terengganu and retained Kelantan), a merger seems to be the right thing to do.
A merger, as he sees it, can bring strength to the two parties and help convince Malays to support the new entity.
A merged Pas–Umno, however, can forget about getting the support of non-Malays and non-Muslims, who will probably see the entity as a party of racists and religious bigots, according to Sayuti. This, he says, is not conducive in the Malaysian political context.
Already, the MCA, Umno's partner in the BN or what's left of it, is making noise, not to mention poking fun at Zahid's proposal for a Umno–Pas merger.
Chances are if, and it's a big if, the merger becomes a reality, the new party will have to go it alone without being able to forge, or be part of, any political coalition, even with so-called friendly parties.
The lesson to be learnt? Zahid must choose his words carefully and only say what he means.
Mohsin Abdullah is contributing editor at The Edge. He has covered politics for the past four decades.
Save by subscribing to us for your print and/or digital copy.
P/S: The Edge is also available on Apple's AppStore and Androids' Google Play.