This article first appeared in The Edge Malaysia Weekly, on July 9, 2018 - July 15, 2018.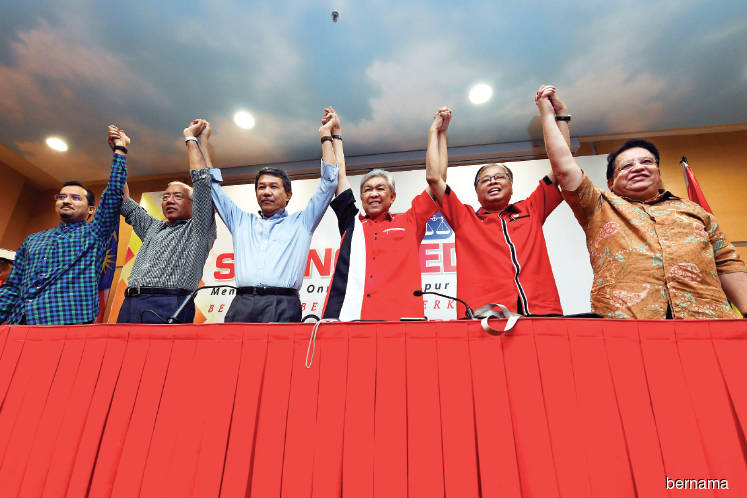 ALLOW me to begin by expressing my condolences to the family of Mat Shuhaimi Shafiei on his passing on July 2. May Allah bless his soul. Al-Fatihah.
Shuhaimi was Pakatan Harapan's (PH) state assemblyman for Sungai Kandis.
His demise will pave the way for a by-election, the first since the 14th general election.
Selangor Menteri Besar Amirudin Shari feels that it is too early to talk about a replacement. He says it is the time for doa and tahlil for the late Shuhaimi.
True. Political matters can be dealt with later. Not only by PH but also by Barisan Nasional (BN) or whatever remains of the coalition, in particular Umno.
And when the Sungai Kandis by-election is called, Umno can use that platform to "prove" right the claim by its former president, Datuk Seri Najib Razak, that "Malays have regretted voting PH in GE14", barely two months after the historical polls that saw the Umno-led BN being swept off the pinnacle of political power for the first time since Independence.
Days after Najib made the claim, The Malaysian Insight news portal ran a story about a survey that showed that "70% of Malays are satisfied with the PH government".
Never mind that. For Umno, it is not a matter of proving the survey wrong and Najib right. More importantly, Umno needs to prove that it has put the disappointment of GE14 behind it and is ready to bounce back. Quick to redeem itself, you would say?
To put it another way, it is to show that newly elected Umno president Datuk Seri Zahid Hamidi and his team have put the house in order and talk of closing ranks is not just talk.
Bear in mind that Zahid won 99 Umno divisions out of 191 while his challengers Khairy Jamaluddin and Tengku Razaleigh Hamzah bagged 61 and 30 respectively.
In terms of the popular vote, Zahid secured 39,197 votes; Khairy, 32,592; and Tengku Razaleigh, 20,462. This means that Khairy and Tengku Razaleigh collectively secured more than 50% of the popular vote. Meaning Zahid, although he won the president's post, failed to command the support of the majority of delegates. Meaning there is a split in Umno. It is a divided Umno.
So, Umno will face the Sungai Kandis by-election against such a backdrop. Coming relatively soon after the Umno polls, is the party ready? In particular the "new" leaders? Not to mention their frequent visits to the Malaysian Anti-Corruption Commission's office for reasons we are all familiar with now, which, to say the least, can be "distracting". Or "disturbing" if you like. What more with the arrest of Najib last Tuesday.
Nevertheless, does Team Zahid have ample time to think about who would be the right candidate? What would the strategy be in this era of a new Malaysia? And all the other things that come along in contesting an election?
What more with the bigger plan for Umno, which Team Zahid must develop to revive the party. I will not dwell on that as there are already many analyses on where Umno is expected to be heading with the new president.
And I must agree with Bridget Welsh, associate professor of political science at John Cabot University in Rome, when she said in her recent column in Malaysia-kini that Umno can "expect greater outreach to PAS under Zahid's proxy leadership with efforts to mobilise more conservative religious and racial forces". Welsh sees Zahid as a proxy for Najib, obviously.
Anyway, it would be interesting to see how the Zahid-led Umno picks up from where the Najib-led Umno left off in fostering "good ties" with PAS. On a national scale, starting by striking a deal on the Sungai Kandis by-election.
In the May 9 general election, PAS fielded a candidate for the Sungai Kandis constituency. So, too, BN/Umno and Parti Rakyat Malaysia. Shuhaimi received 23,988 votes, winning the seat with a 12,480-vote majority.
So, will PAS give way to Umno to contest in the by-election? And help campaign for Umno instead? That should go a long way towards sealing their cooperation on a wider perspective?
But will Umno name a candidate in the first place? This question would not have been asked previously as it would be a no-brainer. But not anymore. Considering the mess Umno is in now.
A highly placed source in Umno opines that the party should not field a candidate at all. However, he refuses to say if he meant that Umno should "bypass" the by-election or that it is simply not ready to do anything right now.
To say that Umno, and Zahid in particular, ought to tackle a thousand and one problems is an understatement. Let's not go into details as we already know what the problems are.
To Hisomudin Bakar of research outfit Ilham Centre, Zahid must first find a way to stop his party members and leaders from leaving the party, especially those who have won in GE14. This should be his priority, and should he fail to stem what Hisomudin calls the "abandon ship culture", Umno will face a future "so very challenging that it will find it extremely hard to make a comeback of whatever kind".
Already Umno has seen the number of its members of parliament come down to 51 after three of them left the party to become independents.
Wanita Umno chief Datuk Noraini Ahmad was reported to have said her wing would discuss the issue with the party's legal team "to ensure there will be no further defections". How?
With no elaboration until now, Noraini's statement can be viewed as "lame" and even "not holding water", so to speak.
And there are analysts who say the fading hopes of a BN revival will cost Umno more MPs.
But here's the thing. A BN revival will first need an Umno revival. What a catch-22 situation. Stating this is also a grave understatement.
Mohsin Abdullah is contributing editor at The Edge. He has covered politics for over four decades.
Save by subscribing to us for your print and/or digital copy.
P/S: The Edge is also available on Apple's AppStore and Androids' Google Play.